'A New Level of Depravity' in Syria
The Trump administration says the Assad regime is incinerating the bodies of hanged prisoners to "cover up the extent of mass murder."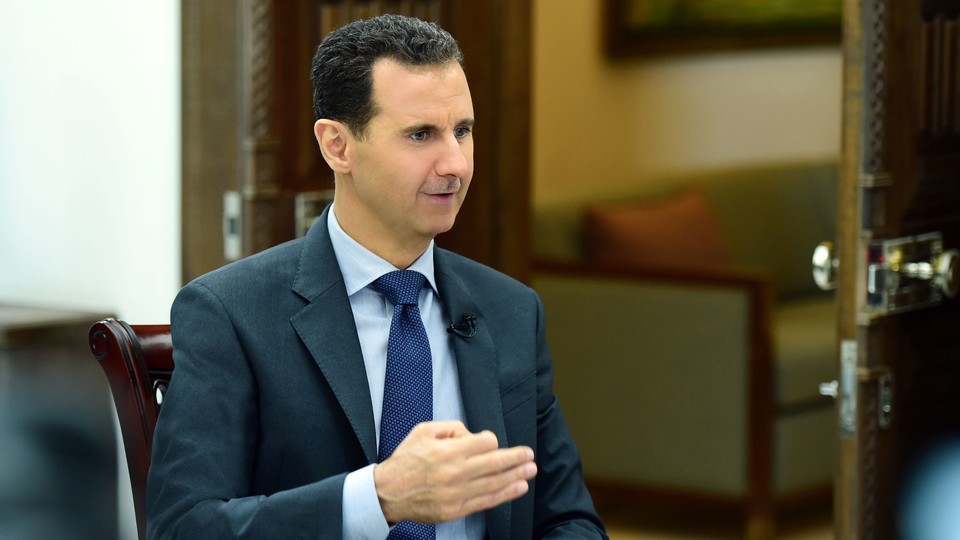 The Trump administration is accusing Syria's Assad regime of sinking to a "new level of depravity" by allegedly building a crematorium at a prison outside Damascus where the remains of hanged prisoners are incinerated in "an effort to cover up the extent of mass murder."
Stuart Jones, the acting assistant secretary for Near Eastern Affairs at the U.S. State Department, told reporters the U.S. assessment on the Syrian regime's actions at Saydnaya military prison came from newly declassified reports and photos based on reporting by international and local non-governmental organizations, news reports, and intelligence-agency assessments.
"Although the regime's many atrocities are well documented, we believe that the building of a crematorium is an effort to cover up the extent of mass murder taking place in Saydnaya prison," Jones said. He said about 50 detainees were being hanged per day at the facility. The crematorium, he said, was built in 2013.
The allegations of mass executions at Saydnaya aren't new. In February, the prison was the focus of an Amnesty International report, which said that as many as 13,000 people were secretly hanged at Saydnaya between 2011 and 2015. As my colleague J. Weston Phippen wrote at the time:
Few people are ever released from this prison 20 miles north of Damascus, and those who do not die of torture or starvation, are sometimes led quietly after midnight to a 25-by-15 foot concrete room. Blindfolded, it is here that Syria's top officials have overseen the clandestine hangings of between 5,000 and 13,000 people, the report found. Later, their causes of death will be ruled by doctors as respiratory failure—an effort by the Assad regime to create a phony paper trail to legitimize these thousands of executions and hide them from the world.
But the Amnesty report did not mention a crematorium. Satellite images released Monday by the U.S. State Department did not conclusively show a crematorium at the prison facility, but showed a structure whose appearance is similar to one.
The allegations are the latest against the Assad regime in the nearly six-year-long Syrian civil war. The conflict pits Assad, who is backed by Russia and Iran, against a coalition of rebel forces, supported by the U.S. and its allies, as well as al-Qaeda and ISIS. Both Assad and the forces opposed to him have been accused of horrific human-rights violations. The conflict has killed more than 400,000 people, mostly civilians, and created more than 5 million refugees.
During the conflict, the international community and human-rights groups say, Assad has used chemical weapons against civilians on several occasions, targeted hospitals in rebel-held areas, bombed civilian population centers, and cut off supplies to areas controlled by the rebels. He has also resorted to more traditional methods to inflict suffering upon his opponents. Former prison inmates and officials who worked in such facilities have in detail described systematic torture, as well as corpses "piled in bathrooms, outhouses and anywhere else they will fit, then meticulously documented and trucked away for mass burial."
Monday's revelations by Jones, the State Department official, came just weeks after President Trump ordered missile strikes on a Syrian facility from which Assad is said to have ordered his most recent chemical-weapons attack. The Trump administration has repeatedly insisted that regime change in Syria is not its immediate priority, preferring instead to building a coalition to fight and defeat ISIS.  Jones pointed out Monday that the atrocities in Syria "have been carried out seemingly with the unconditional support [of] Russia and Iran." Whether either of those countries can persuade Assad to stop the killings, or are willing to do so, is unclear. Russia maintains Assad is fighting terrorists and any international resolution of the Syrian conflict must follow international law: in other words, it will oppose any unilateral military action against Assad.
Trump is likely to discuss the issue further this week in meetings in Washington with the crown prince of the United Arab Emirates and Turkey's president. Trump travels next week to the Middle East.