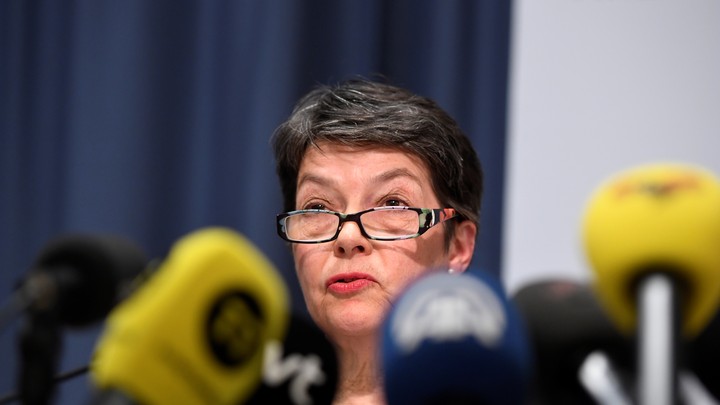 The Swedish prosecutor's office said it has dropped the rape investigation against Julian Assange, the WikiLeaks founder, because "we cannot expect cooperation from Ecuador" whose embassy in London Assange has lived in since 2012.
"We are not making any pronouncement about guilt," Marianne Ny, the prosecutor said Friday in Stockholm, adding the arrest warrant against Assange, an Australian national, was being revoked.
"According to Swedish legislation, a criminal investigation is to be conducted as quickly as possible," she said. "In order to proceed with the case, Julian Assange would have to be formally notified of the criminal suspicions against him. We cannot expect to receive assistance from Ecuador regarding this. Therefore the investigation is discontinued." She said the investigation could be reopened if Assange traveled to Sweden before August 2020, when the statute of limitation on the case expires.
Assange's attorney in Sweden, Per Samuelson, called the prosecutor's decision a "total victory," but it's unclear if it's a victory that will prompt Assange to leave the Ecuadorian Embassy, where he has lived for the past five years. London's Metropolitan Police Service said it would be "obliged" to arrest him if he left the building because he had failed to surrender to a court in 2012. That failure carries a one-year prison term or a fine.
"Now that the situation has changed and the Swedish authorities have discontinued their investigation into that matter, Mr Assange remains wanted for a much less serious offense," the police statement said.
Assange, 45, also has said he fears U.K. law-enforcement officials will extradite him to the U.S. over the publication by WikiLeaks of thousands of classified diplomatic and military cables that Washington had at one point said jeopardized national security. The U.S. has said there is no sealed indictment against Assange, though the U.S. Justice Department is said to be considering charging him in connection with the leaks, with Attorney General Jeff Sessions calling the charges against Assange "a priority"; the U.K. has declined to say whether the U.S. has asked for his extradition.     
WikiLeaks in a statement on Twitter said: "UK refuses to confirm or deny whether it has already received a US extradition warrant for Julian Assange. Focus now moves to UK."
At issue is a rape allegation against Assange in 2010 following a Wikileaks conference in Stockholm. Assange said the sex was consensual, adding the charges against him were politically motivated because of the documents he'd leaked through WikiLeaks. He was arrested that year in connection with the case under the European Arrest Warrant issued by Sweden. But in 2012, while on bail, he sought asylum in the Ecuadorian Embassy in London so he could avoid extradition. In 2015, Swedish authorities dropped two other cases of sexual assault against Assange.
WikiLeaks came under scrutiny during the 2016 U.S. presidential election for publishing the hacked emails from the Democratic National Committee—those leaks, along with several other factors, were seen as contributing to Hillary Clinton's loss to Donald Trump last November. Assange suggested in an interview at the time that the emails were timed to hurt her electoral prospects.
Friday's development comes on the same week that Chelsea Manning, the transgender soldier who was arrested in 2010 for passing classified material to WikiLeaks and sentenced to 35 years in prison, left the military detention facility in Kansas after serving seven years. Her sentence was commuted by President Obama during the last days of his administration.
We want to hear what you think about this article. Submit a letter to the editor or write to letters@theatlantic.com.