South Korean President: 'High Possibility' of War With North Korea
The newly-elected president warned of military conflict following North Korea's launch of an intermediate-range ballistic missile.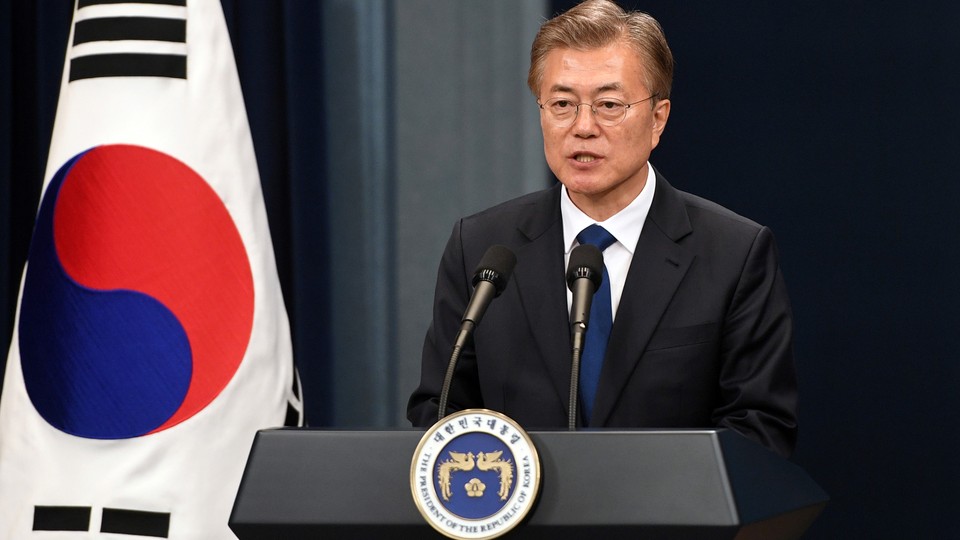 Hours after South Korea said it wanted to restore dialogue with North Korea, the nation's president, Moon Jae In, warned of a potential military conflict between South Korea and its northern adversary. At a visit to South Korea's Defense Ministry in Seoul, Moon told staffers there was "a high possibility of a military conflict" along two demarcation lines—one on land and the other at sea—between the neighboring countries. His words seemed to echo a comment last month from President Trump, who said the U.S. could "end up having a major, major conflict with North Korea."
Moon was elected earlier this month after calling for a two-pronged approach to relations with North Korea that includes both sanctions and increased dialogue. This "Sunshine Policy," favored by South Korea from 1998 to 2008, seeks to develop peaceful cooperation between the two nations without tolerating an armed attack from North Korea. However, as North Korea continues to ramp up its nuclear programs and ballistic missile testing, the threat of military aggression has become increasingly palpable.
On Sunday, North Korea defied UN Security Council resolutions by conducting a test launch of an intermediate-range ballistic missile. Flying 430 miles and reaching an altitude of more than 1,245 miles, the launch was North Korea's most successful to date. It is widely acknowledged that North Korea is in the process of developing an intercontinental ballistic missile capable of reaching the United States. Due to their close proximity to North Korea, U.S. bases in South Korea and Japan are believed to be more immediate targets. South Korea is currently home to around 28,500 U.S. troops, while Japan hosts around 49,000.
On Sunday, Moon condemned North Korea's latest test launch, calling it a "clear violation" of Security Council resolutions. "While South Korea remains open to the possibility of dialogue with North Korea, it is only possible when North Korea shows a change in attitude," Moon's press secretary said at a briefing. Moon carried the same tune on Wednesday when he told South Korea's Defense Ministry that launching ballistic missiles presents a "serious challenge to global peace and stability." He also stressed that South Korea "will never tolerate such North Korean provocations and nuclear threats" under his administration.
During the same speech, Moon affirmed that expanding South Korea's defense program would remain a priority, saying he would make it his "personal mission to build a sound nation." In the past, Moon has promised to increase South Korea's defense spending to 3 percent of its GDP. Even with the desire for greater security measures, Moon said that South Korea was prepared to withstand military aggression from North Korea—and fully capable of striking back. "We will sternly deal with the North, together with the international community," he said. The UN has threatened North Korea with increased sanctions both before and after Sunday's missile test launch. On Tuesday, the U.S. expressed confidence that it could convince China, North Korea's only major ally, to impose new sanctions on the nation.
While Moon's comments serve as a warning to North Korea, it's unclear whether he intends to change course in light of the nation's continued missile testing. Just before Moon's speech on Wednesday, Lee Duk-haeng, a spokesperson for South Korea's Unification Ministry, told reporters that the nation's "most basic stance" was to reopen its communication lines with North Korea. "The unification ministry has considered options on this internally but nothing has been decided yet," Duk-haeng said. As a division of the South Korean government, the Unification Ministry is responsible for establishing the nation's policy on North Korea and coordinating dialogue between the two nations. Technically speaking, North and South Korea are still at war after their military conflict from 1950 to 1953 ended in a truce instead of a peace treaty.