Moon Jae In Wins South Korea's Presidential Election
The election of a liberal president could mean a major change in Seoul's policy toward North Korea.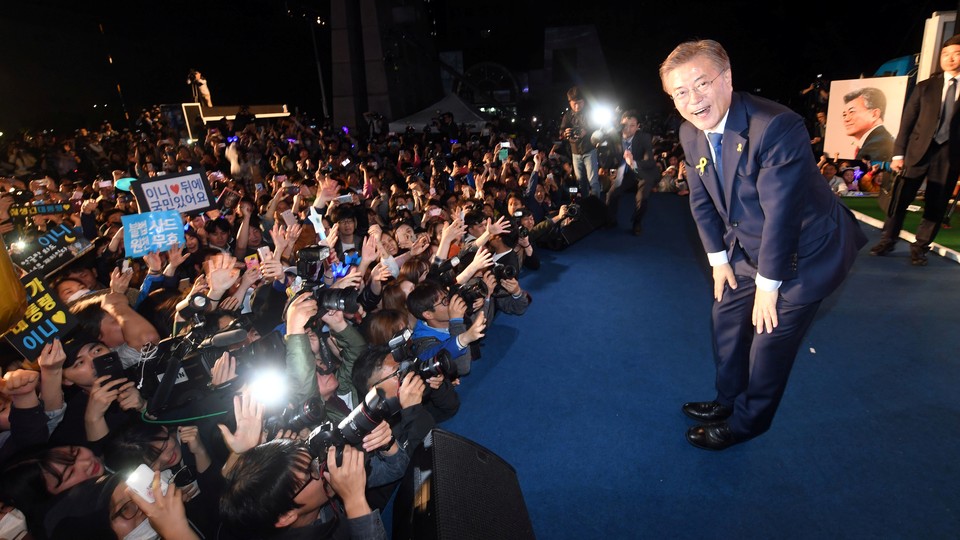 South Korean liberal politician Moon Jae In has won the country's presidential election on Tuesday, according to early results, ending a decade of conservative rule and potentially reshaping the country's policy toward North Korea. By midnight local time, with 34 percent of the vote counted, Moon had 39 percent of votes, beating the conservative candidate, who had 27, and the centrist, who had 22 percent.
"This is the great victory," Moon said, "for the great people who have been with me to build a just country, united country and a country where principle and common sense works."
Moon's win was fueled by a surge in liberal sympathy after the former conservative president, Park Geun Hye, was removed from office months ago. Park is now in a jail cell as she awaits trial on accusations she took about $52 million in bribes from major companies, including Samsung. The country's National Election Commission said more than 33.8 million people voted in the election, a turnout of 77 percent, the highest in two decades. Moon was expected to be sworn in on Wednesday, but said he would skip any ostentatious ceremony and instead get to work.
"I gave all my body and soul to the very end," Moon said just before the results came in. "My party and I invested all our efforts with a sense of desperation, but we also felt a great desire by the people to build a country we can be proud of again."
As a student in the 1970s, Moon was arrested and imprisoned for protesting Park's father, Park Chung Hee, who ruled as dictator for more than 15 years. He went on to become human-rights lawyer, served as chief of staff for former liberal president Roh Moo Hyun, and narrowly lost his own election to Park in the 2012. As a candidate, he has pushed for a more calm and conciliatory stance toward North Korea, something that in tone at least sets him apart from U.S. President Trump. But while the U.S. may be focused on what this switch in leadership means for its policy toward North Korea, polls showed South Korean voters were primarily concerned with domestic issues.
In light of the scandal with the former president, Moon was a seen as a clean candidate who would end corruption and revitalize South Korea's sluggish economy. Moon's plan to fight corruption centered on reining in what South Koreans called chaebol, family-controlled corporations suspected of forging shady deals with the government. Companies like LG, Hyundai, and those known more domestically, like Hanjin, Kumho, and Lotte, wield enormous power in the country and upon its politicians. In the case of Samsung, officials charged the company's vice chairman, Lee Jae Yong, with paying bribes to Park through an associate in exchange for helping Lee gain control of Samsung from his father. Citizens have called for cracking down on chaebol before, usually after scandals, but the demand for regulation and an end to corruption has become more intense as the country's economic growth has slowed, and especially since the scandal that brought down Park.
Rising unemployment among the country's youth, a bloc that widely supported Moon, was also major issue. Many young South Koreans are well educated, but that no longer ensures a good job. Moon pledged to put forth a stimulus plan that would create more than 800,000 public positions. He stressed during his campaign a "National Interest First" policy that will prioritize the country's own interests ahead of those of its foreign allies, like the U.S.
South Korea is a longtime ally of the U.S., and the close friendship is likely to continue, but Moon's victory comes at a time of heightened tension with Pyongyang. North Korea has increasingly flaunted missile launches, while the Trump administration has responded with an unusually aggressive tone, even saying it could use military action. But Moon's Democratic Party prefers the "Sunshine Policy," a catch-more-flies-with-honey strategy that promotes dialogue as well as cultural and economic exchange to improve relations.
Trump has left his options open with North Korea, even saying he wouldn't rule out a meeting with the country's leader, Kim Jong Un. But the Trump administration has ramped up the pressure, and last month Trump sent a Navy strike group led by an aircraft carrier to the Korean Peninsula. Trump has also deployed the Terminal High Altitude Area Defense (THAAD) anti-missile system, of which many Moon supporters are skeptical. Moon has said he believes the system was deployed too quickly, and that if elected he would review the decision. Rather than meet threat with threat, Moon said during the campaign he hopes to "embrace the North Korean people to achieve peaceful reunification one day."
Ultimately, there's a good chance little will change in the two countries' relationship with a Moon presidency. Moon will likely be less deferential to the Trump administration than a conservative president would have been, but he has also expressed his hope to get along with the U.S. president. In an interview earlier this month with The Washington Post, Moon said, "I believe President Trump is more reasonable than he is generally perceived," Moon said. "President Trump uses strong rhetoric toward North Korea, but, during the election campaign, he also said he could talk over a burger with Kim Jong Un. I am for that kind of pragmatic approach to resolve the North Korean nuclear issue."
History suggests that it often doesn't matter if South Korea has a liberal president and the U.S. a conservative or vice versa. The two countries have always coordinated their response toward North Korea and neither country wants war. Then again, Moon—like Trump—won election promising to pursue national interest, rather than trying to please allies.