The Senate Confirms Trump's NAFTA Negotiator
U.S. Trade Representative Robert Lighthizer received strong bipartisan approval, but three Republicans voted no because they support free trade.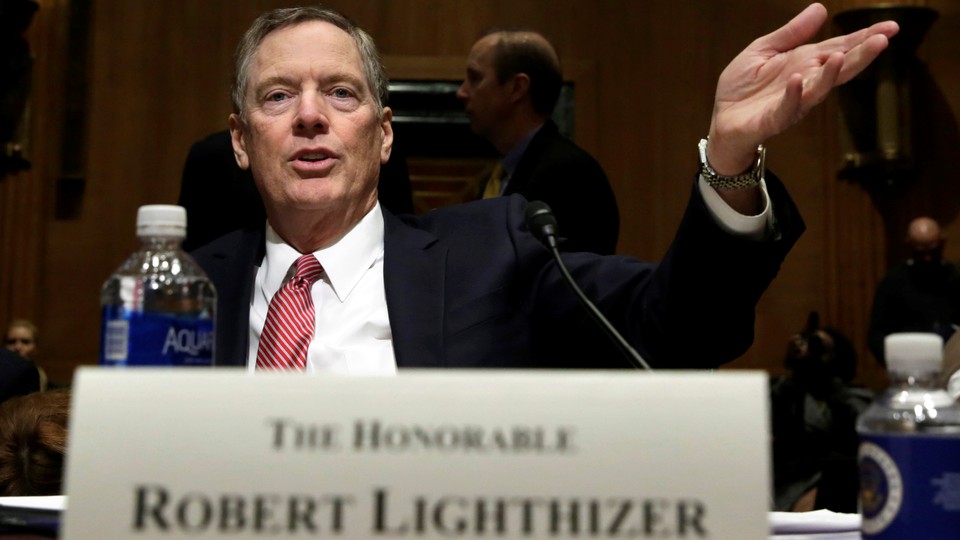 The Senate confirmed Robert Lighthizer as U.S. trade representative on Thursday, putting in place the man the Trump administration has been waiting on to begin renegotiating the North American Free Trade Agreement.
Unlike many of President Trump's appointees, the Senate easily approved Lighthizer, voting 82-14. Still, the vote was held up for weeks because Lighthizer needed a special waiver due to his past work as a lobbyist for the Brazilian government. Lighthizer got that waiver in late April, and he is now Trump's last cabinet-level appointee to be confirmed. Also unlike Trump's other staff choices, Lighthizer has a long history of working in the government, and he served as deputy trade representative under President Ronald Reagan.
In keeping with Trump's "America First" agenda, Lighthizer is skeptical of free-trade deals. He has spent much of the past three decades representing U.S. steel companies fighting the importation of foreign-made steel heavily subsidized and sold below production cost. In his new role, his biggest task, and possibly most immediate, will be to renegotiate NAFTA. The soonest he could do this would be in 90 days, because Trump is required to trigger a consultation period before talks can begin. Mexico and Canada have already begun that process.
Trump has called NAFTA "a disaster" and "the worst trade deal" ever. And while Lighthizer did receive overwhelming bipartisan support, he faced some pushback, even among Republicans.
In some regions of the country, NAFTA may have sent manufacturing jobs across the border, leaving "rusted-out factories scattered like tombstones across the landscape of our nation," as Trump said in his inaugural speech. But in other regions, the 23-year-old trade deal has created lots of jobs. So Senators like Orrin Hatch, of Utah, and Arizona's John McCain were worried.
"I told Mr. Lighthizer there are definitely opportunities to update and improve Nafta," Hatch said, "but it is important that the administration follow the spirit of the Hippocratic oath: First do no harm."
Hatch ultimately voted "yea." But McCain did not, and he was joined by Republican Senator Ben Sasse. (Colorado Senator Cory Gardner made for the third Republican to vote against.) More than 14 million jobs depend on trade with Canada and Mexico, according to the U.S. Chamber of Commerce, and McCain and Sasse say a number of those jobs are in their states. In a joint letter to Lighthizer, the senators wrote: "Unfortunately, your confirmation process has failed to reassure us that you understand the North American Free Trade Agreement's positive economic benefits to our respective States and the nation as a whole."