Safe Zones in Syria
Russia, Iran, and Turkey agreed Thursday to set them up, despite criticism from some Syrian rebels.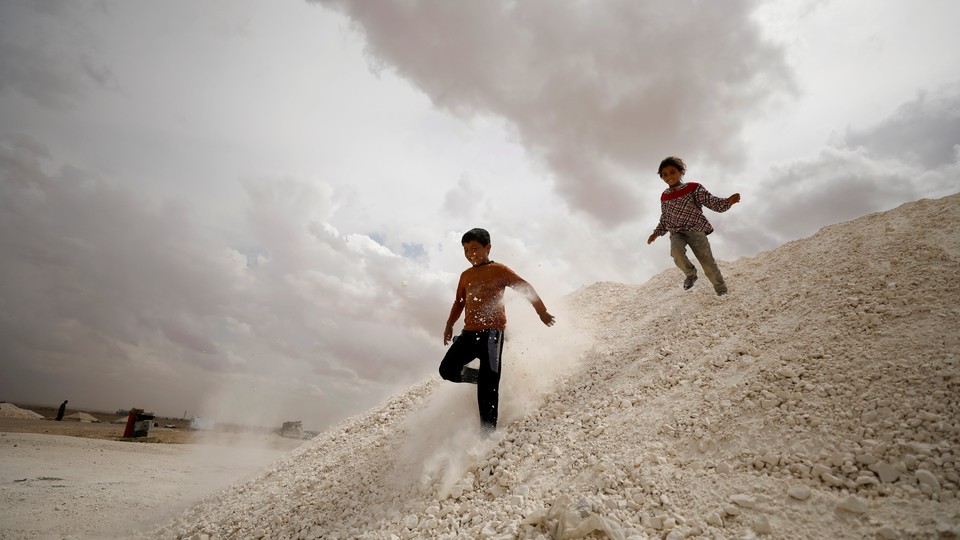 Russia, Iran, and Turkey have agreed to a memorandum establishing four safe zones across the north, central, and southern parts of Syria, constituting a major advancement in the nation's ongoing civil war. Russia released the memorandum Thursday at peace talks in Astana, Kazakhstan. Russia and Iran are allied with Syrian President Bashar al-Assad, while Turkey is allied with some of the rebel groups fighting against Assad. By signing a memorandum, the three nations aim to establish a cease-fire that would mitigate conflict between Assad's government forces and insurgent groups.
In theory, safe zones offer refuge and humanitarian aid to displaced persons fleeing violence, though it is uncertain how the three nations expect to monitor the newly established zones. A safe-zone strategy has garnered criticism in the past for serving as a band-aid solution to the refugee crisis while failing to address the root of the Syrian conflict. Historically, safe zones have even become targets for increased violence. With Russia and the Assad government capable of intervening militarily at any given moment, many fear a "safe zone" designation carries little weight. Since the start of the Syrian conflict in May 2011, the Assad government has violated numerous cease-fire agreements.
As president, Barack Obama opposed the use of safe zones due, in part, to the war's unpredictable nature. President Trump, however, has frequently voiced his support for the strategy.
On Thursday, U.N. Special Envoy for Syria Staffan de Mistura referred to the memorandum as an "important, promising, positive step in the right direction," though not everyone involved in the peace talks agreed with this statement. Reuters reports that representatives from the armed Syrian opposition angrily stormed out of the room in response to the memorandum. In a statement, Osama Abu Zeid, a rebel group spokesman who was present at the talks in Astana, criticized safe zones for failing to guarantee "the unity of the Syrian territory." Zeid also dissented to Iran's participation in the memorandum, calling the nation and the pro-Assad militias it supports "aggressors."
Russian negotiator Aleksandr Lavrentyev shared a more positive view, informing Russian media that the nation will be sending observers to the newly created safe zones. Lavrentyev also expressed a desire to "work more closely" with the United States and Saudi Arabia to achieve peace in the region. Still, his language incited speculation regarding the terms of the memorandum.
At a news conference, Lavrentyev said the Assad government would honor the memorandum, which becomes effective on Saturday, so long as rebel groups did not carry out attacks in the four safe zones. At the same conference, Lavrentyev said the Syrian Air Force would avoid the zones. According to the New York Times, critics viewed Lavrentyev's comments as a "loophole that allows violations committed by Mr. Assad's side."
In a statement, the U.S. State Department, which was represented at the talks by Acting Assistant Secretary Stuart Jones, said:  "We appreciate the efforts of Turkey and the Russian Federation to pursue this agreement and have encouraged the Syrian opposition to participate actively in the discussions despite the difficult conditions on the ground." The statement added: "We continue to have concerns about the Astana agreement, including the involvement of Iran as a so-called 'guarantor.' Iran's activities in Syria have only contributed to the violence, not stopped it, and Iran's unquestioning support for the Assad regime has perpetuated the misery of ordinary Syrians."