Remembering Chris Cornell
The Soundgarden singer, who died Wednesday in Detroit, was 52.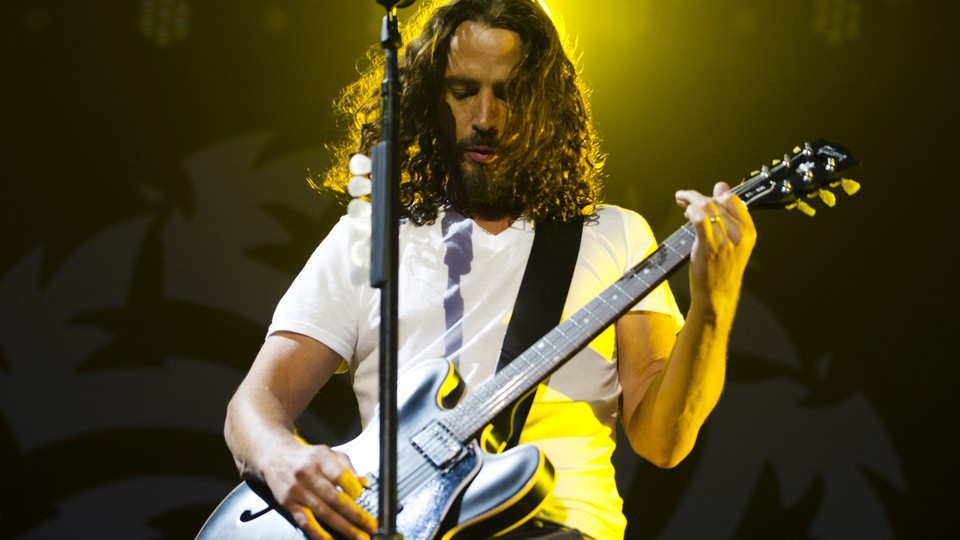 Updated at 1:45 p.m. ET
Chris Cornell, perhaps best known as the lead singer of Soundgarden, one of the bands that defined the grunge sound of the '90s, had died at the age of 52. In a statement, Brian Bumbery, his representative, called Cornell's death "sudden and unexpected."
Detroit Police said they were investigating the death as a possible suicide—a cause that was confirmed by the city's medical examiner.
Cornell's died Wednesday night after he performed with Soundgarden in Detroit's Fox Theatre—part of a tour the band was undertaking of the U.S. this month.
Soundgarden—which along with Nirvana, Pearl Jam, and other Seattle bands defined the sound of an era—was formed in 1984 by Cornell, Kim Thayil, the guitarist, and Hiro Yamamoto, the bassist. Its third album, Badmotorfinger, catapulted the band to success—with songs like "Jesus Christ Pose" and "Rusty Cage" dominating alternative-rock radio. By 1996, the band had released five studio albums in all, including the super-successful Superunknown in 1994. It disbanded a year later due to creative tensions among the band's members. The band reunited in 2012 to release its sixth studio album, King Animal.
Between 1997 and 2012, Cornell had a solo career that produced four studio albums, each commercially successful that showcased his distinctive vocals, and the James Bond theme song for Casino Royale. Cornell also fronted Audioslave, a band he formed with Tom Morello, Brad Wilk, and Tim Commerford, former members of Rage Against the Machine. The band produced three commercially successful albums before disbanding in 2007.
Cornell had struggled with drug abuse since childhood, telling Rolling Stone in 1994, "I went from being a daily drug user at 13 to having bad drug experiences and quitting drugs by the time I was 14 and then not having any friends until the time I was 16." He told the Guardian in 2009 that he returned to drug use after Soundgarden disbanded in 1997. He said he used "everything," describing himself as a "pioneer" in the use of OxyContin. In the mid-2000s, amid much personal turmoil, he went to rehab: "I'm not sure if it was the best place for me, but it worked," he said.
Cornell had appeared to be active on social media before his sudden death.
My colleague Spencer Kornhaber writes:
When Soundgarden first emerged, Cornell's stunning, high wail and his band's heaving, blues-inflected odysseys brought them comparisons to Led Zeppelin and Black Sabbath. Cornell said in '94 that those bands didn't interest him "even slightly"; his insistence about that softened later, and the final song of his final concert, "Slaves and Bulldozers," featured a snippet from Led Zeppelin's "In My Time of Dying." In any case, his full career proved his eclecticism, with his work ranging from acoustic singer/songwriter material to an amazing Michael Jackson cover to a bizarre 2009 dance album with Timbaland. About the latter effort, which earned him scathing reviews, he told The Guardian, "To me R&B means Aretha Franklin, who is otherworldly." Franklin, as much as anyone, is a good reference point for the abandon, hurt, and hope in Cornell's voice.
I'll leave you with perhaps my favorite Soundgarden song: