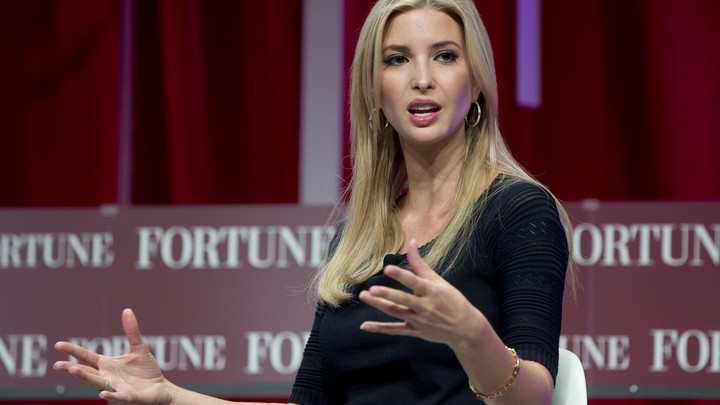 Following news that two labor activists went missing and another was arrested after investigating a Chinese company that produces Ivanka Trump shoes, numerous organizations have called for the president's daughter to address the situation. "Ivanka's brand should immediately cease its work with this supplier, and the Trump administration should reverse its current course and confront China on its human rights abuses," Adrienne Watson, a spokeswoman for the Democratic National Committee, said in a Wednesday statement. "For years, Ivanka Trump has ignored public reports of awful labor conditions at a factory that makes her shoes. Now, she must decide whether she can ignore the Chinese government's apparent attempt to silence an investigation into those worker abuses."
Indeed, this isn't the first time the Ivanka Trump brand has been embroiled in a labor scandal. In April, an inspection by the Fair Labor Association found that workers in a Chinese knitting factory that makes clothing for the brand were being underpaid, receiving just $62 weekly for up to 60 hours of work, or a little more than a dollar per hour. All together, the factory was found to be in violation of two dozen international labor standards.
Tuesday's incident is even more complex, given that an arrest was made and two men reman missing. At the time, the three activists were working with China Labor Watch, a New York-based nonprofit, to investigate factories owned by the Huajian Group in southern China. Two of the investigators, Hua Haifeng and Li Zhao, were working undercover at a shoe factory in Dongguan, while the third investigator, Su Heng, was working at another factory in Ganzhou. Together, the activists and China Labor Watch were planning to release a report next month accusing the factories of underpaying their workers and forcing them to work excessive overtime.
Both Hua and Li were informed weeks earlier that they were suspected of criminal activity and would not be allowed to cross the border into Hong Kong. Hua was arrested on Tuesday on charges of illegal surveillance while investigating a vocational school in Jiangxi. The AP reported that his wife received a call from the police Tuesday afternoon, telling her that she would be unable to see, speak with, or receive money from her husband, and that she did not need to know the details concerning his arrest.
While China Labor Watch has lost touch with the two missing men, the organization's executive director, Li Qiang, suspects they are either being held by the factory or the police. On Tuesday, Li told Reuters the arrests were a first for his organization. In his 17 years of activism, he said, no member of China Labor Watch had ever been arrested on suspicion of criminal charges. The organization has since appealed to President Trump, Ivanka, and her brand "to advocate and press for the release" of their activists. Under China's president Xi Jinping, it is not uncommon for labor activists to be detained or harassed.
Comments from both the Chinese and U.S. government on Wednesday offered little additional insight. White House spokeswoman Hope Hicks said questions regarding the matter should be directed to Ivanka Trump's brand, which has declined to comment. At a Wednesday news briefing, Hua Chunying, a spokeswoman for the Chinese Foreign Ministry, said China had no information about the arrests. "We haven't heard about this. We don't know where you got your information," Chunying said, adding that NGOs were welcome to conduct an investigation of their own. Still, Chunying said, they should "observe Chinese laws and regulations and don't engage in any illegal actions or behavior."
According to Vox, Ivanka Trump's brand previously received a letter from China Labor Watch informing the company of the alleged labor abuses. The president of the brand, Abigail Klem, did not respond to the allegations, other than to say the company requires manufacturers to "comply with all applicable laws and to maintain acceptable working conditions." On Wednesday, the East Asia Director of Amnesty International, Nicholas Bequelin, questioned the Trump family's connection to Chinese businesses. "The eagerness of members of the [Trump] family to do business in China while airbrushing very troubling human rights and labor rights records of the country is troubling," Bequelin told the AP. He also wondered whether business interests outweighed consideration of the United States's role "in promoting human rights, labor rights, and democracy."
We want to hear what you think about this article. Submit a letter to the editor or write to letters@theatlantic.com.
Aria Bendix
is a frequent contributor to
The Atlantic
, and a former editorial fellow at
CityLab
. Her work has appeared on
Bustle
and
The Harvard Crimson
.