North Korea Conducts Successful Missile Test
The nation continues to advance its nuclear program, despite threats of increased sanctions from the UN.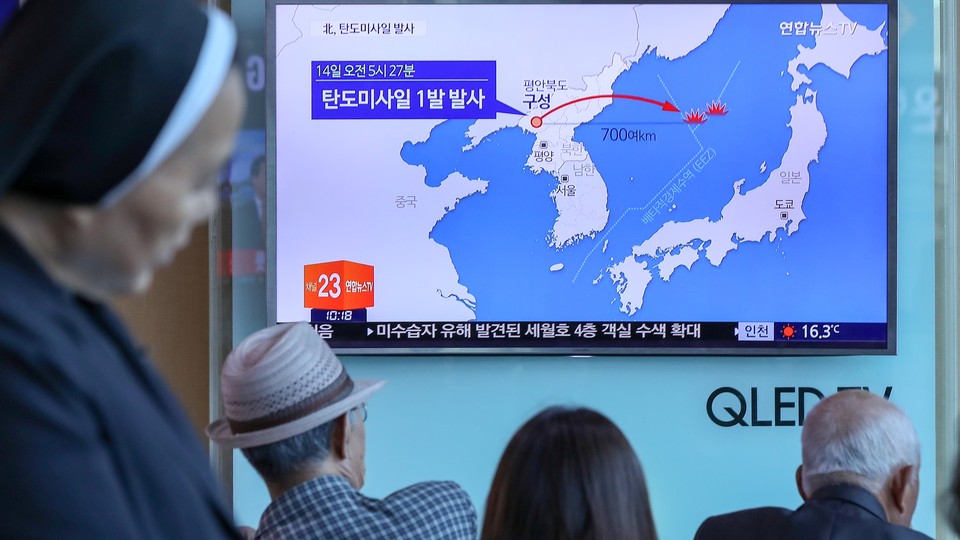 At 5:27 a.m. local time on Sunday, North Korea conducted a successful test launch of a ballistic missile, despite growing concern and threats of increased sanctions from members of the international community. The missile, which flew 430 miles and reached an altitude of more than 1,245 miles, went further and higher than the nation's last successful test launch, but does not qualify as an intercontinental ballistic missile (ICBM), the U.S. Pacific Command said in a statement on Sunday. North Korea's most recent successful test launch occurred in February, when the nation fired a missile that flew 310 miles and reached an altitude of more than 340 miles. Since March, the nation has conducted four failed launches, with the last unsuccessful attempt occurring just two weeks ago.
After flying for 30 minutes, Sunday's missile landed in the sea between Japan and North Korea's east coast. The Japanese Defense Minister, Tomomi Inada, said the missile could be classified as a new type, given the altitude at which it was launched. In a statement to The Guardian, David Wright, the co-director of the Global Security Program at the Union of Concerned Scientists, said the missile could theoretically reach nearly 2,800 miles if fired at a standard altitude. While this still wouldn't qualify it as an ICBM, missile experts find the range concerning.
Many believe that North Korea is developing an ICBM capable of reaching the United States, though most experts agree that U.S. bases in South Korea and Japan are more immediate targets. The nation began its nuclear program around the 1950s, but ramped up its nuclear testing under current president Kim Jong Un. Today, North Korea is said to possess more than 1,000 missiles capable of flying at different ranges. In August, Kim Jong Un was quoted as saying that the U.S. mainland and its "operational theater in the Pacific" are within "striking range."
Shortly after Sunday's launch, the White House issued a response, saying: "With the missile impacting so close to Russian soil—in fact, closer to Russia than to Japan—the President cannot imagine that Russia is pleased." The statement continued by calling North Korea "a flagrant menace." Hours later, Russia's Defense Ministry responded saying the test launch posed "no danger" to their nation, since it flew at a "significant distance" from the coastline.
The White House also took the opportunity to call for stronger sanctions against North Korea, echoing the desire of an April UN Security Council meeting. At the meeting, member nations unanimously asked North Korea to discontinue its "illegal missile activities," threatening to "take further significant measures including sanctions" if their demands were not met. The council has already imposed six sets of sanctions on North Korea, including two last year.
On Sunday, South Korea's newly-elected president, Moon Jae In, condemned North Korea's latest test launch, calling it a "clear violation" of Security Council resolutions. "While South Korea remains open to the possibility of dialogue with North Korea, it is only possible when North Korea shows a change in attitude," Moon's press secretary said at a briefing. Moon was elected on a platform calling for increased dialogue with North Korea in addition to sanctions.
In April, the Trump administration said it was "exploring a new range of diplomatic, security, and economic measures" in response to North Korea's continued missile testing. A few weeks later, President Trump said he would be "honored" to meet Kim Jong Un "under the right circumstances." The day before North Korea launched its latest missile test, a senior North Korean diplomat said the nation would be open to talks with the U.S. "under the right conditions" as well.