North Korea Launches a Missile Into the Sea of Japan
The latest test came from the country's east coast, and flew 280 miles.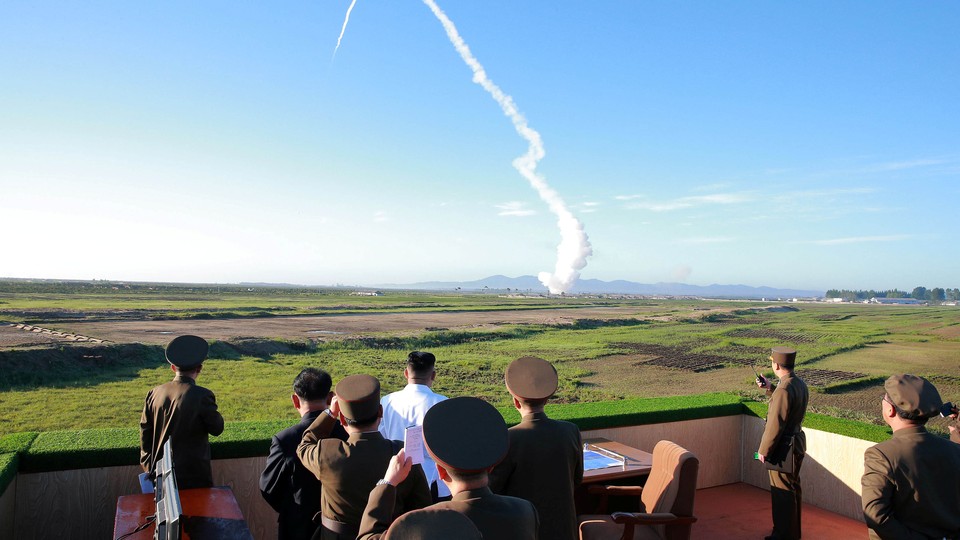 North Korea fired a ballistic missile on Monday morning local time that landed within the waters of Japan's economic zone, according to South Korean officials. It is the latest in a series of tests that defy international laws and that have escalated tensions.
The launch came from the country's east coast, near the town of Wonsan, and was fired shortly before 7:30 a.m. It's believed to be a scud-class ballistic missile that flew about 280 miles before it crashed into the ocean. North Korea has tested dozens of similar tests in the past year, as well as two nuclear tests. North Korea has a stockpile of ballistic missiles, originally developed by the Soviet Union, and it has said its goal is to develop technology that would allow it to reach the U.S. The country is still thought to be several years away from that goal, but it has grown increasingly close. On Sunday, North Korea's leader, Kim Jong Un, also oversaw the launch of a new anti-aircraft weapon system, and ordered its mass production.
Japan's Chief Cabinet Secretary, Yoshihide Suga, said Monday the test was "highly problematic from the perspective of the safety of shipping and air traffic and is a clear violation of United Nations Security Council resolutions."
The Trump administration has at times taken a hard stance against North Korea, and said military intervention is not out of the question. In March, Secretary of State Rex Tillerson said, "All options are on the table. North Korea must understand that the only path to a secure, economically-prosperous future is to abandon its development of nuclear weapons, ballistic missiles, and other weapons of mass destruction."
But the administration has also struggled to get on the same page, or to convey a structured policy. In April, President Trump told Financial Times that he hoped China would influence North Korea to end the tests. China is one of Pyongyang's few allies, and has also taken an increasingly aggressive tone, including a ban on coal imports, a major cash source for North Korea.  In the interview, Trump said, "Well, if China is not going to solve North Korea, we will. That is all I am telling you." Trump later met with Chinese President Xi Jinping, and he seemed optimistic that Beijing could intervene. But that same week Trump ordered a Navy fleet, led by an aircraft carrier, to the Korean Peninsula.
As my colleague David Graham wrote, it's hard to keep track of what the Trump administration's strategy on North Korea is, because it so often changes.
… Trump's problem is not just that the problems are tough. It's that his administration is unable to articulate what American policy even is. This was true of Syria, a realm in which multiple U.S. officials gave conflicting interpretations of U.S. policy in the days after missile strikes on the Assad government. And it is true halfway around the world with North Korea, where, as if the actions of Kim Jong Un's government were not inscrutable enough on their own, the U.S. line seems to change frequently.
The confusion and constant tone shifts has led to an incoherent stance on North Korea. And in the meantime, Pyongyang has continued to defy international order to end its missile and nuclear programs.
All this has been rendered even more uncertain under South Korea's new liberal president, Moon Jae-in, who has said he would like to increase civilian exchange with North Korea, including reopening a jointly operated factory. After news of Monday's missile test, Moon called a meeting with the National Security Council, which will discuss how best to intervene.