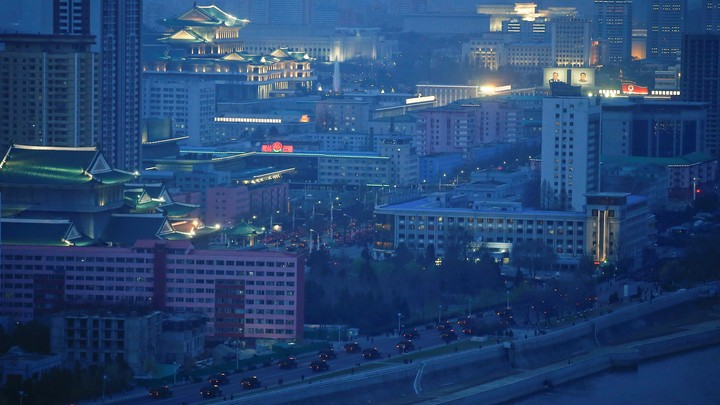 North Korea confirmed Wednesday it detained a U.S. citizen at the Pyongyang International Airport in April for allegedly attempting to commit "hostile acts" against the country.
The American, who was identified as Kim Sang Dok (also known as Tony Kim), is a professor who was visiting North Korea to teach accounting at Pyongyang University of Science and Technology (PUST), North Korea's state-run KCNA news agency said. Kim was arrested by North Korean authorities on April 22 as he attempted to leave the country "for committing criminal acts of hostility aimed to overturn the DPRK not only in the past but also during his last stay before interception," KCNA added, using the acronym of North Korea's official name, the Democratic People's Republic of Korea.
A spokesman for PUST, where Kim taught, told Reuters that Kim's arrest was not connected to his work at the university, adding that his wife, who was with him in Pyongyang, has since returned to the U.S.
Kim is one of at least three Americans currently detained in North Korea. Kim Dong Chul, an American businessman, was arrested in October 2015 while allegedly meeting a North Korean soldier to receive classified intelligence, and was later sentenced to 10 years in prison and hard labor for espionage. In an interview with CNN in January 2016, the 62-year-old admitted to gathering information about Pyongyang's nuclear program and military facilities in collusion with South Korea, though Seoul called the allegations "groundless."
The other American, Otto Warmbier, was detained in January 2016 ahead of his return flight to the U.S. for allegedly trying to steal a propaganda poster. The 22-year-old University of Virginia student, who was visiting North Korea with a tour group, was sentenced to 15 years in prison and hard labor for committing "anti-republic activities."
Kim's detention comes amid months of recent tension between Pyongyang and Washington. In addition to successfully conducting in September its fifth nuclear test, North Korea paraded last month a new long-range missile (though its launch was later found to be unsuccessful). The Trump administration's policy on North Korea has been unclear, but President Trump said Monday he would be willing to meet with its leader, Kim Jong Un, "under the right circumstances."
We want to hear what you think about this article. Submit a letter to the editor or write to letters@theatlantic.com.