Montreal's Historic Flooding
More than 1,900 homes are being evacuated because of historic rainfall and snow melt that has inundated rivers.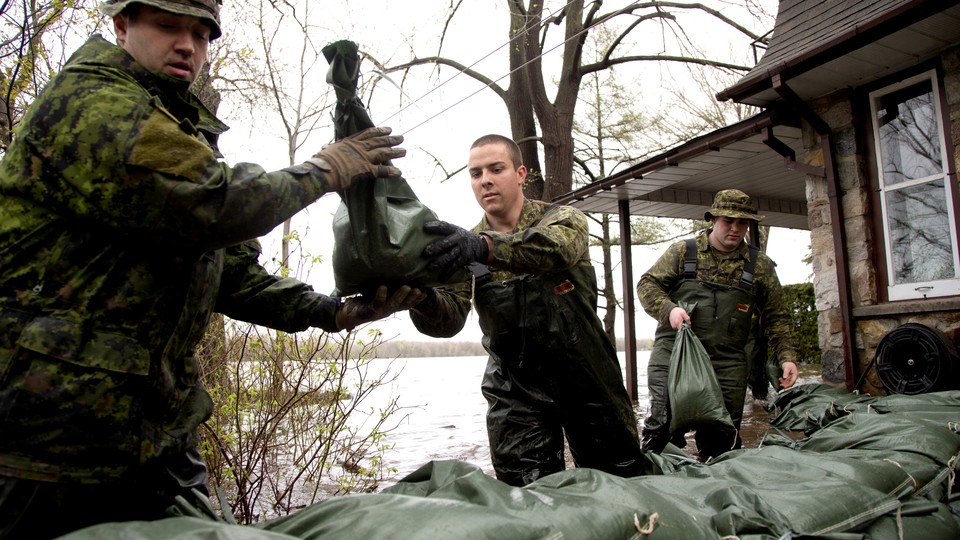 Montreal's mayor has declared a state of emergency and about 1,200 military troops have been deployed to the city after rising floodwater forced people from their homes. The state of emergency will last for 48 hours, though it could be extended because there are several dikes at risk and the rain is not likely to let up soon.
The emergency was declared late Sunday night after three dikes gave way in the city's north and spilled water into the nearby towns. As of Monday morning, about 1,900 homes across 130 surrounding neighborhoods and towns were affected. In Rivière des Prairies, a Montreal municipality on the St. Lawrence River, water levels were expected to rise more than 8 inches overnight. Montreal Mayor Denis Coderre called the water levels "historic."
The area has seen an exceptional amount of rain this spring, and combined with warm weather that has quickly melted snow, the moisture has overwhelmed rivers in the region. Montreal is located on a delta, surrounded by several rivers that flow from Lake Ontario. To the north of Montreal, the city of Laval also declared a state of emergency; rescue workers went door-to-door telling residents to evacuate, and helped to escort people away from their homes. Pictures of the evacuation showed people wading in knee-deep water, carrying their belongings. There are several dams in the area, but by Monday afternoon none were reported as having been damaged.
Water levels are expected to peak Monday night or Tuesday, but rains will continue for much of the week. CNN forecast that much of eastern Canada would continue to see heavy rains for the next five days, with some areas receiving up to 3 inches. In the past few weeks, parts of the region have received upwards of 14 inches of rain.