The Military's U-Turn on Student Athletes
The Pentagon reversed a 2016 policy allowing military students to pursue professional athletic careers post-graduation.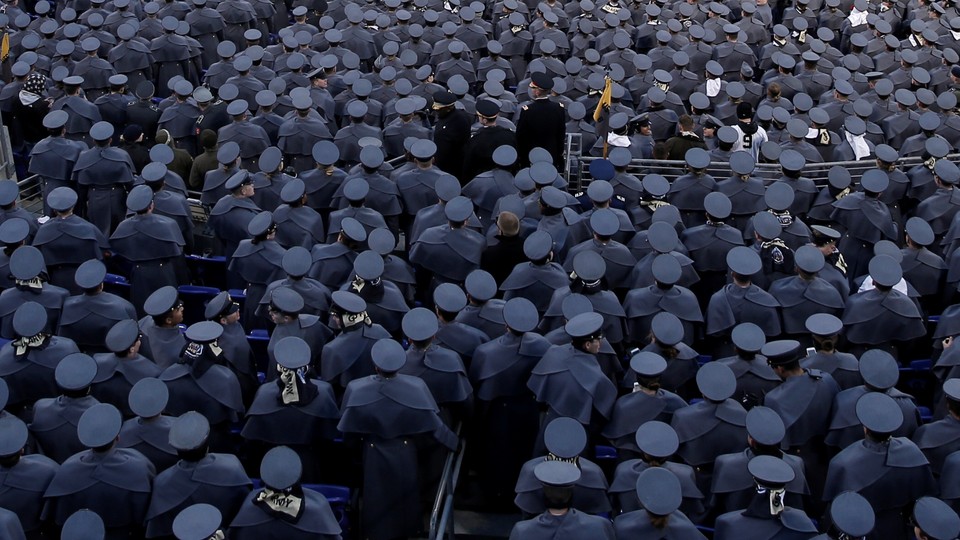 Military athletes must now serve at least two years of active duty before they are recruited into professional sports, the Pentagon announced Monday. The news reverses a 2016 policy that allowed service academy athletes to "go pro" directly after graduating, and will apply to this year's graduating class.
"Our military academies exist to develop future officers who enhance the readiness and the lethality of our military services," Dana W. White, the Pentagon's chief spokesman, said in a statement. "Graduates enjoy the extraordinary benefit of a military academy education at taxpayer expense. Therefore, upon graduation, officers will serve as military officers for their minimum commitment of two years."
White said the Department of Defense "has a long history of officer athletes who served their nation before going to the pros." Notable examples include football star Roger Staubach, who won the Heisman Trophy in 1963, former Dallas Cowboys player Chad Hennings, and 10-time NBA All-Star David Robinson. Having attended military college in the 1960s and 1980s, these players were required to serve at least two years of active duty.
The official change-up occurred in 2016 when former Navy Midshipman Keenan Reynolds was drafted as a quarterback for the Baltimore Ravens. As a college athlete, Reynolds broke a number of records, including the most rushing touchdowns in NCAA Division I history. Out of the 170 service academy students who have gone on to become professional athletes, Reynolds is one of just two players who did not complete their two-year active duty recruitment. His athletic success caused the Pentagon to reconsider its old policy and give newcomers a chance to be recruited straight out of the service academy.
The change was, of course, short-lived. With the original policy back in place, this year's military athletes were startled to learn that their dreams of going pro would need to be postponed. Air Force wide receiver Jalen Robinette learned of the policy reversal about an hour after starting the draft. Air Force pitcher Griffin Jax, who was a third-round pick for the Minnesota Twins last summer, will also have to suspend his goal of becoming the first Air Force player in Major League Baseball.
According to a statement from the Air Force academy, the athletes "look forward to graduation and commissioning in May [...] and should have an opportunity to pursue their professional athletic goals after serving two years as officers in the Air Force should they choose." Both Robinette and Jax will have to wait until 2019 before resuming their athletic careers.