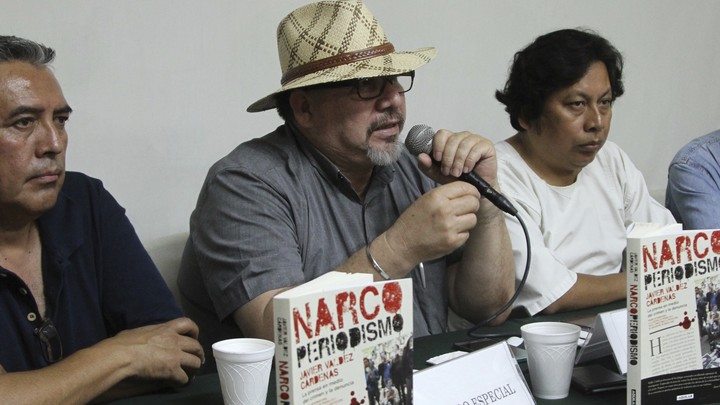 Mexican journalist Javier Valdez, known for his reporting on drug trafficking and organized crime, was shot and killed on Monday in the northwest state of Sinaloa. Authorities reported he was on a busy street in broad daylight when unidentified attackers opened fired on his car. The state prosecutor later told reporters that a dozen bullets were found at the crime scene. At the time he was killed, Valdez was wearing his signature straw hat.  
In addition to working as a correspondent for La Jornada, a daily newspaper in Mexico City, Valdez was the co-founder of Riodoce, a regional weekly newspaper that began in 2003 out of the need for more honest coverage in Sinaloa. At the time the newspaper was born, the state government controlled most of the media. Despite government opposition to their project, Valdez and his colleagues were determined to survive in an effort to accurately inform the public. According to the Los Angeles Times, Valdez was "an essential source" for journalists looking to cover drug violence in Sinaloa.
As a reporter of violence and organized crime, Valdez was keenly aware of the dangers of his job. "Being a journalist is like being on a blacklist," he said at his book launch last year. "Even though you may have bulletproofing and bodyguards, [the gangs] will decide what day they are going to kill you." Valdez is now the sixth journalist to be killed in Mexico this year, and one of more than 100 journalists who have been murdered in the country since 2000.
Valdez's colleague at La Jornada, Miroslava Breach, was killed in March by a gunman in Chihuahua, Mexico. She, too, reported on organized crime, drug-trafficking, and corruption, and was shot multiple times in her car. At the time, Valdez issued a passionate statement defending their work: "Let them kill us all," he said, "if that is the death penalty for reporting this hell." Sinaloa is a popular destination for drug trafficking, known worldwide as the home of "El Chapo," the famous Mexican drug lord who escaped prison twice.
In a statement to the Agence France-Presse, where Valdez served as a local contributor for more than 10 years, Rafael Valdez described his brother's approach to journalism:
He was very reserved when it came to his work. He never talked about it so as not to drag people into it. I asked him several times whether he was afraid. He said yes, he was a human being. So I asked him why he risked his life and he replied: "It is something I like doing, and someone has to do it. You have to fight to change things."
In 2011, Valdez received the International Press Freedom Award from the Committee to Protect Journalists (CPJ) for his reporting. Later that year, he earned the Maria Moors Cabot Prize from the Columbia Graduate School of Journalism. Last year, he published a book on "narco-journalism" and the dangers of reporting on crime and corruption in Mexico. Following news of Valdez's death, Jan-Albert Hootsen, the Mexico representative for the CPJ, referred to his murder as "an attack on independent journalism not just in Sinaloa, but in Mexico as a whole."
We want to hear what you think about this article. Submit a letter to the editor or write to letters@theatlantic.com.
Aria Bendix
is a frequent contributor to
The Atlantic
, and a former editorial fellow at
CityLab
. Her work has appeared on
Bustle
and
The Harvard Crimson
.