Merkel Urges 'Europe to Take Our Fate Into Our Own Hands'
The German chancellor's remarks come as President Trump doubled down on his criticism of Germany.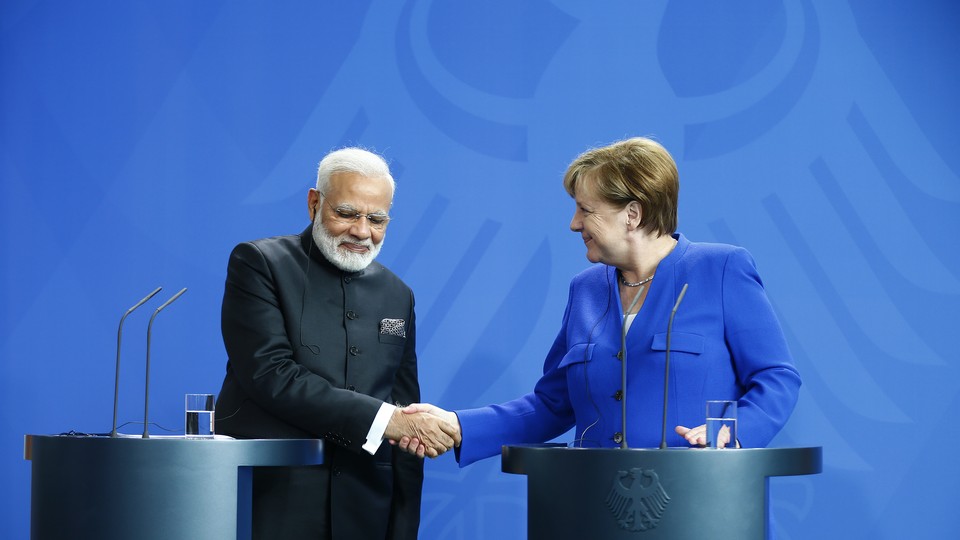 German Chancellor Angela Merkel tried Tuesday to walk back her remarks about Europe's relationship with the U.S., but reiterated that "Europe [needs] to take our fate into our own hands." In Washington, meanwhile, President Trump doubled down on his criticism of Germany:
We have a MASSIVE trade deficit with Germany, plus they pay FAR LESS than they should on NATO & military. Very bad for U.S. This will change

— Donald J. Trump (@realDonaldTrump) May 30, 2017
The U.S. had a $14 billion trade deficit with Germany in the first three months of this year. The total for 2016 was $65 billion. But amid this reality is another one: Germany is the fourth-largest investor in the U.S. (after the U.K., Japan, and Canada.)
Trump's targeting of Germany's military spending isn't new, either. During the presidential campaign, he suggested U.S. support of its NATO allies would be contingent upon their spending 2 percent of their GDP on defense—in line with their commitments. Although previous American presidents have also criticized NATO's members for how much they spent on defense, none had linked U.S. military support to it. Only five of the alliance's 28 members spend the 2 percent figure; Germany spends 1.2 percent. I should point out that the 2 percent figure is a guideline—and not enforceable.
The tweet from the president caps a difficult meeting with European officials first at the NATO summit in Brussels and then at the G7 meeting in Italy. At issue were Trump's refusal to explicitly endorse Article 5 of the NATO charter,which governs collective defense for the alliance whose members are increasingly worried about Russian interference; the president's refusal to sign on to the G7's climate-change priorities, which has broad support across Europe's political spectrum; his general skepticism of the EU; and his reported dismissal of Germany as "very bad" on trade.
Those comments prompted Merkel to say Saturday: "The times when we could fully rely on others have passed us by a little bit, that's what I've experienced in recent days." Her remarks were echoed by Sigmar Gabriel, the German foreign minister, who said the U.S. was "dropping out as an important nation."
Merkel toned down her remarks Tuesday.
"The trans-Atlantic partnership is of outstanding importance and what I said was merely meant to note that in view of the current situation there are more reasons ... for us in Europe to take our fate into our own hands," she said in Berlin, alongside Indian Prime Minister Narendra Modi, who is on an official trip to Germany.
The White House offered an optimistic view of Trump's first foreign trip, which was at first praised for Trump's meetings in Riyadh. A senior administration official told reporters at the end of the trip:
I feel more than comfortable to say that the President had built an extraordinary rapport with the other leaders. He developed great friendships. It was extremely productive. … This trip has left no one with any doubt about who America's friends are and who America's allies are, and our resolution in determining the course of our future based upon upholding those alliances and friendships. But ultimately, we also formed new partnerships and new friendships, and have created a growing consensus around the world about the need to combat the shared threat of terrorism.
In Europe, the view was markedly different: Scandinavian leaders appeared to mock the image of Trump, Saudi King Salman, and Egyptian President Abdel Fateh el-Sisi with their hands on a glowing orb; in Germany, Trump was criticized as "the destroyer of Western values"; and in France, President Emmanuel Macron described his awkward handshake with Trump as "a moment of truth."
My colleague David Frum noted that German skepticism at U.S. foreign policy that began during the George W. Bush presidency and grew in the Obama years, have become worse since Trump became president. He wrote:
Since the war, German politics has been founded on two fundamental commitments: to liberalism at home; to Atlanticism abroad. Only a tiny minority question the first, but a much larger minority doubt the second. Like Americans, the Germans remember the Nazi past. Much more than Americans, the Germans remember that British and American bombers burned the cities of Germany to the ground. Germans have gained voice to speak about their own history—and to express their own emotional distance from partners they no longer need so much as they used to. "We will never be family," a semi-inebriated German Air Force general once insisted to me at a NATO conference in Tallinn. "Americans, British, Canadians, Australians, New Zealanders: You are family. We will never be." That feeling is reflected in strategic decisions like the German hesitation to join the "Five Eyes" intelligence-sharing agreement.

Donald Trump is giving permission to U.S.-skeptic elements in Germany.
With Trump's remarks on Tuesday—and Merkel's comments in Berlin—that skepticism is likely to grow.