Maduro Plans to Rewrite Venezuela's Constitution
The president has created a new "constituent assembly" to oversee legislative changes.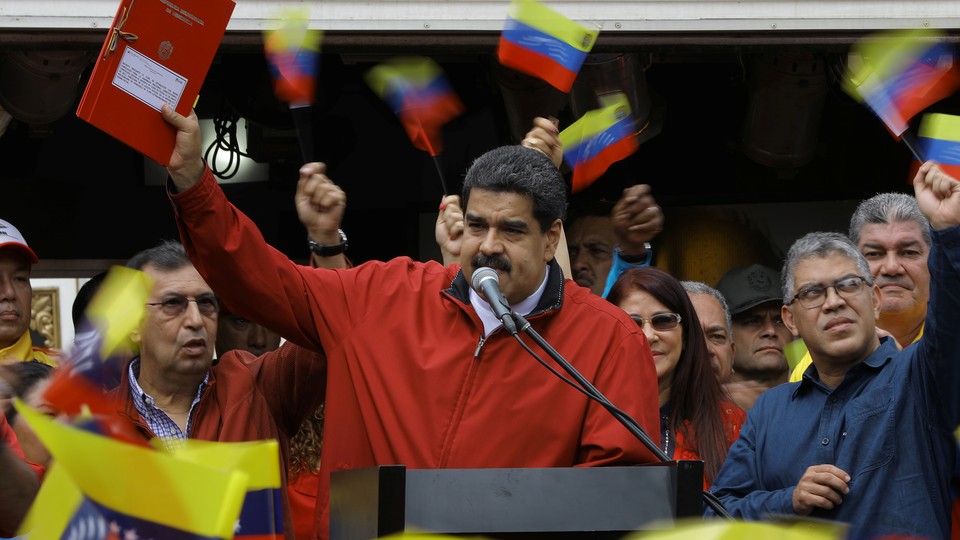 At a Tuesday rally in Caracas, Venezuelan President Nicolas Maduro signed a document allowing a "constituent assembly" to draft a new version of Venezuela's constitution, acting on a promise he made earlier this month. The assembly, which will consist of 540 members, has the authority to dissolve public powers and convene general elections. On Wednesday, Al Jazeera reported that part of the assembly would be elected at the municipal level, while another part would be elected by groups of farmers, students, workers, and indigenous people. At the beginning of May, Maduro said only half the members would be directly elected. Voting for the assembly is scheduled to begin in late July, with regional gubernatorial elections being held on December 10.
During Tuesday's rally in front of thousands of supporters, Maduro claimed the new constitution would bring peace to Venezuela, which has suffered in recent months from violent, and often deadly, protests. Since April 1, more than 50 people have been killed and hundreds injured during opposition protests against Maduro's government. In addition to accusing Maduro of carrying out a dictatorial regime, many protestors hold the president responsible for Venezuela's economic and humanitarian crisis, which has resulted in severe shortages of food and medicine. Although Maduro's term is not over until 2019, opposition groups have also called for early elections in hopes of removing the president from office. Maduro, meanwhile, has argued that protestors are part of a conspiracy supported by the U.S. to overthrow "21st century socialism."
In May, Maduro described the new assembly as "a citizen's constituent body" that is not allied with any political party. After telling supporters that he feared a civil war in Venezuela, Maduro said he aimed to "let the sovereign people impose peace, harmony, and true national dialogue" with a new constitution. "Votes or bullets, what do the people want?" Maduro asked the crowd on Tuesday.
Shortly following Maduro's speech, Venezuela's democratically elected National Assembly, which is controlled by the opposition party, denounced the new constitution, saying it would worsen the crisis rather than solve it. "Today's decision is nothing more than an evil announcement meant to divide, distract, and confuse Venezuelans further," said Julio Borges, the National Assembly's president. Borges also hinted that Maduro's decision could spark future protests, saying, "Today we've entered a new stage and that means more struggle and more street action."
Critics view the new constitution as a way for Maduro to usurp the power of the National Assembly and bypass the electoral process. In March, Venezuela's Supreme Court, which remains loyal to Maduro, annulled the National Assembly, claiming it was in contempt of its rulings. The court later rescinded their takeover in response to public backlash. At the time, many argued that the court sought to authorize Maduro's oil joint ventures without congressional approval.
According to Maduro's rivals, Tuesday's announcement demonstrates more of the same authoritarian behavior, with Maduro attempting to promote his own interests within the government. Others fear that, under a new constitution, Maduro could influence the results of future elections—an offense of which the president has already been accused. In the wake of Tuesday's announcement, many have drawn parallels to Maduro's predecessor, Hugo Chavez, who constructed a similar assembly in 1999 a mere hours after assuming office. Of the assembly's 128 seats, 122 were filled by the former president's allies.