Macron, Standing Alongside Putin, Says Russian Media Spread 'Falsehoods'
The French president accused Russia Today and Sputnik of being "agents of influence."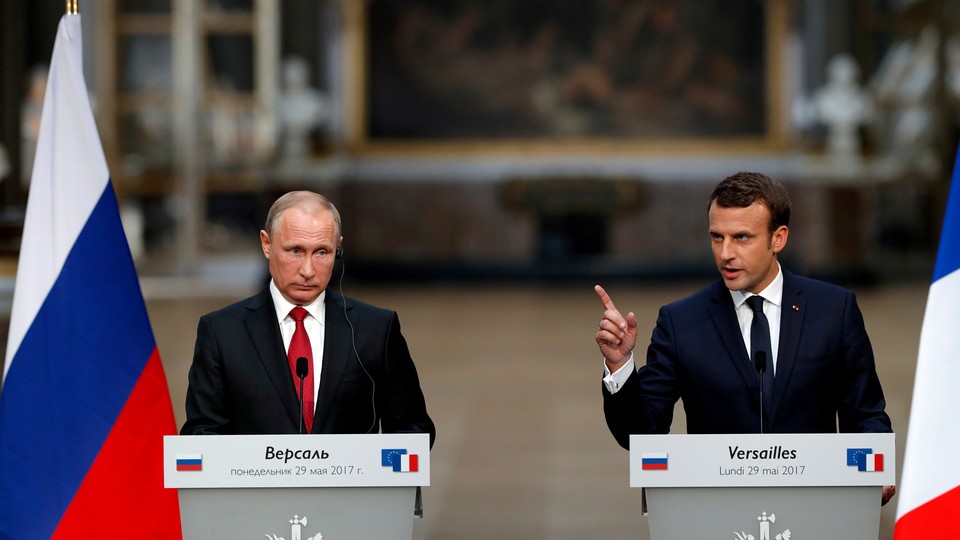 French President Emmanuel Macron did not mince words during his joint news conference Monday with Russian President Vladimir Putin, during which he labeled Russian state media outlets Russia Today and Sputnik "agents of influence and propaganda."
"I have always had an exemplary relationship with foreign journalists, but they have to be journalists," Macron said Monday at the Palace of Versailles, adding that "Russia Today and Sputnik were agents of influence and propaganda that spread falsehoods about me and my campaign."
The remarks, which were made during the leaders's first face-to-face visit, comes at a time of fraught relations between Paris and Moscow—particularly due to their differences over the six-year Syrian civil war, in which they back opposing sides. Despite these differences, however, the two leaders said they took part in a "frank, sincere dialogue" and expressed their willingness to pursue their shared priority of combatting terrorism and maintaining stability in Syria.
"Failed states in that region of the world are a threat to our democracies and as we've seen in every case they have led to the growth of terrorist groups," Macron said, adding that while France would seek stability and a democratic transition of power in Syria, it would also draw a "very clear red line" at chemical weapons, which Syrian President Bashar al-Assad has been accused of using.
The two leaders also agreed to renew dialogue about the long-standing conflict in Ukraine, over which the countries are also at odds, as well as the mistreatment of gays in Chechnya and of non-governmental organizations throughout Russia.
The French presidential election came up once more when the two leaders were asked about allegations of Russian interference. The question concerned the "massive" hack on Macron's campaign just 48 hours ahead of the final-round vote—a cyberattack that drew comparisons to the hacking of Hillary Clinton's campaign during the U.S. presidential election, and one which Macron's staff pointed to Russia as the possible source.
Russia has long appeared to favor Macron's far-right rival Marine Le Pen, who the Kremlin invited to Moscow a month before the French election's first round. Putin denied any interference, noting "it would have been very strange on our part to refuse to have a meeting with a leading political figure in Europe who wishes to develop good relations with Russia. It doesn't mean we tried to influence the result of the French presidential election—this is impossible."
Macron's meeting with Putin followed the G7 talks in Sicily and the NATO summit in Brussels, during which the French president met with several of his counterparts, including President Trump. The two leaders met for the first time Thursday in Brussels, during which they engaged in a widely photographed—and commented upon—handshake. It was one Macron later categorized as "not innocent," telling French newspaper Journal du Dimanche Sunday: "We need to show that we won't make small concessions, even symbolic ones, while not overhyping things either."