Macron Officially Instated as France's President
In a brief speech at the Élysée Palace, Macron pledged to unify a divided nation.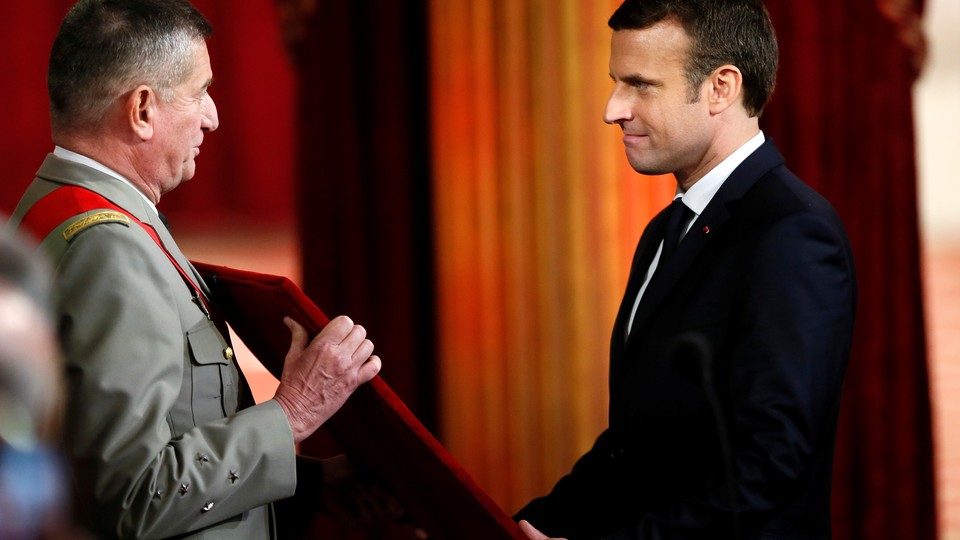 At a Sunday inauguration ceremony in the grand reception room at the Élysée Palace in Paris, Emmanuel Macron was officially instated as France's new president. At age 39, he is the nation's youngest head of state since Napoleon. Known for founding the independent political movement En Marche!, or "Onward!," which embodies neither left- nor right-wing policies, Macron campaigned on a platform of uniting France's partisan divides.
Prior to his career in politics, Macron worked as a civil servant and an investment banker. In 2012, he accepted a role as a senior advisor to then-president Francois Hollande, before becoming Hollande's Minister of Economy and Finance. In 2015, Macron announced he was leaving the Socialist party to become an independent. Less than a year later, the En Marche! movement was born, much to the distaste of Hollande, who many said felt betrayed by his former prodigy. In August, Macron resigned from his government post, and, by November 2016, he had announced his candidacy for president.
Macron launched his campaign with a speech against "corporatism" and large interest groups, saying: "The challenge is not for me to bring together the left or bring together the right. The challenge is to bring together France." This same theme echoed in his inauguration speech on Sunday. "My mandate will give the French back the confidence to believe in themselves," Macron said in front of a crowd of around 300 guests. "The division and fractures in our society must be overcome … Nothing will make me stop defending the higher interests of France."
Indeed, the majority of Macron's brief inauguration speech focused on restoring confidence in France's economy while bridging the nation's social divides. His speech highlighted issues like terrorism, the migration crisis, climate change, authoritarian governments, and "the excesses of capitalism" as some of the major challenges of his presidency. Macron also hinted at the need to restore French authority on the global stage. "It will be up to me to convince the French that our country, which seems threatened by the sometimes contrary winds of the world, carries in its heart all the resources to be a nation of the first rank," Macron said. These words have particular resonance in light of the massive, coordinated hack on Macron's campaign earlier this month, which staffers were quick to attribute to the Russian government.
Despite a major setback less than 48 hours before the presidential election, Macron has maintained a sense of positivity throughout his campaign. The BBC's Hugh Schofield offered an incisive take on the language of Macron's inauguration speech on Sunday, calling the new president "one of nature's optimists":
It was interesting to note how many "re-" words Emmanuel Macron used in his address. There was "re-formulate," "re-invent," "re-mould," "re-juvenate," "re-launch." And of course "re-naissance." It was all intended to "re"-inforce the message that this presidency will be one of newness, youth, and optimism.
If his upcoming schedule is any indication, Macron seems to be approaching his new position with a similar vigor. Shortly following his inauguration, Macron stood in the rain to light a flame at the Tomb of the Unknown Soldier at the Arc de Triomphe, before shaking hands with people along the Champs Elysées. Later that afternoon, Macron met with Paris Mayor Anne Hidalgo and visited wounded soldiers at a military hospital in a suburb outside Paris. On Monday, the new president will travel to Berlin to meet with German Chancellor Angela Merkel in an effort to reinforce France's commitment to the European Union. That same day, Macron is expected to name a candidate for prime minister.
For now, Macron seems able to count on public support during the initial stage of his presidency. After the new president defeated his opponent, Marine Le Pen, by a wide margin, thousands of people gathered in the courtyard of the Louvre Museum, waving flags and hugging one another in celebration. Despite being a political newcomer, Macron has also received encouragement from a few key international leaders. During the campaign process, former U.S. President Obama issued a rare endorsement of Macron. On Saturday, Angela Merkel also pledged her support, saying Germany would do everything in its power "not only to help France but also to shape the European path with France."
And yet, as Macron endeavors to chart a new course for France, he appears to be aware of the long road ahead. "I reassure you that not for a single second did I think that everything changed as if by magic on May 7," Macron said, referring to his victory on election day. "This will be slow work—demanding, but indispensable."