Two Big Blows to Uber's Self-Driving Technology
Its rivals Lyft and Waymo announced a partnership, and a federal judge barred a key engineer from working on Uber's project.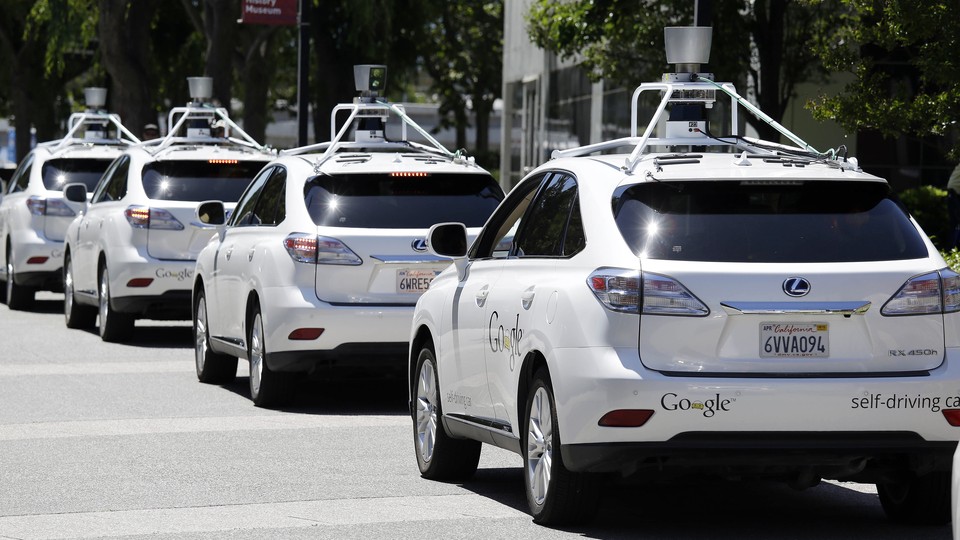 The ride-hailing service Lyft said Monday it will partner with Waymo, Google's self-driving project, adding drama to the race in Silicon Valley to develop an autonomous driving service—a contest that is playing out in courts and in cities across the country.
There was little information on specifics of the deal, but it is sure to upset Uber, the market leader. Lyft is the number-two ride-hailing service, and its competition with Uber has been fierce: Lyft once accused Uber of sabotaging its business. Separately Waymo, which operates under Google's parent company, Alphabet, has accused Uber in court of stealing its trade secrets.
In that lawsuit, a federal judge on Monday ordered Uber to stop using technology that may have been downloaded by Anthony Levandowski, a former Waymo engineer who is now with Uber. Waymo was seeking a full injection on Uber's driverless-car program, and while the judge did not go that far, the court did bar Levandowski from working on Uber's autonomous vehicle project while the case is open.
Levandowski is accused of conspiring with Uber to take thousands of files before he switched companies. Specially, Levandowski is alleged to have taken information on Waymo's LIDAR technology, which helps the cars to see. The system uses pulses of laser light to create a digital map of the world around a car, crucial to helping it navigate the streets. Uber has denied claims it stole the technology, or that they are fundamentally the same. The judge, however, appears not to agree.
In his decision, Judge William Alsup of Federal District Court in San Francisco, wrote,"the evidence indicates that, during the acquisition, Uber likely knew or at least should have known that Levandowski had taken and retained possession of Waymo's confidential files."
Last week, Alsup refused to send the case to arbitration, and even referred it to the U.S. attorney's office, which means it's possible there will be criminal charges. He also requested on Monday that Uber produce a timeline of events leading up to Levandowski's job transfer, and submit all their conversations to the court. The lawsuit now moves to a public trial.
Lyft's deal with Waymo will likely see the two companies exchange technology in some of the markets where they're testing self-driving services, like in Phoenix, where Waymo is running a pilot program. The partnership is also an indication that Waymo's technology is closer to becoming ready for commercial use. Waymo began its testing on closed roads, but is now openly testing its autonomous vehicles in states like Arizona, Texas, and Washington.
Unlike Uber, Lyft hasn't developed its own self-driving technology, so the partnership offers Lyft another foothold in the market. In April, Lyft partnered with General Motors, which bought the autonomous driving tech company Cruise Automation last year. The partnership between Waymo and Lyft was reportedly non-exclusive, and Lyft will continue to work with GM to test an autonomous version of the Chevrolet Bolt. Waymo also has its own independent partnership with Fiat Chrysler, and is in talks with Honda.