LeBron James Responds to Racist Vandalism of His L.A. Home
"No matter how famous you are, no matter how many people admire you, being black in America is tough."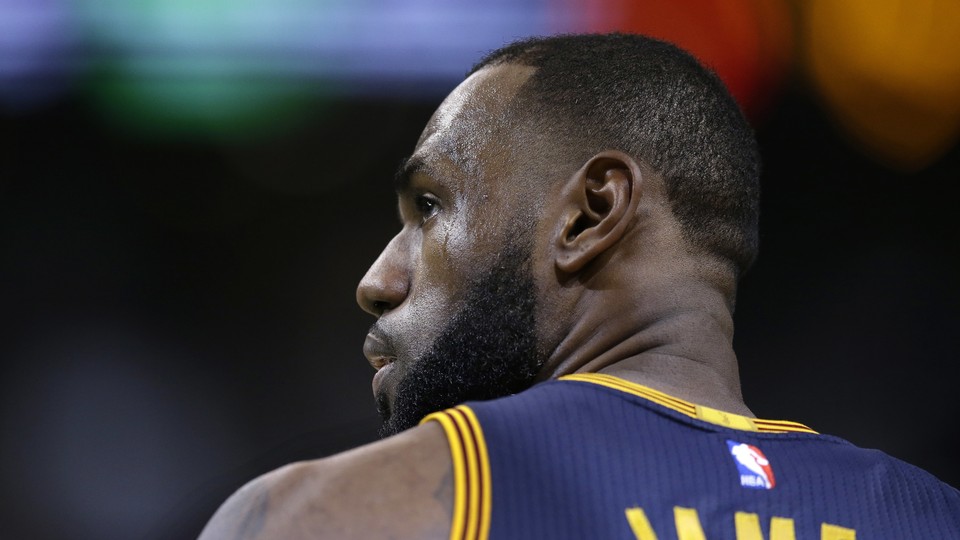 LeBron James was the victim of an apparent hate crime Wednesday morning when a racial slur was written in graffiti on the front gate of his L.A. home, the Los Angeles Police Department confirmed Wednesday. The vandalism occurred just one day before James is scheduled to play with his home team, the Cleveland Cavaliers, in his seventh straight NBA Finals. Should the Cavaliers clench the championship, it would be James's fourth NBA championship win, and his second playing for his home team.
On Wednesday, an LAPD officer confirmed to USA Today that James, whose primary residence is in Akron, Ohio, was not present at the time of the vandalism. The officer also reported that the graffiti has since been covered up by the home's property management. TMZ, who first reported the story, said that investigators are looking into whether security footage from neighbors' homes will reveal the perpetrator.
At a press conference on Wednesday, James addressed the vandalism, using the opportunity to call attention to race relations in America. "If this is [going] to shed light and continue to keep the conversation [about race in America] going on my behalf, then I'm okay with it," James said. "But it just goes to show that racism will always be a part of the world, a part of America."
According to James, one of the first things that came to his mind when he saw the graffiti was the mother of Emmett Till, a 14-year-old African American teenager who was brutally murdered in Mississippi in 1955. After Till was abducted, beaten, and mutilated by two white men, his mother insisted on an open casket at her son's funeral to show the barbarism of his killing. Both Till's murder and the subsequent acquittal of his killers by an all-white jury were critical to the advancement of the civil-rights movement.
On Wednesday, James told reporters that Till's mother "wanted to show the world what her son went through … being black in America." He added: "No matter how much money you have, no matter how famous you are, no matter how many people admire you, being black in America is tough. We got a long way to go for us as a society and for us as African-Americans until we feel equal in America."
James's comments echoed statements he made earlier this month in response to Baltimore Orioles center fielder Adam Jones receiving racial slurs at a game at Fenway Park. "It's not great for sports. It's not great for society," James said at a press conference on May 3. "Racism is gonna be a part of time forever … It's a real, real longer conversation, but if we can keep the conversation going, I think it helps."