The Dismantling of New Orleans's Confederate Monuments
The statue of Jefferson Davis is the second of four memorials to be removed under a 2015 decision by the city council.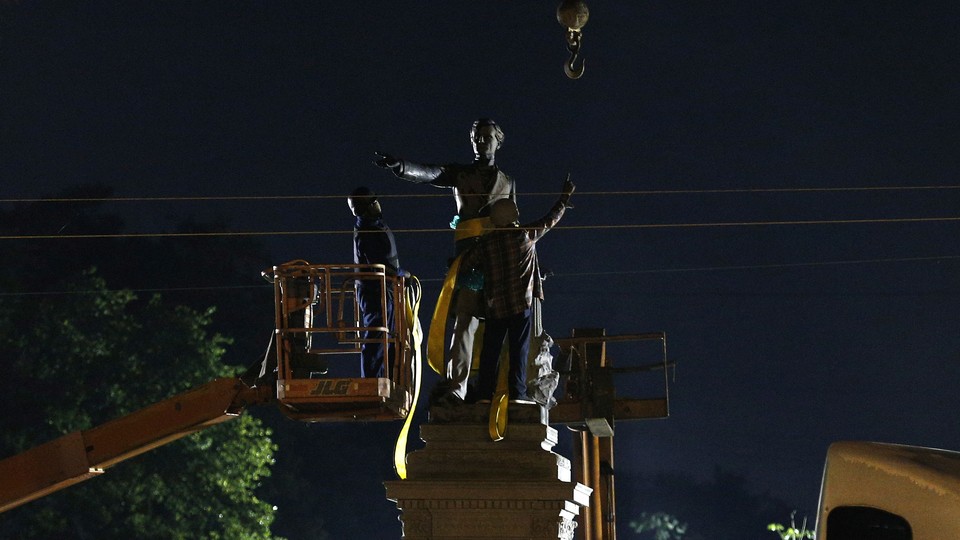 More than 150 years after the Civil War and more than 100 years since its construction, the city of New Orleans removed early Thursday morning its monument to Confederate President Jefferson Davis.
The dismantling of the statue honoring the first and only president of the Confederate States of America follows the New Orleans City Council decision in December 2015 to remove four monuments commemorating the "Lost Cause of the Confederacy," a movement which arose during the rise of Jim Crow segregation and one that the city said is "recognized across the South as celebrating and promoting white supremacy." The other monuments include statues of Confederate Generals Robert E. Lee and P.G.T. Beauregard, as well as a monument to the postwar Battle of Liberty Place, during which the all-white Crescent City White League staged an insurgency against the mixed-race Municipal Police in an attempt to topple city's government. The Battle of Liberty Place monument was the the first to be removed last month.
"These monuments have stood not as historic or educational markers of our legacy of slavery and segregation, but in celebration of it," New Orleans Mayor Mitch Landrieu said Thursday in a statement. "I believe we must remember all of our history, but we need not revere it. To literally put the Confederacy on a pedestal in some of our most prominent public places is not only an inaccurate reflection of our past, it is an affront to our present, and a bad prescription for our future. We should not be afraid to confront and reconcile our past."
Not everyone saw it that way. The monument's removal was met with opposition by the Monumental Task Committee, a nonprofit which likened their removal to "erasing a very specific and undeniable part of New Orleans' history." Other groups, like the Sons of Confederate Veterans, said their removal demonstrates that "the war on Southern heritage is raging."
The monument's removal was met with demonstrations by protestors for and against it. Those in favor could be heard cheering and shouting "take it down," while those opposed could be seen holding Confederate flags and chanting "President Davis."