Jakarta's Christian Governor Imprisoned for Blasphemy
Known as a leader of religious tolerance in Southeast Asia, Indonesia is beginning to feel the pull of its staunch Islamist groups.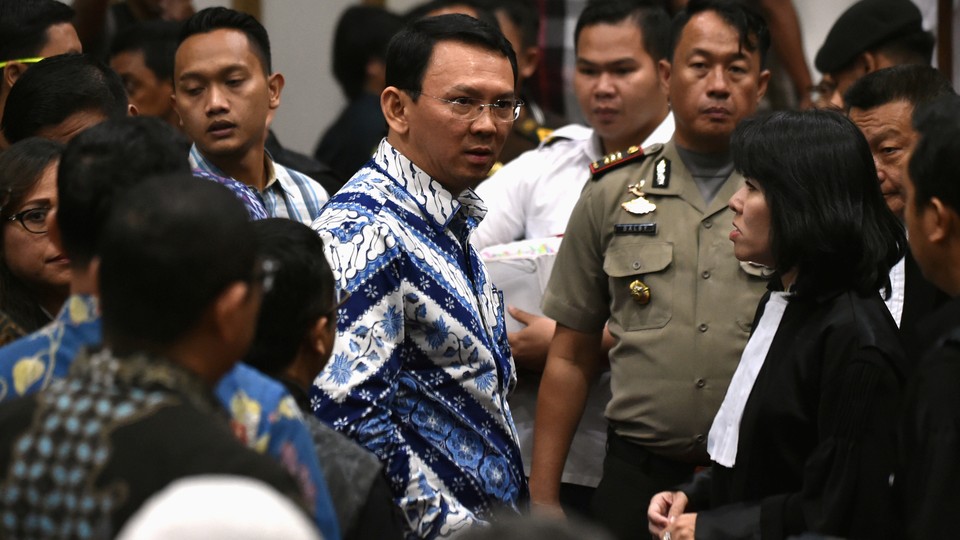 Jakarta's outgoing governor, Basuki Tjahaja Purnama, was found guilty of blasphemy on Tuesday and sentenced to two years in jail following comments he made regarding the Koran, the central religious text of Islam. The maximum sentence for blasphemy in Indonesia is five years in prison. While staunch Islamist groups pushed for Purnama to receive the full sentence, prosecutors asked for a conditional sentence of two years' probation. Purnama's lawyer says the governor plans to appeal the court's ruling.
While on a work trip late last year, Purnama claimed that Jakarta's Islamic leaders were misrepresenting a principle in the Koran for political gains. The verse in question, which comes from the fifth chapter of the Koran, suggests that Muslims should not have non-Muslim leaders. Purnama implied that his opponents were using the verse to discriminate against Christian candidates like himself. He later apologized for the comments, but did not admit to any wrongdoing.
In a statement to the court, head judge Dwiarso Budi Santiarto described Purnama's offense: "As part of a religious society, the defendant should be careful to not use words with negative connotations regarding the symbols of religions, including the religion of the defendant himself," he said. Another judge, Abdul Rosyad, argued that Purnama's comments had not only "caused anxiety," but also "hurt Muslims."
Purnama, often referred to by the nickname "Ahok," is the second Christian governor in Jakarta's history, and the city's first governor of Chinese ancestry. The majority of Indonesian citizens are Muslim, with most practicing a moderate form of Islam. Purnama sought reelection this year, but was ultimately defeated last month by Muslim candidate Anies Baswedan. The governor originally assumed his post by default after his predecessor, Joko Widodo, became Indonesia's president. With his reelection, Purnama hoped to become Jakarta's first directly elected non-Muslim leader. He is now expected to hand over the reigns to Baswedan in October. Following the announcement of Purnama's prison sentence, Jakarta's deputy governor, Djarot Saiful Hidayat, will take over as acting governor.
Most analysts agree that Purnama's comments regarding the Koran played a major role in hindering his reelection. In the wake of the incident, Islamist groups led giant rallies to express their opposition to the governor, even calling for him to resign before his term was over. In a statement to Reuters, a Purnama supporter speculated that the governor was convicted by the court due to pressure from "the masses." Without Purnama in office, many fear that Jakarta will soon be governed by rigid aspects of Islamic law. Others worry that Purnama's sentencing will deter minority citizens from running for office in the future.
On Tuesday, the Southeast Asia division of the United Nations Office of the High Commissioner for Human Rights said it was "concerned" by Purnama's jail sentence and called for Indonesia to "review" its blasphemy law. At the time, President Widodo, an ally of Purnama, told all parties to respect the court's decision. Although the blasphemy law is intended to prevent religious conflict, it has been criticized for achieving the opposite, allowing politicians and religious groups to persecute those with differing ideologies.
Following Tuesday's ruling, hundreds of Purnama's supporters gathered in protest outside the prison where the governor is being held. Many were dressed in red and blue plaid, Purnama's signature pattern. Some supporters were found weeping, and some vowed to remain outside the prison until the governor was released. According to Andreas Harsono, an Indonesia researcher at Human Rights Watch, acquittals for charges of blasphemy in Indonesia are rare. In a statement to The Guardian, Harsono called Purnama's case "the biggest blasphemy case in the history of Indonesia," adding: "He is the governor of Indonesia's largest city, an ally of the president. If he can be sent to jail, what could happen to others?"