'It Is Irritating': The U.K.'s Anger Over U.S. Intelligence Leaks
The British home secretary says she has "been very clear with our friends" about the release of information related to the Manchester attack.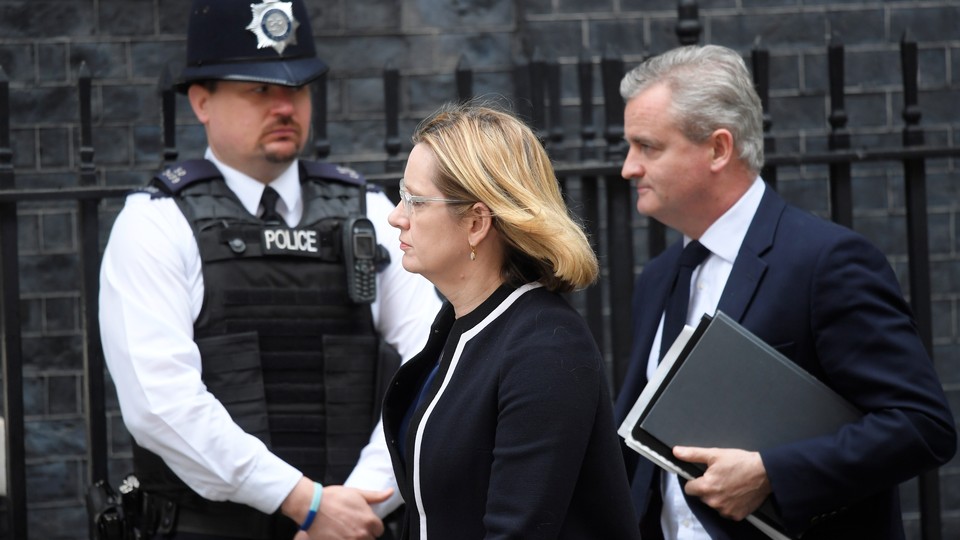 Updated at 9:24 a.m. ET
The U.K. government has expressed its displeasure at the U.S. over the leaking of information about the Manchester bombing to the media.
"The British police have been very clear that they want to control the flow of information in order to protect operational integrity, the element of surprise," Home Secretary Amber Rudd said Wednesday. "So it is irritating if it gets released from other sources, and I have been very clear with our friends that should not happen again."
At issue is the nature of the attack carried out Monday at the Manchester Arena following an Ariana Grande concert, as well as the identity of the attacker who killed 22 people and wounded 64 others. In the immediate aftermath of the attack, U.K. authorities publicly released few details of what had happened, but they shared intelligence with their U.S. counterparts. That information made its way to U.S. news organizations, which were quick to report, initially, that the attack was carried out by a suicide bomber, and, subsequently, that the attacker was Salman Abedi, 23. That disclosure forced the Greater Manchester Police to acknowledge the identity of the attacker.
On Tuesday, BuzzFeed News reported that both U.K. and European intelligence officials had expressed concern over the leaks by U.S. officials.
"You know you are trading the additional resources they bring for a chance of increased leaks," a Belgian counterterrorism official told BuzzFeed News. "In this case, I suspect the Brits are livid—I know we would be—to have a suspect ID'd before they're ready, and obviously the recent performance of the Trump administration on leaking sensitive information can't be far from anyone's mind if they examine [the situation]."
That's an apparent reference to President Trump's reported revelation of sensitive intelligence from a U.S. ally to Russian officials during a meeting at the White House—information the U.S. did not have permission to share because it reportedly could compromise an intelligence asset possessed by the U.S. ally. That ally was later revealed to be Israel. Israeli politicians downplayed the fallout of the revelation, but the country's intelligence officials were reportedly upset at the details that were shared with Russia because they feared it would make its way to Iran.
Speaking Wednesday in London, Rudd, the U.K. home secretary, said U.S. officials had assured their British counterparts that the leaks will stop.
"The Americans are very clear that we really need their support in maintaining operational integrity, and that means also controlling the information," she said.
She might want to share that message with her French counterpart, as well.
Gerard Collomb, the French interior minister, told BFMTV that Abedi had travelled to Libya and possibly Syria.
"Today we only know what British investigators have told us—someone of British nationality, of Libyan origin, who suddenly after a trip to Libya, then probably to Syria, becomes radicalized and decides to carry out this attack," he said, adding the information came from French and British intelligence services.
When asked if Abedi was part of a wider network, he said: "That is not known yet, but perhaps. In any case, [he had] links with Daesh [Islamic State] that are proven."
When asked about Collomb's remarks, Rudd declined to comment.
Her message to the U.S. appears not to have been taken seriously, either. Richard Engel, the NBC correspondent tweeted:
A US intel official tells @nbcnews UK bomber likely "had help" making "big and sophisticated bomb."

— Richard Engel (@RichardEngel) May 24, 2017

A US intel official tells @nbcnews bomber ID'd by bank card in his pocket. Confirmed by facial id.

— Richard Engel (@RichardEngel) May 24, 2017

A US intel official tells @nbcnews members of bomber's family warned sec officials about him in past, that he was "dangerous."

— Richard Engel (@RichardEngel) May 24, 2017
No word yet from Rudd on those leaks.