Hannity Loses Advertisers Over Seth Rich Conspiracy
The television host is chalking up the loss to a liberal media crusade.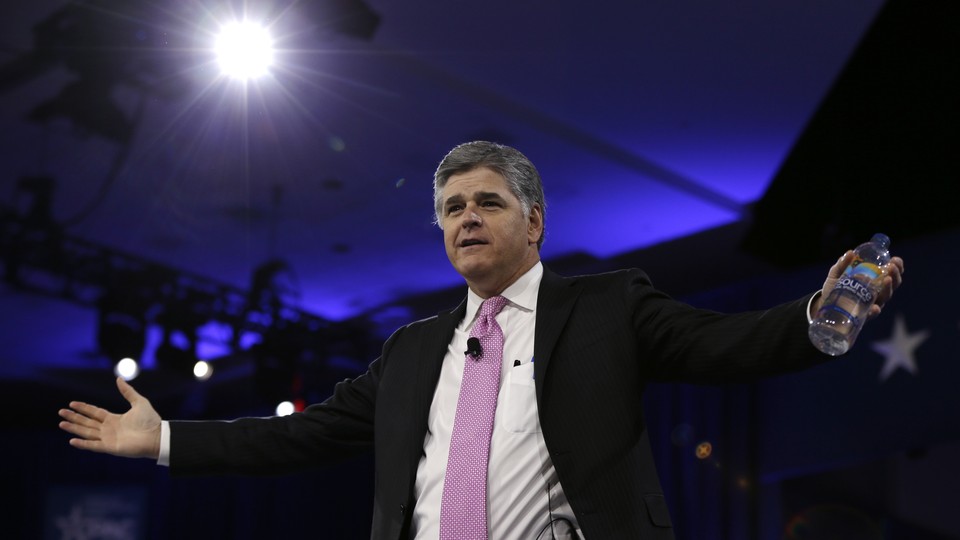 At least five advertising firms have pulled their commercials from the Sean Hannity Show on Fox News following the television host's coverage of a false murder conspiracy. On Tuesday of last week, Hannity reiterated a now-debunked theory regarding the death of Seth Rich, a Democratic National Committee employee who was gunned down last summer in Washington, D.C. While local police suspect the shooting to be a botched robbery, Hannity claimed that Rich was murdered over his alleged ties to WikiLeaks. Moreover, Hannity argued on Twitter that the story could potentially discount any evidence of collusion between Russian officials and the Trump administration leading up to the 2016 U.S. presidential election:
On May 16, the same day that Hannity referenced the conspiracy on air, an article featuring similar claims was published on the Fox News website. The site later retracted the article on May 23, saying it "was not initially subjected to the high degree of editorial scrutiny we require for all our reporting." By then, the story of alleged ties between WikiLeaks and Rich's murder had reached major conservative news outlets like Drudge and Breitbart.
On the day of the retraction, Hannity told Fox viewers that he would no longer be reporting on Rich's murder, not because of its inaccuracy, but because of a request from the deceased victim's family. "Please do not interpret what I'm saying tonight to mean anything," he said. "Don't read into this. I promise you, I am not going to stop doing my job. To the extent of my ability, I am not going to stop trying to find the truth." Hannity later told The Huffington Post that the decision to suspend his reporting came from his heart rather than any network pressure. He added: "Nobody tells me what to say on my show. They never have and, frankly, they never will."
For now, the network has continued to show its support for Hannity, whose program brings in millions of dollars in ad revenue each year. According to Kantar Media, a market research firm that tracks ad spending on commercials, Hannity's show generated around $56.1 million in 2015, and another $65.7 million in 2016. While Fox News announced Wednesday that host Kimberly Guilfoyle would be replacing Hannity on air for the remainder of the week, the network insisted that, "like the rest of the country," Hannity was going on vacation for Memorial Day weekend. "Those who suggest otherwise are going to look foolish," the network added, temporarily dispelling rumors that Hannity's job was in jeopardy.
Even with Fox News standing behind Hannity, advertisers were less than pleased with his recent on-air comments. BuzzFeed reports that companies like Cars.com, Crowne Plaza Hotels, Peloton bicycles, Casper, Leesa Sleep, and Ring home security have all pulled their commercials from Hannity's show. Cars.com was the first to comment on their decision, telling BuzzFeed News that the company had been "watching closely" prior to removing their advertisements. On Wednesday, Peloton also tweeted that it had "directed [its] media agency to stop advertising on Sean Hannity's show."
Hannity has since attributed the loss of advertisers to a liberal crusade against his reporting. "There's nothing that I did, nothing that I said, except they don't like my position politically," he told The Huffington Post. "They'll try to ratchet up the intensity of their rationale. It does not justify an attempt to get me fired. And that's what this is. This is an attempt to take me out. This is a kill shot." On Twitter, Hannity specifically called out Media Matters For America (MMFA), a liberal non-profit research center that describes its mission as "correcting conservative misinformation in the U.S. media." On Tuesday, Media Matters released a list of more than 100 companies that have advertised on Hannity's show since May 1 in order to encourage viewers to put pressure on advertisers. Hannity referred to the non-profit's efforts as "liberal fascism":
IMPORTANT! Mediamatters is trying to silence me, get me fired, pressure my advertising on radio & TV. Liberal Fascism. I need your help!!

— Sean Hannity (@seanhannity) May 23, 2017
The chain of events closely resembles the career downfall of former Fox News host Bill O'Reilly, who was fired from the network after news surfaced that both he and Fox News had paid $13 million worth of settlements following allegations of inappropriate behavior and sexual harassment. After online campaigns from organizations like Media Matters incited a stream of advertising boycotts, O'Reilly took a vacation from his hosting job, but never returned to the network. He was later fired on April 19.