Gregg Allman, the Sound of Southern Rock
The founding member of the Allman Brothers Band passed away in Savannah, Georgia.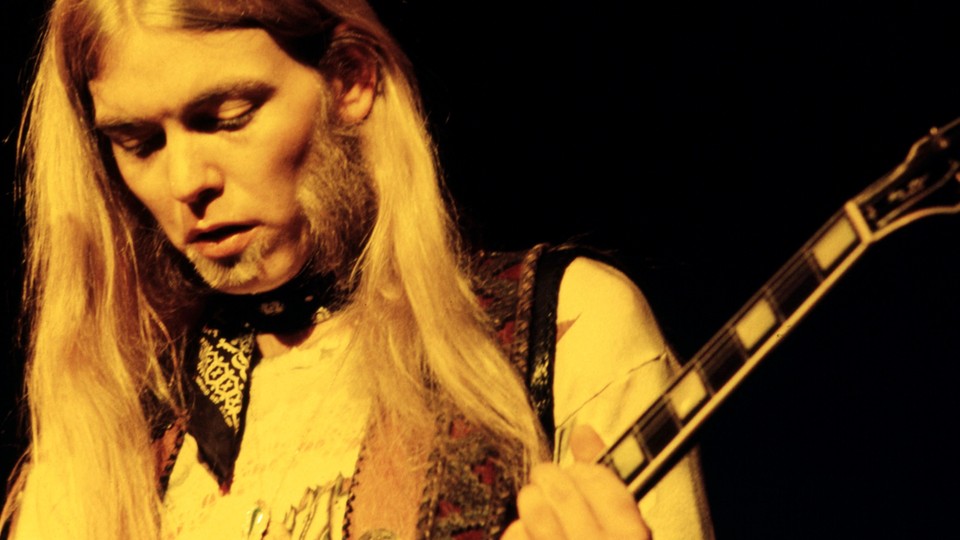 Founding member of the Allman Brothers Band, Gregory LeNoir "Gregg" Allman, who with his Hammond B-3 organ, and soft but growling voice helped create a sound that was simultaneously jazz, rock, blues, and parts San Francisco jam band, and that became the defining tone of Southern rock music, died on Saturday. He was 69.
His death was announced on his website, and gave no official cause. Allman struggled much his life with health issues and drug addiction, and the statement on his death said, "During that time, Gregg considered being on the road playing music with his brothers and solo band for his beloved fans, essential medicine for his soul. Playing music lifted him up and kept him going during the toughest of times." It added that he "passed away peacefully at his home in Savannah, Georgia."
Late last year Allman canceled tour dates, saying he'd suffered a throat injury. In March, he canceled the remaining shows on the tour.
Allman and his older brother, Duane, both started the band after years of touring to little success. They were born in Nashville, Tennessee, to a Military father who was killed in 1949 by a hitchhiker he picked up on Christmas day. They lived in Florida, played in high school bands, and moved to Los Angeles in the '60s under the band name Hour Glass. They released two albums for Liberty Records, neither to any success. In 1968 everyone but Gregg left the West Coast, and Duane became a studio musician at the famous Muscle Shoals recording studio in Alabama. But Gregg quickly burned out on the music scene in California, and he rejoined his brother. Along with drummer Butch Trucks, percussionist Jai Johanny Johanson, Dickey Betts on guitar, and bassist Berry Oakley, this would become the Allman Brothers Band.
In 1969 the band released a self titled album to little success. The next one, Idlewild South, firmed their tone and set them apart. The album had dark bluesy rhythms guided by the Sabbath-day tones of Allman's organ. His voice could sound throaty, almost a growl, like on the album's first track, "Revival," or more sonorous like on the next song, "Midnight Rider." That song captures a lot of what the Allman Brothers Band sound would become: rooted in blues, prone to psychedelic interludes, a bit country, and entirely Southern.
It was only after the release of a live performance, called At the Fillmore East, that they became well-known. Their next album, Eat a Peach, would be their most popular. On it were radio hits like "Ain't Wastin' Time No More" and "One Way Out," soft, almost orchestral tracks like "Melissa" and the half-hour quasi-jazz improvisational sounds of "Mountain Jam." Unfortunately, between the release of those albums, Duane Allman died in a motorcycle accident in Macon, Georgia. A year later, the band's bassist, Oakley, died the same way. In a 1973 feature in Rolling Stone magazine, written by the then-16-year-old Cameron Crowe, Allman reflected on his start in music, his brother's musical influence and first motorcycle:
"He quit school, I don't know how many times. Got thrown out a few times too. But he had that motorcycle and drove it until it finally just fell apart. When it did, he quit school. While I was gone, he'd grab my axe and start picking. Pretty soon we had fights over the damn thing, so when it came around to our birthdays—mine was in December and his was in November—we both got one. I got mine a little earlier than my birthday, actually. Matter of fact, I put hands on my first electric guitar November 10th, 1960, at three o'clock that Saturday afternoon. Duane's guitar got into the picture shortly after that."

Gregg gave the Sears guitar to a family friend and it is probably still somewhere in Daytona Beach the way Gregg last saw it; painted flat black with gold strings on it and containing two potted plants.

The Allmans took their electric guitars to led Connors, "a really intense cat who knew how to teach. He's probably still down there. He didn't teach any of that bullshit minute waltz business. I said, 'Man, I want to learn some goddamn Chuck Berry music!" . . . and he taught me."
It was from these roots that later Southern rock bands like Lynyrd Skynyrd and the Marshall Tucker Band got their influence; although, the Allman Brothers Band cut across genre, influencing their peers in the 1970s and leaving their mark on the era. Allman was the face of that sound. He had long blonde hair and thick sideburns that spread his cheeks, and many others would go on to copy that look.
The Allman Brothers Band continued in many variations afterward, always with Allman at the center, either on guitar, vocals, or his Hammond B-3 organ. The band was inducted into the Rock & Roll Hall of Fame in 2006, and received a Grammy Award for lifetime achievement in 2012. Allman also had a successful solo career.  In 2011 he was nominated for a Grammy award for best blues album for Low Country Blues, produced by T Bone Burnett. Allman released his last album earlier this year.
Throughout the decades, much of Allman's personal life was fraught with pain, either from the early death of his father, failed marriages, drug addiction and recovery. But always there was music. "You've got to consider why anybody wants to become a musician anyway," he said in the '73 Rolling Stone feature. "I played for peace of mind."