In France, the Predictable Has Finally Happened
Expectation turned to reality Friday night when Emmanuel Macron's campaign suffered a massive hack.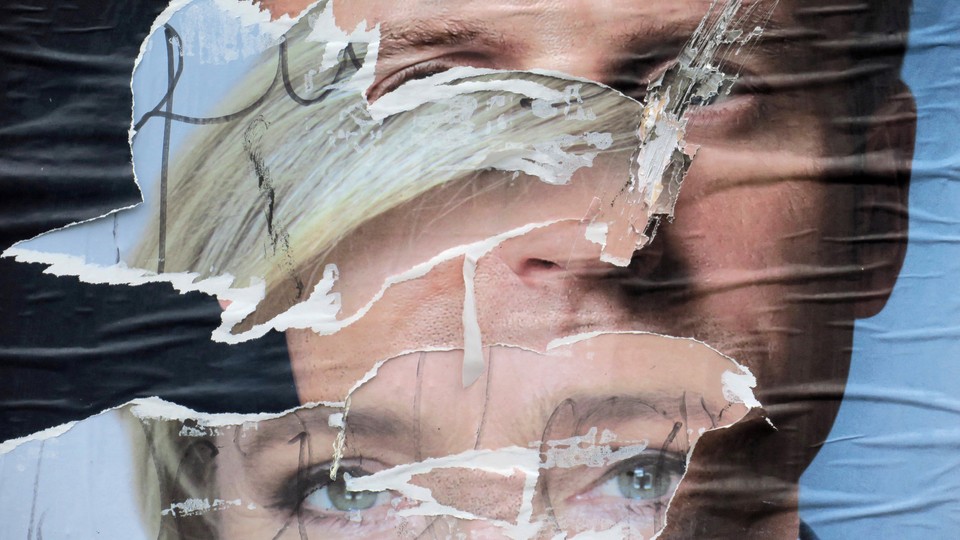 French presidential candidate Emmanuel Macron suffered a "massive, co-ordinated hacking" effort Friday night less than 48 hours before the election—an attack that drew immediate parallels to the cyberattacks that hit Hillary Clinton's presidential campaign last year, as well as to alleged electoral interference in other parts of Europe. Macron's campaign announced Friday that tens of thousands of its internal emails and documents were leaked to the public via a file-sharing website.
The parallels to the 2016 U.S. election are striking: Both occurred days before an election. Both were carried out by hacking the personal and professional email accounts of campaign staffers. And both were directed at more establishment-friendly candidates—not their conservative opponents.
While the perpetrators of the Macron hack haven't been identified, numerous intelligence agencies have expressed confidence that Russia was behind the hacking of Clinton's emails during the 2016 U.S. election. Russia is also said to have targeted the French electoral process, as well as elections in other counties where the leading candidates have been critical of Vladimir Putin, the Russian president. Russia denies any such actions. But U.S. intelligence agencies concluded that Putin ordered interference in the U.S. election to favor one candidate—though it said there was no evidence to suggest the interference was successful. Arguably the most important insight from the intelligence report was summed up in a single sentence by The New York Times: "This will happen again." After witnessing the efficacy of its cyberattack on the U.S., the report said, Russia was preparing for future hacks on U.S. allies:
We assess Moscow will apply lessons learned from its campaign aimed at the U.S. presidential election to future influence efforts in the United States and worldwide, including against U.S. allies and their election processes. … The Kremlin and the intelligence services will continue to consider using cyber-enabled disclosure operations because of their belief that these can accomplish Russian goals relatively easily without significant damage to Russian interests.
In short, Friday's hack of the Macron campaign was no surprise. In February, French Foreign Minister Jean-Marc Ayrault threatened Russia with retaliation should the country meddle in the French election. "We will not accept any interference whatsoever in our electoral process, no more from Russia, by the way, than from any other state," Ayrault said. He also said France would not stop short of "retaliatory measures" if necessary. "No foreign state can choose the future president of the Republic," he said.
At the time, Ayrault was responding to complaints by the Macron campaign that they were being targeted by fake news disseminated by Russian media. Before Friday, Macron's staff had also complained of hacking attempts, including efforts to steal their email credentials—again pointing to Russia as the likely source. Indeed, a researcher with the security firm Trend Micro uncovered evidence that the hackers established email phishing sites and attempted to install malware on Macron's campaign site. The researcher told Reuters that "digital fingerprints" linked Macron's hacking to the hacking of the Clinton campaign.
In February, French President Francois Hollande asked his government to increase security measures to prevent hacking. As early as January, the General Directorate for External Security, France's foreign intelligence service,  warned that hackers were attempting to strengthen the campaign of Macron's opponent, Marine Le Pen. The agency anticipated the Kremlin would enlist bots to post millions of positive messages regarding Le Pen, while at the same time seeking to publish Macron's confidential emails.
Putin's apparent favor for Le Pen is widely known, as are the far-right candidate's financial ties to Russia. In 2014, she received a $11.7 million loan from a Russian bank to fund her various campaign efforts. And in December of last year, she reportedly requested a $30 million loan from Russia to fund her presidential campaign. Le Pen has also been supportive of key aspects of the Kremlin's political agenda, including officially recognizing Crimea as a Russian territory, and withdrawing from NATO.
Still, the goal of such a hack isn't immediately clear: Nothing especially incriminating or controversial has been revealed so far, and Macron's campaign said that authentic documents were released along with fake ones in order to sow confusion. Nor is the size of the release, which the campaign described as "massive," always a useful way to describe how significant the hack actually is or whether the documents are interesting. The leak's timing, late Friday, was likely meant to ensure it would get media play, but French officials have ordered a blackout on the contents of the data dump—so its impact before the election may be limited.
In a tweet that has since been deleted, Gerard Araud, the French ambassador to the U.S., referred to Friday's hacking as "a last-ditch offensive to the benefit of [a] preferred candidate of a foreign government." While Macron leads Le Pen in the polls by more than 20 percentage points, the release of his internal emails and financial documents could at the very least serve to weaken his forthcoming leadership. Whatever its outcome, the hacking "was to be expected," Araud tweeted. And yet, despite warnings from U.S. intelligence agencies, France's foreign intelligence service, and Macron himself, France could not seem to fend off the threat to its political system.