Former Fox News CEO Roger Ailes Is Dead
The news was confirmed by his wife.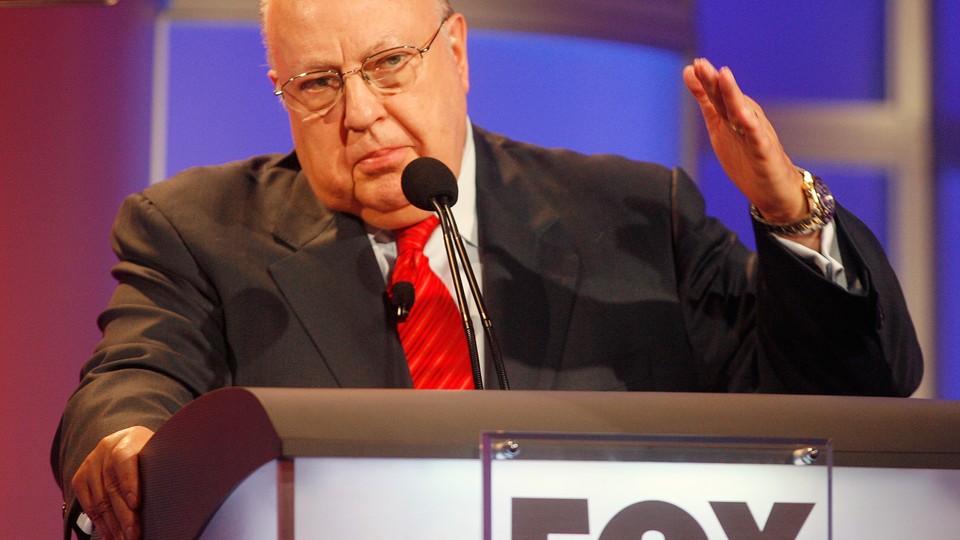 Updated at 10:59 a.m.
Roger Ailes, the former Fox News CEO, is dead, the Drudge Report and Fox are reporting this morning, citing a statement from Ailes's wife, Elizabeth Ailes. Ailes was 77.
Here's the statement:
I am profoundly sad and heartbroken to report that my husband, Roger Ailes, passed away this morning. Roger was a loving husband to me, to his son Zachary, and a loyal friend to many. He was also a patriot, profoundly grateful to live in a country that gave him so much opportunity to work hard, to rise—and to give back. During a career that stretched over more than five decades, his work in entertainment, in politics, and in news affected the lives of many millions. And so even as we mourn his death, we celebrate his life…
The news comes less than a year after Ailes was ousted from the network he helped create and turn into a political and ratings behemoth in the wake of allegations of sexual harassment made by Gretchen Carlson, a former host on the network.
At the time, Rupert Murdoch, who assumed Ailes's role as chairman and acting CEO of Fox News Channel, said: "Roger shared my vision of a great and independent television organization and executed it brilliantly over 20 great years." Ailes left Fox amid claims by Carlson and other women at the network that he had sexually harassed them. He reportedly received a $40 million parachute to leave.
Ailes, a former aide to President Nixon, ran Fox News since it was founded in 1996. His liberal critics accused him of tilting the network's coverage to favor conservatives and the Republican Party. Fox still dominates the cable news ratings.
In a statement Thursday, Murdoch said:
Fox News's on-air personalities were emotional at the news of Ailes's death. New York magzine's Gabriel Sherman, who has written extensively about Fox and Ailes, said on Twitter the death was  reverberating through the Fox News community." But he added:
A Fox News employee who'd been sexually harassed by Ailes said this morning, "Justice."

— Gabriel Sherman (@gabrielsherman) May 18, 2017