Former CIA Director Testifies Before Congress
In a public hearing on Tuesday, John Brennan confirmed that Trump campaign aides repeatedly communicated with senior Russian intelligence officials prior to the 2016 presidential election.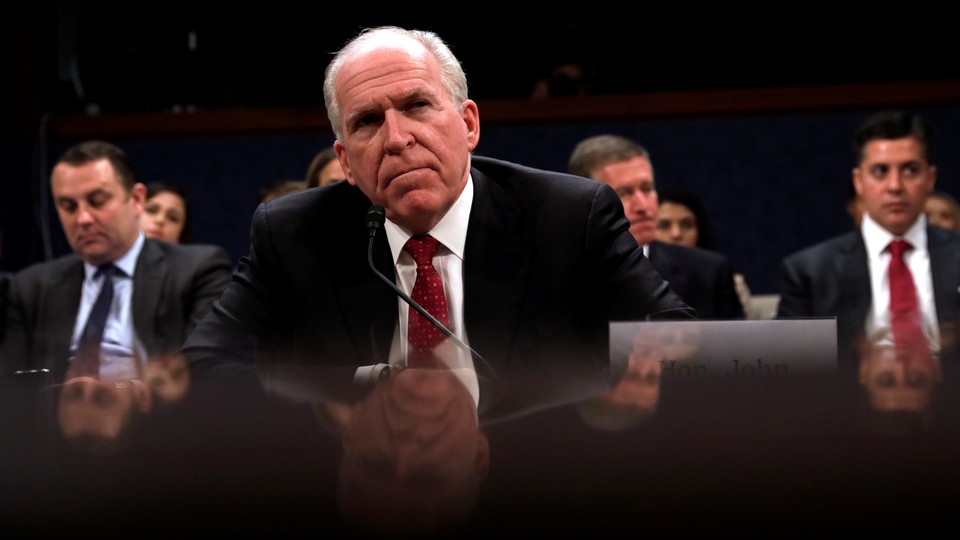 Former CIA Director John Brennan testified before the House Intelligence Committee on Tuesday, providing information regarding Russia's interference in the 2016 U.S. presidential election, as well as possible collusion with the Trump campaign. The hearing marked the first time that Brennan publicly expressed concern over the link between the Trump campaign and Russian officials, The New York Times reports. Brennan was originally scheduled to testify in March, but the hearing was unexpectedly postponed by the committee's chairman, Devin Nunes, who wanted to speak privately with former FBI Director James Comey and National Security Director Mike Rogers.
Brennan began his testimony on Tuesday by stating that "it should be clear to everyone that Russia brazenly interfered" in the 2016 election. Indeed, numerous U.S. intelligence agencies have expressed confidence that Russia was responsible for the hacking of former presidential candidate Hillary Clinton's emails. According to Brennan, he first became worried about Russian interference last summer, prompting him to raise his concerns to Alexander Bortnikov, the director of Russia's Federal Security Service, who denied the claims. "I believe I was the first U.S. official to brace Russia on this matter," Brennan said. Brennan also informed the committee that he hosted classified briefings to inform senior members of Congress that Russia was attempting to influence the election's outcome.
When asked whether the Russian government intended to injure Clinton's candidacy or sway the electorate in favor of Trump, Brennan responded: "My assessment is it was both." According to Brennan, Russia expected Clinton to win the election, but hoped to better Trump's prospects "even though they probably thought they were not that great." Brennan said the Russian government "tried to damage and bloody" Clinton leading up to the election, and would have continued to do so had Clinton become president.
Brennan also provided insight into why Trump's candidacy appealed to Russian President Vladimir Putin—aside from the fact that Trump was running against Clinton, whom Putin notably dislikes. According to Brennan, Russia "in the past had some good relations with businessmen who happened to elevate into positions of government authority" and saw Trump's outsider status as a major draw. Other pundits have speculated that Putin hoped Trump's candidacy would either weaken the United States's international reputation or divide the nation from within. Still others have argued that Putin solely intended to denigrate Clinton.
Perhaps the most critical insight from Tuesday's hearing was Brennan's confirmation that Trump campaign aides and associates repeatedly communicated with senior Russian intelligence officials prior to the election. "I encountered and am aware of information and intelligence that revealed contacts and interactions between Russian officials and U.S. persons involved in the Trump campaign," Brennan said. While the Times reported the same information in February, Democrats have recently accused Trump of obstructing justice following reports that he encouraged Comey to halt the FBI's Russia investigation before firing him on May 9. During his testimony, Brennan said he didn't know whether the Trump administration colluded with Russian officials, insisting that he only "saw interaction that in my mind raised questions of whether it was collusion."
At his own hearing on Tuesday, the director of national intelligence, Dan Coats, was presented with a similar question by Arizona Senator John McCain, but declined to respond. "As the president's principal intelligence adviser, I'm fortunate to spend a significant amount of time with the president discussing national security interests and intelligence as it relates to those interests," Coats said. "It's not appropriate for me to comment publicly on any of that." On Monday, The Washington Post reported that Coats, along with Director Mike Rogers, were instructed by Trump to deny any evidence of collusion with Russia in the 2016 election. According to the Post, "Coats and Rogers refused to comply with the requests, which they both deemed to be inappropriate."