Ford's CEO Mark Fields Is Being Replaced
The company's stock value has declined more than 30 percent since he took over in July 2014.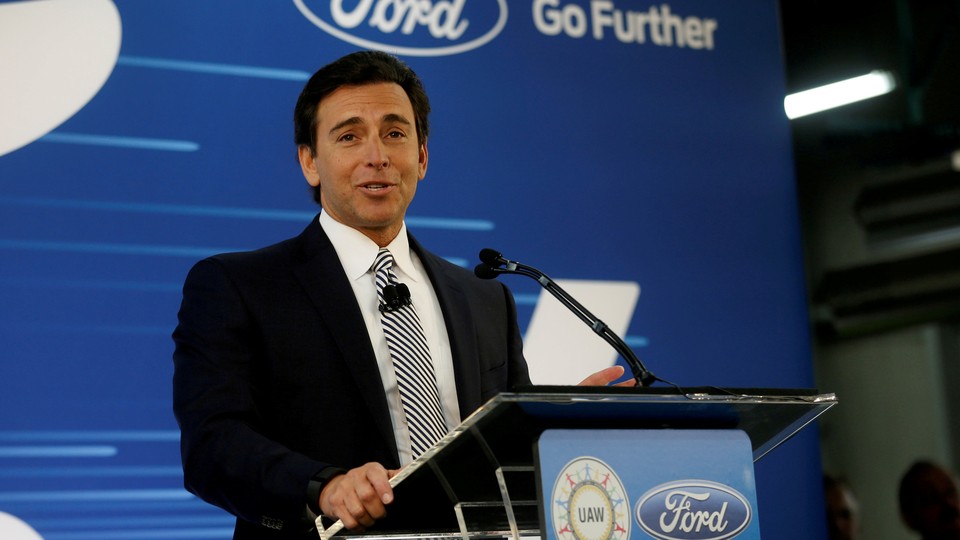 Updated at 9:41 a.m. ET
Ford Motor Company announced Monday it was replacing Mark Fields, its CEO, with Jim Hackett, the head of its autonomous-driving unit.
Ford's stock has declined more than 30 percent since Fields became CEO in July 2014. Last week the company announced it was cutting 1,400 jobs, about 10 percent of its salaried workforce, mostly through buyouts. The move was an attempt to assuage shareholders angry about the direction of the company, which has been buffeted by poor sales, lower-than- expected profits, and declining stock value.
Under the move announced Monday, Fields, 56, will retire from the company he joined in 1989 and be replaced by Hackett, 62, the head of Ford's Smart Mobility unit. Hackett served as CEO of Steelcase, the maker of office furniture, from 1994 and 2014, and, Bloomberg adds, "his promotion indicates Ford is looking to seize on that expertise as consumer demands change." Here's more:
He worked at Grand Rapids, Michigan-based office furniture maker Steelcase for two decades. He was recognized for predicting the office landscape would shift away from cubicles to an open-space environment, and transformed the traditional manufacturer of office furniture, the profile showed.

Hackett led a major reorganization at Steelcase that involved deep cuts in the workforce, including personally pink-slipping the best man from his wedding, according to Automotive News. After Steelcase, Hackett became athletic director of the University of Michigan at a time of turmoil and hired Jim Harbaugh to return the football team to its winning ways.
Two weeks ago, Fields had told investors that the company's plans would allow Ford to stay competitive in an increasingly tight marketplace. But, as The New York Times, adds:
Despite spending heavily on self-driving research, Ford was struggling to keep pace with larger automakers such as General Motors and tech giants like Google, both of which have been testing self-driving vehicles. Ford is promising to have a fully autonomous vehicle on the road by 2021.

The upstart electric-vehicle maker Tesla — which recently surpassed G.M. and Ford in market capitalization — is bringing a mass-market model to market later this year. …

And with auto sales in the United States cooling off after two record years, Ford faces a tough balancing act to maintain strong results in North America while investing in projects for the future.
It's unclear whether Hackett's appointment can reverse Ford's fortunes. The U.S. auto industry is cooling; IHS Automotive reported in February that  estimated sales will fall to 17.4 million from 17.5 million last year.  But, as CNBC reports: "Based on the weak numbers during the first four months of 2017, many observers have begun wondering if the industry will slip even faster than forecast."