EPA Says Goodbye to Half Its Scientific Board
The agency hopes to consider a more diverse group of applicants, including experts from chemical and fossil-fuel companies.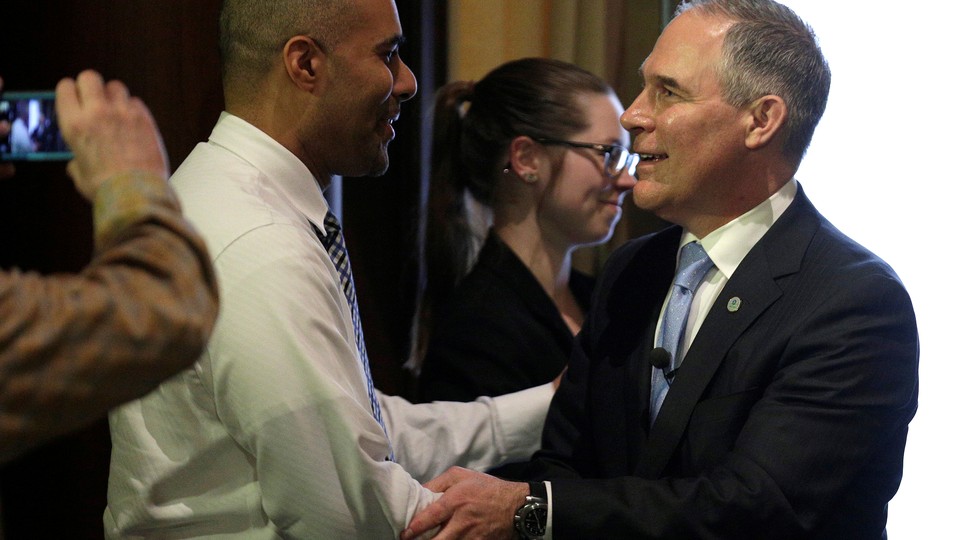 Under Administrator Scott Pruitt, the Environment Protection Agency has decided not to renew the contracts of half the scientists on its Board of Scientific Counselors, the board's chairwoman, Deborah Swackhamer, confirmed Monday. The board's latest three-year term expired on April 30, with members limited to serving two terms. In an unprecedented move by the agency, nine of the board's 18 scientific experts received word via email that their appointments would not be renewed, despite being eligible to serve a second term. The first round of emails circulated on Friday and continued over the weekend.
"Today, I was Trumped," Robert Richardson, an ecological economist and associate professor at Michigan State University, tweeted on Friday. "I have had the pleasure of serving on the EPA Board of Scientific Counselors, and my appointment was terminated today." On Sunday, Richardson told The Washington Post he was "kind of shocked" to learn he would have to reapply for his current position. "I've never heard of any circumstance where someone didn't serve two consecutive terms," he said.
This sentiment was echoed on Monday by fellow board member Courtney Flint, a professor of natural resource sociology at Utah State University. Flint told CNN that the news of her termination "came as a surprise," adding: "I do not think I am speculating when I say that this is a political move." On the same day, Flint informed the Post that she was told to expect a renewal of her appointment.
The EPA's large-scale dismissal is indeed unorthodox. According to Gretchen Goldman, a research director at the Center for Science and Democracy, it is "rare to see such a large scale dismissal even in a presidential transition." In a statement to CNN, Goldman referred to the decision as "inserting politics into science." Her organization "see[s] this as part of larger pattern of trying to remove science from the making of policy at EPA," she said.
The EPA, meanwhile, stood by their decision. "No one has been fired or terminated," said EPA spokesman J.P. Freire. "We're not going to rubber-stamp the last administration's appointees. Instead, they should participate in the same open competitive process as the rest of the applicant pool." Freire also said the EPA is looking to consider a more diverse group of applicants, including experts from chemical and fossil-fuel companies, provided there are no conflicts of interest.
Prior to assuming his role as administrator, Pruitt was engaged in a lengthy battle with the EPA over the agency's attempt to regulate mercury, smog, and other forms of pollution. According to thousands of emails obtained by The New York Times, these battles were likely influenced by Pruitt's close ties to major oil and gas producers. Last month, Pruitt announced he would postpone the compliance deadline for an Obama-era regulation limiting power plants from dumping toxic metals into the nation's public waterways. Under Pruitt, the EPA has also eliminated certain scientific claims pertaining to climate change from its websites.
Some see Pruitt's decision not to renew the board's current appointees as an effort to crackdown on "liberal scientists" and promote a more conservative agenda. At a hearing in February, U.S. Representative Lamar Smith, the Republican chairman of the House Science, Space, and Technology Committee, lamented the number of academic scientists on the EPA's Scientific Advisory Board. "The EPA routinely stacks this board with friendly scientists who receive millions of dollars in grants from the federal government," Smith said at the time. "The conflict of interest here is clear."
Both the Board of Scientific Counselors and the larger Scientific Advisory Board help to ensure that EPA research and regulations are grounded in credible scientific evidence. According to an anonymous senior administration official from the EPA, Pruitt is making a concerted effort to change how the agency conducts its scientific analyses. Still, many argue there is no substitute for academic research. In a statement to the Post, Rush Holt, the CEO of the American Association for the Advancement of Science, called for Pruitt to reconsider his approach. According to Holt, "Academic scientists play a critical role in informing policy with scientific research results at every level, including the federal government."