Emmanuel Macron's First Act as France's President-Elect
The independent centrist joined his predecessor to honor the anniversary of Nazi Germany's defeat during World War II.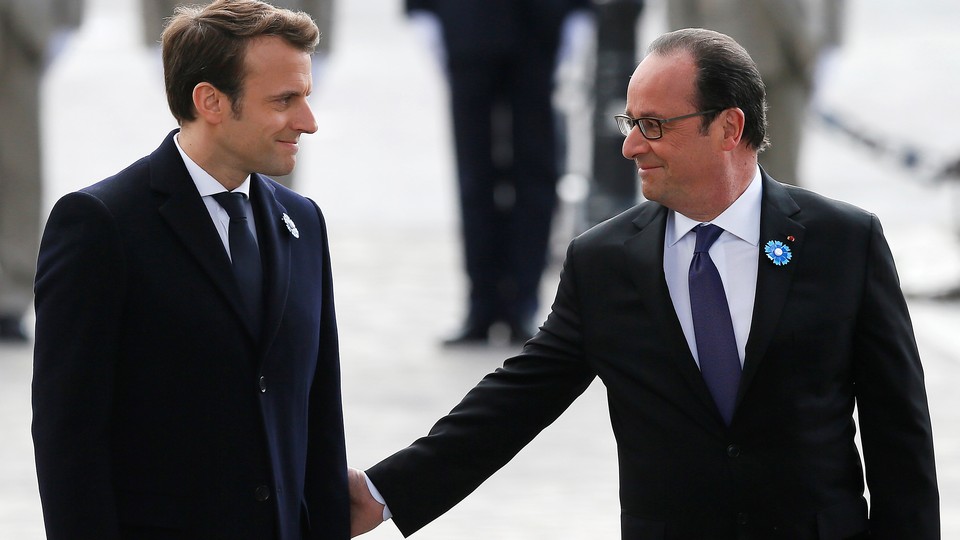 French President-elect Emmanuel Macron joined outgoing President François Hollande Monday in Paris to honor the 72nd anniversary of the defeat of Nazi Germany at the end of World War II, just a day after his decisive electoral defeat of far-right leader Marine Le Pen.
Hollande, a Socialist, said he invited Macron to the annual Victory in Europe Day ceremony to "pass on the torch," just as his predecessor, former President Nicolas Sarkozy, did with him.
The event, during which both leaders laid a wreath at the Tomb of the Unknown Soldier at the base of the Arc de Triomphe, came less than 24 hours after Macron was declared the winner of France's 2017 presidential contest; he won 66 percent of the vote against Le Pen, who won just under 34 percent.
Although Macron's victory was widely anticipated, it was nonetheless welcomed by European Union leaders who hope his victory can revive the bloc still reeling from Britain's decision last summer to leave the body. Le Pen was one of many populist leaders across Europe up for election this year who campaigned against globalization and free trade and in favor of closed borders—policies that go against the EU's basic principles.
But the EU is not without reason to worry. As my colleague Krishnadev Calamur noted, the circumstances that have allowed anti-EU candidates to rise—among them immigration, terrorism, and employment—have not gone away. Macron acknowledged these challenges during his address Sunday night after the results were announced, telling supporters: "I know the anger, the anxiety, the doubts that very many of you have also expressed. It's my responsibility to hear them."
Macron will assume the presidency on Sunday.