Duterte's Call for Nationwide Martial Law
The Philippines president said the move "might" be needed to curb the threat posed by Islamist militants.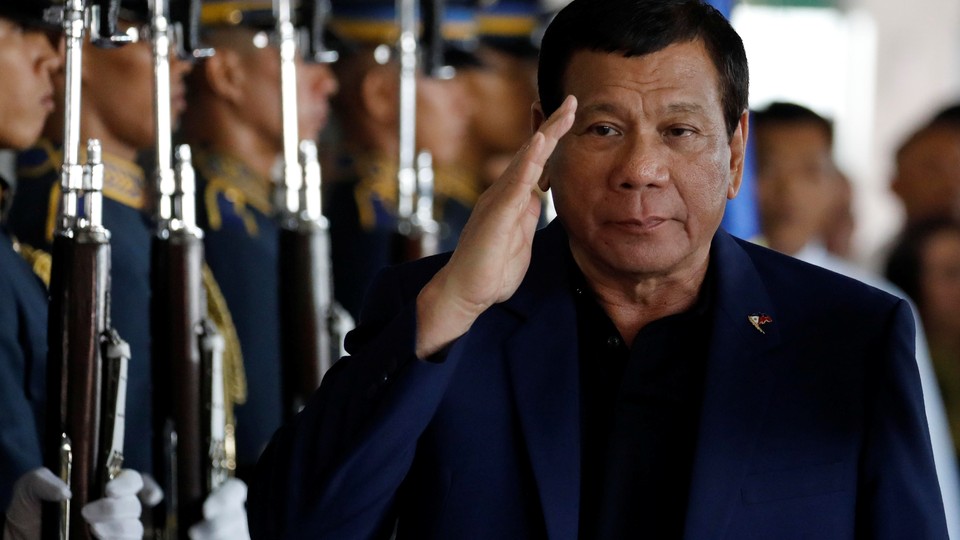 Philippines President Rodrigo Duterte suggested Wednesday he may extend the martial law declaration in the country's south to cover all of the Philippines, a move he said was necessary to combat Islamist militants.
"I had to declare martial law in the Mindanao group of islands," Duterte said Wednesday in reference to the Philippines's southern islands, adding he "might declare martial law throughout the country to protect the people."
The announcement comes a day after Duterte declared martial law in Mindanao island, where the country's military has clashed with Muslim separatists and other rebel groups, some of which have pledged allegiance to the Islamic State. At least 21 people have reportedly been killed in the fighting and several residents of Marawi, a Muslim-majority city on the island, are trying to evacuate.
The Philippines's constitution allows the president to declare martial law for up to 60 days to stop an invasion or rebellion, during which time the military can be used to enforce the order and people can be detained without charge. This is the second time martial law has been invoked in modern Philippines history. Despite the 60-day limit, Duterte suggested he could extend the order for longer.
"If it would take a year to do it, then we'll do it," Duterte said in a video. "If it's over within a month, then I'd be happy."
He added: "It would not be any different from what President Marcos did," in reference to Ferdinand Marcos, the U.S.-backed dictator who kept the country under martial law for 14 years before being ousted in 1986.
Duterte's pledge to be "harsh" is not unsurprising given his role in overseeing the extrajudicial killings of thousands of people—his so-called war on drugs that has prompted widespread international condemnation.
President Trump, however, has offered Duterte a warmer reception. In addition to extending an invitation to the Philippines president to visit the White House, Trump reportedly praised Duterte during a phone call last month for doing an "unbelievable job on the drug problem." According to a transcript of the call, Trump told Duterte that "many countries have the problem, we have a problem, but what a great job you are doing and I just wanted to call and tell you that."