Dueling Accounts of a Brexit Meeting
The U.K. disputes news reports that say a meeting between Theresa May and the European Commission president was tense.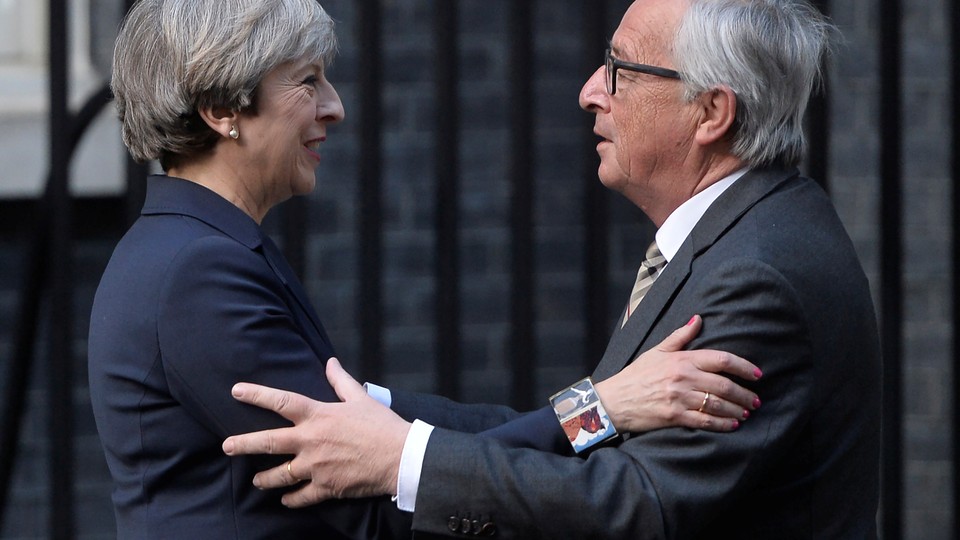 U.K. Prime Minister Theresa May is expected Tuesday to cite the importance of a united front against the other 27 members of the European Union as her country negotiates the terms of its divorce from the bloc—the process known as "Brexit."
May's expected remarks come a day after Frankfurter Allgemeine, the German newspaper, reported that Jean-Claude Juncker, the European Commission president, left a meeting with May in London last week "10 times more skeptical than I was before." May and U.K. officials have dismissed that version of events, with May calling it "Brussels gossip."
The U.K. and the EU are divided over a host of issues, not least of which is the amount of money the bloc wants the U.K. to pay as part of a divorce bill before any deal on a future relationship is struck.  Frankfurter Allgemeine in its report said May and Juncker had clashed over both May's desire to make Brexit a "success," and over the rights of EU nationals living in the U.K. and U.K. expatriates following the separation—rights that May reportedly wanted settled by June. Jucker's response, according to the newspaper's sources, was: "Brexit cannot be a success. The more I hear, the more skeptical I become."
The U.K., which voted to leave the EU last summer, formally invoked Article 50 of the Lisbon Treaty and began the process of Brexit on March 29. The process of formal separation is expected to take at least two years. May, whose conservatives enjoy a comfortable lead over its rivals in the polls, has also called for parliamentary  elections on June 8, so she can secure a political mandate to conduct negotiations with the EU.
For more on what happens next between the U.K. and the EU, go here.