Authorities Declare a State of Emergency in Yemen
A spike in the nation's cholera epidemic has led to more than 180 deaths.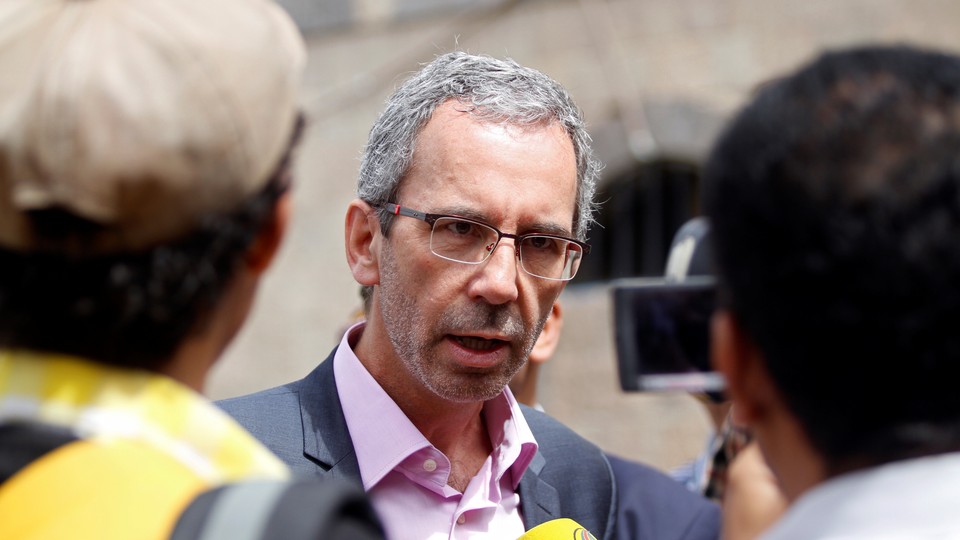 In the last two weeks, at least 184 people in Yemen have died from an unexpected spike in a cholera outbreak that began in October, the International Committee of the Red Cross (ICRC) announced Monday. On Sunday, authorities declared a state of emergency in the nation's capital, Sanaa, which has been hit hard by the epidemic, experiencing 151 deaths from April 27 to May 13. Following a meeting with the United Nations humanitarian coordinator, Yemen's health ministry referred to the outbreak as an "unprecedented disaster." As the crisis continues to mount, the ministry has called for the international community to provide additional humanitarian aid.
At an April fundraising conference in Geneva, a group of nations—including Saudi Arabia, Kuwait, Germany, the United Kingdom, and the U.S.—pledged to provide $1.1 billion in aid to combat hunger and disease in Yemen. In light of the recent upsurge in cholera cases, Yemen's health minister, Mohammed Salem bin Hafeedh, is now asking these nations to deliver on their promises as soon as possible. "What is happening today exceeds the capabilities of any healthy health system, so how can we [cope] when we are in these difficult and complicated conditions?" Hafeedh told local reporters.
Yemen, the poorest country in the Arab world, has suffered for more than two years from a destructive civil war between armed rebels allied with the nation's former president and those loyal to his successor, President Abdrabbuh Mansour. In addition to killing more than 10,000 people and displacing millions, the war has also toppled much of the nation's infrastructure, including around 300 hospitals and clinics. In January, the United Nations Office for the Coordination of Humanitarian Affairs (OCHA) estimated that just 45 percent of Yemen's health facilities were fully functioning, with many facilities experiencing dire shortages in medicine, equipment, and staff. According to the World Health Organization (WHO), only two in five functioning facilities in Yemen can properly diagnose and treat infectious diseases.
The latest cholera outbreak has only served to exacerbate this problem, with many hospitals suffering from severe overcrowding. In addition to the 184 people who have died of cholera in recent weeks, the number of suspected cases in Yemen tripled in just one week, reaching more than 8,500, according to data from the Red Cross. Around 32,000 people have been affected since the beginning of the outbreak in October, with the number of cases falling during the winter months.
According to WHO, the recent spike in cholera is the result of a few key factors. First, the destruction of Yemen's water and sanitation facilities has aided the spread of the disease, which is water-borne and transmitted through contaminated water and food. Second, the recent warm weather and heavy rains have made conditions worse. WHO reports that the pathogens responsible for cholera are more likely to spread when it's warm out, while rain has washed mounds of waste into the nation's water sources. The larger problem, of course, is that two-thirds of Yemen's population—around 16 million people—still does not have access to safe drinking water.
WHO's representative in Yemen, Nevio Zagaria, said the organization is in "full emergency mode" following the upsurge in cholera cases. While humanitarian organizations continue to distribute medicine and establish new treatment centers in Yemen, it remains difficult to ensure that aid is delivered to those in need. Not only has a Saudi-led coalition established a blockade on relief supplies, but locals say that vital goods are occasionally stolen and sold on the black market. "The supposition is that governments in the west and the Gulf will decide how aid is delivered, but organizations like ICRC and the Red Cross have very little capacity on the ground without local actors," Sherine El Taraboulsi-McCarthy, a research fellow at the Overseas Development Institute, told The Guardian last month. With a disease like cholera, the timely distribution of aid is critical. If a severe case is left untreated, death can occur within hours.