Dozens of Kidnapped Chibok School Girls Have Been Freed
They were among the 276 students kidnapped by Boko Haram in 2014.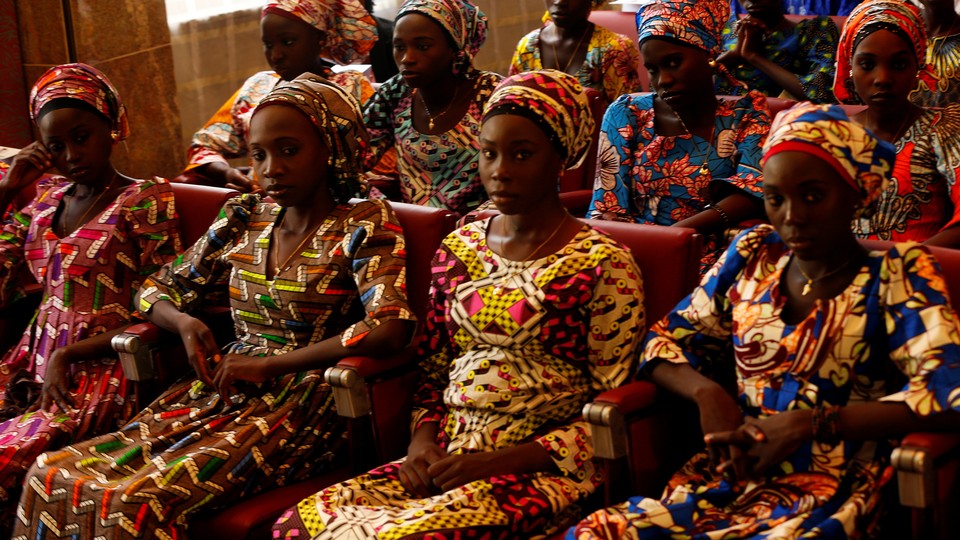 Nigerian officials said dozens of the Chibok schoolgirls who were kidnapped by Boko Haram in 2014 were released late Saturday evening. There are conflicting accounts of how many were set free, with the Associated Press quoting a government official that said it was 83 girls, and other news outlets putting the figure around 60.
Government officials were not allowed to talk with journalists yet, but the personal assistant to Nigeria's president, Muhammadu Buhari, tweeted that it was "Huge numbers." The girls are reportedly being held in Banki, which is near the Cameroon border, and are being checked on by doctors. They will later be flown to Maiduguri, a large city in the country's northeast.
Boko Haram has killed more than 20,000 people and displaced more than 2 million as they've waged an eight-year insurgency to create an Islamic caliphate. They've also kidnapped thousands of people in the country. The Chibok school girls, however, are the most high profile. In April 2014 the militants took 276 girls in the middle of the night from their school. About 50 were able to escape. The government was later criticized for not doing enough to secure their release, and an international movement called #BringBackOurGirls applied pressure to step up negotiations.
Last October, the International Committee of the Red Cross and the Swiss government brokered a deal with Boko Haram to free 20 girls. Before Saturday's release, there were believed to be nearly 200 girls still being held. The government has denied that it paid ransom, or traded prisoners for their release.