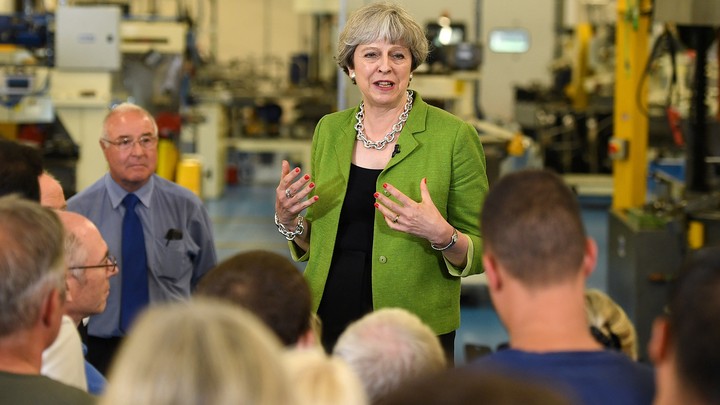 Two months ago, when U.K. Prime Minister Theresa May called for snap general elections on June 8, she had many reasons to be optimistic: She was 21 points ahead in the polls, appeared to be best positioned to negotiate with the EU on Brexit, and the opposition Labour party was losing ground in its traditional strongholds. But as with any election, that 21-point gap began to narrow in the run-up to the vote. Still, the Conservatives were projected to retain their parliamentary majority—though by a narrower-than-expected margin. Then came Tuesday's poll:
Tonight: we reveal YouGov's first seat by seat projection of the campaign - suggests Tories fall 16 seats short of overall majority pic.twitter.com/8ouPRHTZ7m

— Sam Coates Times (@SamCoatesTimes) May 30, 2017
Which prompted this headline in The Times (of London):
Interesting poll in tomorrow's @thetimes #ge2017 #tomorrowspaperstoday pic.twitter.com/RGhNS1cfLx

— Jason Clark (@DCAJason) May 30, 2017
The YouGov poll projected that no one political party would garner enough seats in the 650-seat House of Commons. It said the Conservatives would win 310 seats, down from 330 now; 326 seats are needed to form a government. Labour, the poll showed, would win 257 (up from 229 now). If the results hold true, it would mean the U.K.'s next government would almost certainly be a coalition—which would make the country's negotiations with the EU on Brexit more complicated because of competing political interests. The poll had at least one immediate impact: the pound fell against the dollar (before rallying later in the day). As Bloomberg wrote:
The increased sensitivity to polls, no matter what their caveats, is redolent of the way the pound traded before the Brexit vote, when individual releases often caused large swings in the currency. While doubts over polling remain after a failure to predict the U.K.'s 2015 election result, the moves on Wednesday are emblematic of how the market has been shocked out of its pre-election complacency by mounting evidence that the race is getting tighter. Measures of expected volatility in sterling that cover the election are jumping, while last week's drop against the dollar was the pound's worst this year.
But the YouGov poll was based on a new polling model, and the results, which were published just days before the election, were described by U.K. media as "brave." Doug Rivers, YouGov's chief scientist, said the new model—Multilevel Regression and Post-stratification (MRP)—produces "estimates for small geographies." Here's more:
The idea behind MRP is that we use the poll data from the preceding seven days to estimate a model relating interview date, constituency, voter demographics, past voting behaviour, and other respondent profile variables to their current voting intentions. This model is then used to estimate the probability that a voter with specified characteristics will vote Conservative, Labour, or some other party. Using data from the UK Office of National Statistics, the British Election Study, and past election results, YouGov has estimated the number of each type of voter in each constituency. Combining the model probabilities and estimated census counts allows YouGov to produce a fairly accurate estimate of the number of voters in each constituency intending to vote for a party on each day.
But the model has limitations, Rivers acknowledged. He says it's an estimate of voting intention, not a forecast of how people will actually vote. The samples in each constituency, he says, are too small to be reliable by themselves and are subject to more than just sampling error. To compensate for this, the model pools data across constituencies.
"While this has worked well in the past, models cannot produce estimates as accurate as a full scale poll in each constituency," Rivers wrote.
While polls typically carry such caveats, Stephan Shakespeare, YouGov's chief executive, said the poll numbers are a central projection that "allows for a wide range of error." Shakespeare added: "The Tories could end up with as many as 345 and Labour as few as 223, leading to an increased Conservative majority." The Times, in its analysis of the YouGov data, reports that the Conservatives could get as many as 345 seats and as few as 274.
Polling has had a mixed record in the U.K. and elsewhere. YouGov had predicted that Scotland would leave the U.K. in its 2014 referendum (it didn't); that Labour and the Conservatives were tied ahead of the 2015 general election (the Conservatives won easily); and that Brexit would be a close call (Leave won 52-48). (But Rivers, YouGov's chief scientist, said the MRP model, whose data weren't published, showed Leave winning easily.)
Responding to the poll Wednesday, May said: "The only poll that matters is the one that's going to take place on June 8, and then people will have a choice as to who they want to see as leader, who they want to see as prime minister taking this country forward in the future, me or Jeremy Corbyn."
Britons will know in a week.
We want to hear what you think about this article. Submit a letter to the editor or write to letters@theatlantic.com.