Betsy DeVos Booed at Historically Black College
While delivering a commencement speech, the U.S. education secretary highlighted the importance of open dialogue.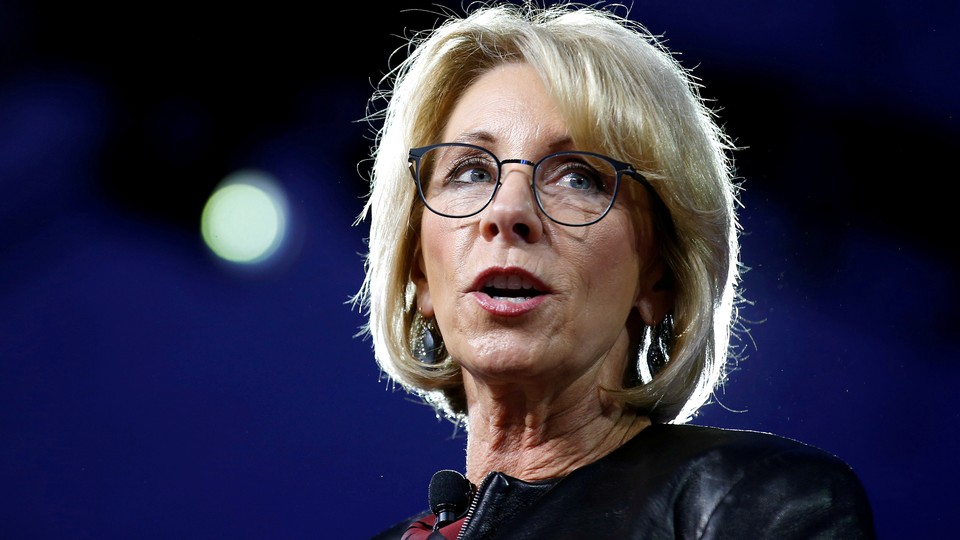 U.S. Education Secretary Betsy DeVos faced an unwelcome reception Wednesday as she delivered the commencement speech at Bethune-Cookman University, a historically black college in Daytona Beach, Florida. As the university's president, Edison Jackson, began to award DeVos an honorary degree, many students in the crowd started to boo, while faculty applauded. A mere seconds after DeVos began speaking, the room erupted in shouts. A number of students turned their backs on the speaker, who attempted to elevate her voice above the crowd's for the majority of her time on stage.
Less than three minutes into the speech, Jackson took over the microphone, telling students: "If this behavior continues, your degrees will be mailed to you. Choose which way you want to go." This seemed to rile the crowd even further, evoking another collective shout.
Students in the crowd were especially angered by DeVos's mention of the university's founder, Mary McLeod Bethune, the daughter of slaves and a civil rights activist. As DeVos announced she would be visiting Bethune's home and gravesite later in the day, a few voices could be heard shouting, "No!" One of the graduates, Donjele Simpson, expressed frustration that DeVos had "the nerve" to bring up Bethune's legacy. "What does she know about that?" Simpson asked The Washington Post.
Prior to her speech, DeVos received a much warmer welcome from Bethune-Cookman's student leaders. The university's former student-body president, Jacari Harris, described the education secretary as "very transparent," telling the Post that DeVos "has a listening ear." Ironically, much of DeVos's commencement speech centered on the importance of listening before speaking:
The natural instinct is to join in the chorus of conflict, to make your voice louder, your point bigger, and your position stronger. But we will not solve the significant and real problems our country faces if we cannot bring ourselves to embrace a mindset of grace. We must first listen, then speak—with humility—to genuinely hear the perspectives of those with whom we don't immediately or instinctively agree.
In a statement on Wednesday night, DeVos responded to the controversy using similar language. "One of the hallmarks of higher education, and of democracy, is the ability to converse with and learn from those with whom we disagree," DeVos said. "I have respect for all those who attended [the commencement], including those who demonstrated their disagreement with me."
Though pronounced, Wednesday's student reaction was not altogether surprising. Prior to the commencement ceremony, multiple petitions circulated on Bethune-Cookman's campus, expressing concern over DeVos's upcoming appearance. The petitions, which together featured around 60,000 signatures, were delivered to school officials on Tuesday. Before the event, Jackson wrote a letter to the campus community defending the university's invitation. "If our students are robbed of the opportunity to experience and interact with views that may be different from their own, then they will be tremendously less equipped for the demands of democratic citizenship," Jackson wrote.
The response failed to resonate with the Florida chapter of the NAACP, which called for Jackson to resign. On Wednesday, a small number of protesters from the NAACP, Florida Education Association, and the American Federation of Teachers gathered at the Daytona Beach convention center where the commencement was held.
In a petition on Change.org, Dominik Whitehead, a 2010 graduate of Bethune-Cookman, said that students understood the importance of engagement and open communication, but felt it was inappropriate for DeVos to serve as the university's commencement speaker. "Bethune-Cookman University doesn't need a photo op from the Trump Administration," the petition reads. The statement calls to mind criticism of a February photo featuring President Trump and representatives from America's historically black colleges and universities (HBCUs). The photo went viral for a number of reasons, including the fact that Trump invited the representatives for a "listening session," only to spend less than ten minutes in conversation with them.
Many have criticized DeVos's response to the meeting as well. In a statement on February 27, DeVos referred to HBCUs as "pioneers" of school choice, claiming that the institutions "started from the fact that there were too many students in America who did not have equal access to education." The remark was historically naive: HBCUs were founded in response to slavery and Jim Crow during a time when black Americans had few choices about their livelihood, let alone their education.
DeVos has also been faulted for championing the use of private-school vouchers, which have often failed in their attempt to integrate private institutions. A recent report from the Century Foundation even argues that vouchers lead to more racial, religious, and socioeconomic segregation in schools.
In her speech on Wednesday, DeVos reaffirmed the Trump administration's support for HBCUs, citing its continued funding of Pell Grants as an example of the administration "fighting on [students'] behalf." Trump sparked backlash on Friday when he hinted that funding for a federal program offering low-interest loans for construction projects at HBCUs might be unconstitutional. At the time, congressional supporters of HBCUs called the president's statement "stunningly careless and divisive."
In a statement on Sunday night, Trump said his commitment to HBCUs remained unchanged. Trump also used DeVos's commencement speech at Bethune-Cookman as an example of his continued support. "Secretary DeVos chose an HBCU as the venue for her first commencement address to demonstrate my administration's dedication to these great institutions of higher learning," Trump said. For many students at Bethune-Cookman, the speech seemed to communicate a much different message.