Lebanon's Wonder Woman Ban
The superhero film was barred from Lebanese theaters following an outcry over its lead actress, who served in the Israeli army.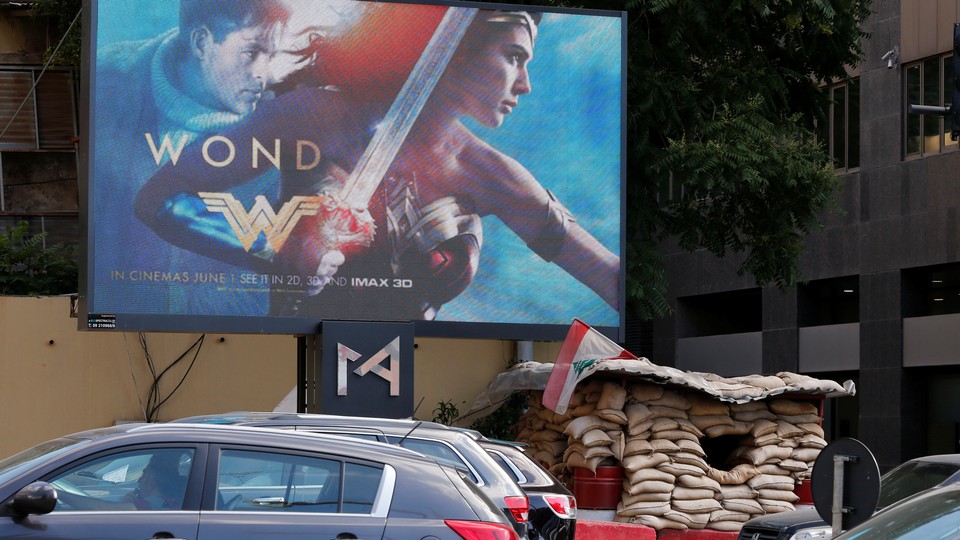 Lebanon's interior ministry banned the release of the new Wonder Woman film in the country's theaters Wednesday following an outcry over its lead actress, Gal Gadot, an Israeli.
The last-minute decision was announced just hours ahead of the film's slated premiere. Though it had passed the country's screening procedures and was widely promoted leading up to the premiere, the film's release prompted an outcry from the Campaign to Boycott Supporters of Israel-Lebanon, a Lebanese group that urged the government to block what it described as the "Israeli Soldier film," in apparent reference to Gadot's service in the Israeli army—a conscription that is mandatory for most Israeli citizens. Gadot's military experience was highlighted when the actress posted a photo of herself praying with her daughter during the Israel-Gaza conflict in 2014.
Though the country's ministry of economy said in a statement Monday that it requested the ban due to Gadot's role in the film, such action has not been taken against other films with Israeli leads. As Lebanese blogger Elie Fares notes, Batman v Superman: Dawn of Justice and the Fast & Furious films, both of which starred Gadot, were not banned from the country's theaters; neither have films starring Natalie Portman, the Israeli-born actress.
Though there has been no major confrontation between Lebanon and Israel since 2006, the two countries do not have diplomatic relations. Indeed, Lebanon is officially considered at war with Israel and has imposed a decades-long economic boycott on its southern neighbor.