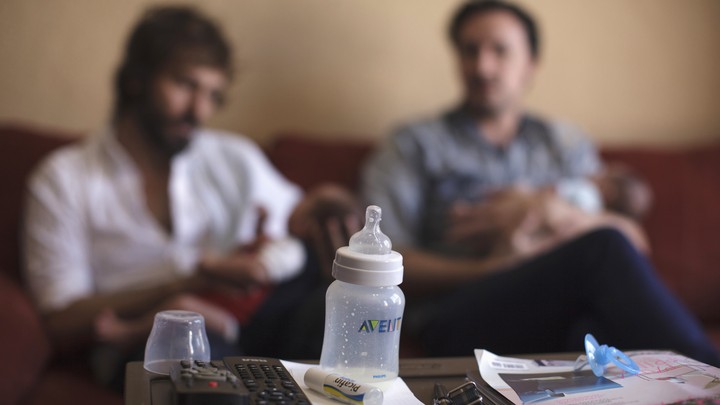 Alabama Governor Kay Ivey signed a bill Wednesday making it legal for private faith-based adoption agencies to turn away gay couples. The new law does not apply to agencies that receive state or federal funding. The bill, known as the Alabama Child Placing Agency Inclusion Act, was approved last month by the state Senate in a vote of 23-9. All eight Senate Democrats voted against the bill, along with one Republican senator, Steve Livingston. At the time, Senator Rodger Smitherman of Birmingham said the bill would "sanction discrimination." Representative Patricia Todd, who is openly gay, shared a similar view, calling the bill "bigotry in the first degree."
Despite this outspoken dissent, the bill was approved last week by an 87-0 vote in the House of Representatives, with six representatives abstaining. In a statement on Wednesday, Governor Ivey said she "ultimately signed [the bill] because it ensures hundreds of children can continue to find 'forever homes' through religiously-affiliated adoption agencies." Ivy went on: "This bill is not about discrimination, but instead protects the ability of religious agencies to place vulnerable children in a permanent home."
The governor's words echoed earlier rhetoric from Republican senators, who defended the bill on the grounds that secular adoption agencies remain available to gay couples. "Those individuals who want to go that route have that route," said Senate President pro tempore Adelbert Marsh. "What we're trying to do is say [sic], 'OK, you also can't discriminate against religious organizations who want the ability to place these kids where they think they'd be best suited.'"
Most adoptions in Alabama go through the Alabama Department of Human Resources, which does not explicitly prohibit gay couples from adopting. "Our policy only says that single adults and married couples can adopt," Barry Spear, the department's public information manager, told AL.com. "We use the word 'married' and, whatever the legal definition of that is, that's what we follow." While same-sex marriage has been legal in Alabama since 2015, some counties have refrained from distributing marriage licenses to avoid having to approve licenses for gay couples.
Last week, Representative Todd said the adoption bill was a direct reaction to the approval of same-sex marriage in the U.S. In recent years, states like South Dakota and Michigan have passed similar adoption laws in the name of religious liberty. According to Eva Kendrick, the state director of the Human Rights Campaign Alabama, the Alabama law opens the door for agencies to refuse qualified residents based on additional factors, including family structure and martial status.
Nevertheless, Governor Ivey referred to Alabama as "a place where we care for our neighbors, and lend a hand to those we don't know." The bill, she said, "ensures that the neediest among us, children who need to feel the love and security of a family, are cared for."
David Dinielli, the deputy legal director for the Southern Poverty Law Center, sang a different tune on Wednesday. "We are disappointed that one of the very first pieces of legislation Governor Kay Ivey chose to sign is a bill intended to target LGBT kids and stigmatize LGBT families," Dinielli said in a statement. "If the governor had hoped to signal a new day in Alabama government, this was the wrong way to do it."
We want to hear what you think about this article. Submit a letter to the editor or write to letters@theatlantic.com.
Aria Bendix
is a frequent contributor to
The Atlantic
, and a former editorial fellow at
CityLab
. Her work has appeared on
Bustle
and
The Harvard Crimson
.