The Deadly Bombing in Kabul
Dozens are dead in the blast in the Afghan capital's diplomatic quarter.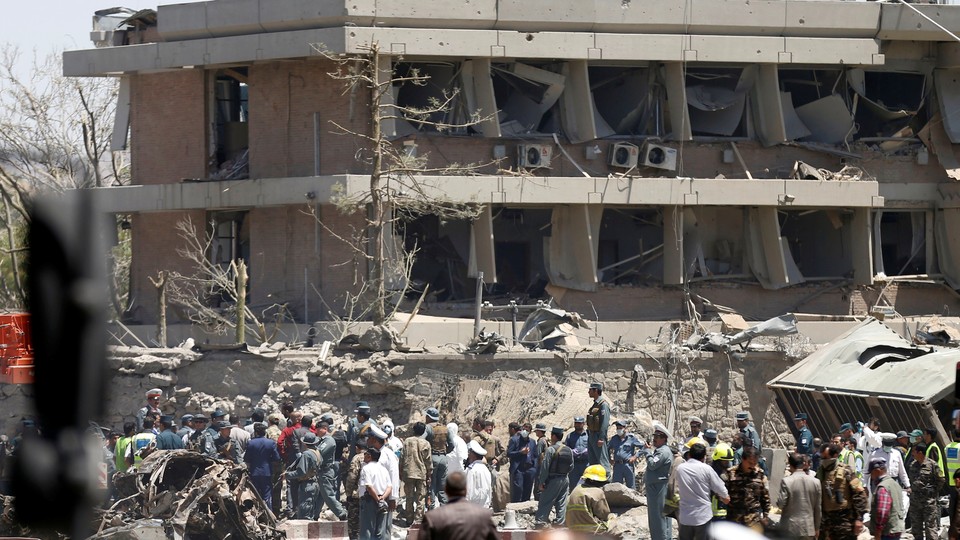 At least 80 people were killed and more than 350 wounded Wednesday after a powerful truck bomb struck Kabul's diplomatic quarter.
The Taliban, which can usually be relied upon to claim responsibility for such attacks, denied it was behind the operation. ISIS, which has been blamed for some high-profile and gruesome attacks in the country, has been silent.
Most of those killed in the attack during the morning rush hour near Zanbaq Square were civilians. Dozens of vehicles were destroyed in the blast, and windows and doors were blown out in the area.
Basir Mujahid a Kabul police spokesman, told Reuters the blast occurred near the German embassy, though, he said, it was unclear if that building was the target. The area, which is home to Afghanistan's presidential palace and foreign embassies, is among the most secure in Kabul.
The attack comes as Muslims mark the holy month of Ramadan. Afghan President Ashraf Ghani called the attack "cowardly" because it targeted "innocent civilians in their daily life."
The attack is the most high profile in the Afghan capital since militants dressed as doctors stormed a military hospital in March, killing more than 30 people.
In April, Taliban militants attacked an Afghan army training compound, killing more than 100 people. The group, which was ousted by a U.S.-led military coalition following the attacks of September 11, 2001, has remained a major threat to the Afghan government and has grown in strength in recent years.