A Possible Hate Crime at the University of Maryland
Authorities are investigating the fatal stabbing of a 23-year-old black student by a white assailant.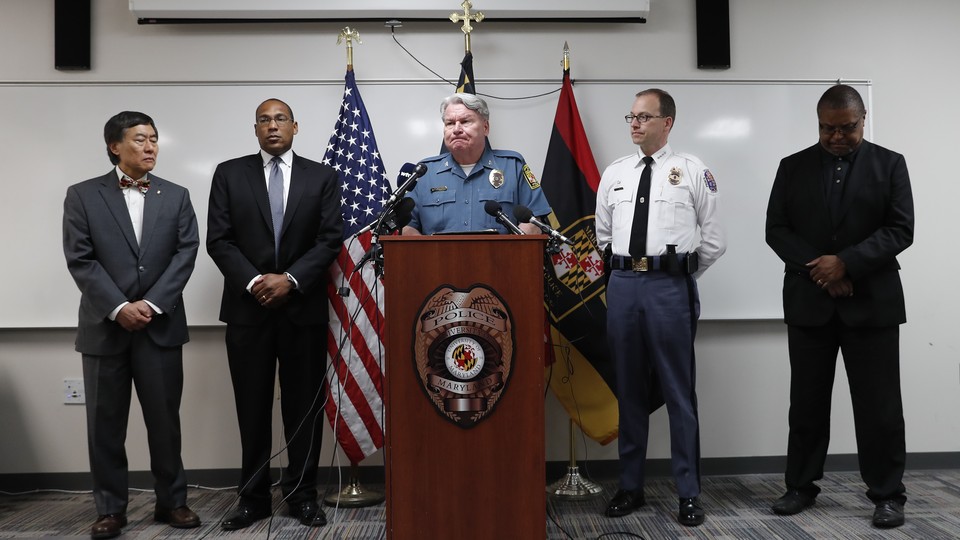 A student visiting the University of Maryland was fatally stabbed over the weekend in an attack authorities are investigating as a possible hate crime.
"We have no doubt that Sean Urbanski with a knife stabbed Richard Wilbur Collins III and killed him—we know that to be a fact," David B. Mitchell, the university's police chief, said Sunday in a press conference. "The question is: Well, why did that happen?"
Collins, a 23-year-old ROTC student from Bowie State University, was visiting the College Park campus for commencement weekend when he was approached by Urbanski, a 22-year-old UMD student. Urbanski told Collins, who was waiting for an Uber ride at approximately 3 a.m. Sunday morning with two friends, to "step left, step left if you know what's good for you." Collins refused, after which Urbanski pulled out a knife and stabbed Collins in the chest.
Collins, who was commissioned a second lieutenant in the Army and was due to graduate Tuesday, was taken to a local hospital, where he was pronounced dead.
Urbanski reportedly fled the scene, but was later picked up by police, arrested, and charged with first and second-degree murder and first-degree assault. He is being held without bail.
Police confirmed that Collins and Urbanski did not know each other prior to the attack, and called the incident, which was captured by a surveillance camera, "totally unprovoked."
Though authorities originally said there was no indication race played a role in Collins's killing, Mitchell said Urbanski's membership in a Facebook group dubbed "Alt-Reich Nation" prompted authorities to investigate the murder as a possible hate crime.
"When I look at the information that's contained on that website, suffice it to say that it's despicable, it shows extreme bias against women, Latinos, persons of Jewish faith, and especially African-Americans," Mitchell said, adding the FBI's digital-forensics team would provide technical support.
The attack is not the first racially-linked incident to take place on UMD's campus in recent months. A noose was found earlier this month at one of the university's fraternity houses—an incident the university's president called "despicable" and one that police are investigating as a hate crime. There have also been at least three incidents of white supremacist fliers being posted on campus.