16 Killed and Hundreds Injured in Moscow Storm
A local news agency is calling the storm one of the deadliest in more than a century.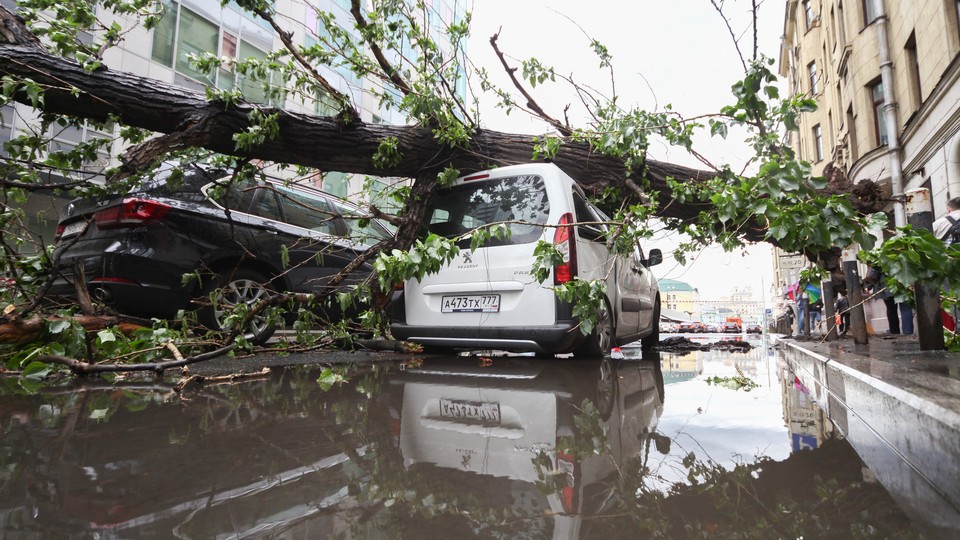 Sixteen deaths and more than 200 injuries have been reported following a massive storm that hit Moscow on Monday. Eleven of the casualties occurred in the city itself, while five occurred in the surrounding suburbs. More than 100 people, including nearly two dozen children, remain the hospital. Russia's Interfax news agency is calling the storm one of the deadliest in more than a century.
According to Moscow's mayor, Sergei Sobyanin, the families of those killed will each receive one million rubles—around $17,760—as compensation for their loss. The fact that the storm took place in the daytime during rush hour traffic contributed to the high death count, Sobyanin said. The mayor also told Russia's state-run news agency, TASS, that he couldn't remember "any other such calamity with the number of dead and injured as big as this one." In 1998, a similar storm swept through the Russian capital, killing as many as 11 people.
With winds traveling at nearly 70 miles per hour, Monday's storm flattened traffic and advertising signs, impaired electrical cables, and tore the roofs from houses. Thousands of trees toppled as a result of the storm, blocking roads and sending branches flying in all directions. In total, more than 2,000 vehicles and around 243 buildings were damaged, including the roof of the Kremlin Senate:
According to Al Jazeera, high winds also disrupted local train services and delayed dozens of flights from Moscow.
In the wake of the storm, Moscow residents took to social media to complain that Russia's Ministry of Emergency Situations (MChS) had not warned them in time. "Why is it that when there's beautiful weather in the city, or a harmless drizzle, I receive a thoughtful SMS alert from MChS … but when a storm outside rips a tree up from its roots, there's nothing but silence?" one resident asked on Facebook.
A spokesman for the ministry was quoted by the Russian news site Meduza as saying that residents were given advanced notice through local authorities and media channels, in addition to receiving text-based warnings from Russia's three main mobile operators. Meanwhile, a Kremlin spokesperson told reporters that Russian authorities "just don't know if such natural cataclysms are predictable and can be forecast." According to the Capital Weather Gang's chief meteorologist, Jason Samenow, strong winds and a sharp drop in temperature provided "a classic setup for severe weather" in Moscow.
While the preparedness of Moscow's emergency services is being calling into question, a community service assistant told the BBC that emergency teams "reacted quickly and are recovering now" from the storm. By Tuesday afternoon, more than 30,000 municipal workers were attempting to clean up debris and fallen trees from the city's streets.