What's Going On in Macedonia?
Protesters entered parliament after lawmakers elected an ethnic-Albanian politician as speaker.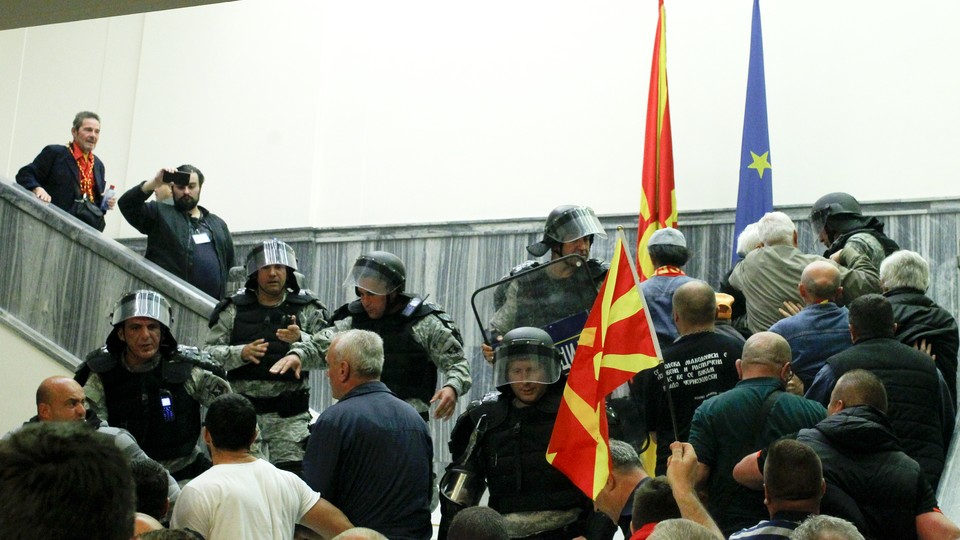 Protesters entered the parliament in the former Yugoslav republic of Macedonia following the election of an ethnic-Albanian lawmaker as speaker. Reuters described the protesters as nationalists angered by Talat Xhaferi's election as the country's first ethnic-Albanian speaker.
Video from the scene showed Zoran Zaev, the  leader of the Social Democrats (SDSM), and other lawmakers bleeding after a fistfight. His party allied with ethnic Albanians to elect Xhaferi.
Here's video of what happened:
Video of masked men breaking into Macedonia's parliament. Demonstrators now occupying chamber after the opposition elected a new speaker. https://t.co/QmJ75lJARe

— Andrew Byrne (@aqbyrne) April 27, 2017
Macedonia declared independence following the breakup of Yugoslavia in the 1990s. The country was wracked by unrest in the early 2000s following an armed insurrection by ethnic Albanians, who make up about a quarter of the population. A peace agreement, brokered by NATO, ended with the government agreeing to provide more rights to the minority and ethnic Albanians saying they will abandon their goal of a separate state.  But tensions have lingered since then. Macedonia hasn't had a functioning government since 2015 when the government led by the nationalists of the VMRO-DPMNE were brought down by a wiretapping scandal. The country has been in a political stalemate since last December's parliamentary elections. VMRO DPMNE, the governing center-right party, won 51 of the 120 seats while the SDSM won 49. The rest went to ethnic Albanian parties. President Gjorge Ivanov, who is from the VMRO DPMNE, asked Nikola Gruevski, his fellow party member and outgoing prime minister, to form a new government, but Gruevski was unable to secure the 61 lawmakers needed to do so. The ethnic Albanian parties instead allied themselves with the SDSM.
Ivanov declined to ask SDSM's Zaev to form a new government, saying he wanted proof Zaev had a parliamentary majority. VMRO DPMNE's lawmakers have prevented parliamentary business from going ahead, and had, in fact, prevented the election of the speaker until Thursday's vote, which it called a "coup attempt." Its supporters, who have staged daily protests since SDSM's alliance with the ethnic Albanian parties, then forced their way into parliament. Many of the lawmakers and journalists trapped inside parliament were later evacuated. Local news reports said nearly 50 people were injured outside parliament where police clashed with protesters.
In a televised statement, Ivanov appealed for "reasonable and responsible behavior." He said he would meet Friday with the leaders of the main political parties.
The European Union and the U.S. criticized Thursday's turn of events.
This is a developing story and we'll update it as we learn more.