The U.S. Strikes in Syria
The Trump administration targeted facilities belonging to President Bashar al-Assad, opening a new front in U.S. military operations.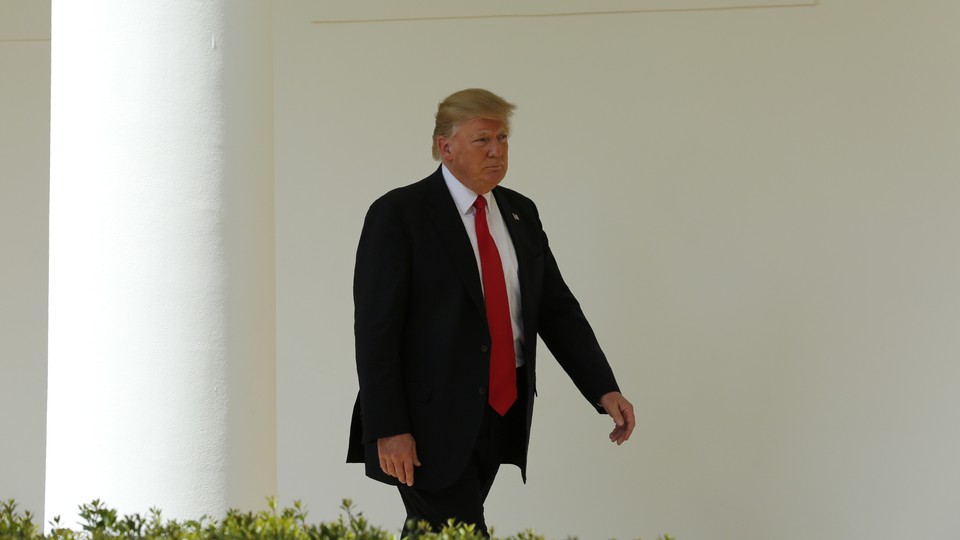 Updated at 10:08 p.m.
The U.S. military struck a Syrian airfield near Homs, launching the opening salvo in the Trump administration's response to this week's chemical-weapons attack by the Assad regime and marking the first U.S. military operation against an Arab government since President Obama's intervention in Libya in 2011.
Early Friday morning local time, the U.S. launched more than 50 tomahawk missiles into Syria, targeting the al-Shayrat military airfield near Homs, Captain Jeff Davis, a Pentagon spokesman, said. The airfield was the facility from which Syria launched this week chemical-weapons attack, Trump told reporters Thursday night in Mar-a-Lago, his resort in Florida. He said the strike was in the "vital national security interest" of the United States and in response to Syria's use of "banned chemical weapons."
"Using a deadly nerve agent, Assad choked out the lives of helpless men, women, and children," Trump said. "It was a slow and brutal death for so many."
The president added, "Tonight I call on all civilized nations to join us in seeking to end the slaughter and bloodshed in Syria and also to end terrorism of all kinds and all types."
Davis, the Pentagon spokesman, said according to initial indications "this strike has severely damaged or destroyed Syrian aircraft and support infrastructure and equipment at Shayrat Airfield, reducing the Syrian government's ability to deliver chemical weapons."
The move represents a remarkable turnaround for Trump, who had been unequivocal about who he thought the enemy was in Syria—ISIS—and said during the presidential campaign he believed fighting Assad and ISIS at the same time was both "madness and idiocy." And yet the U.S. finds itself doing just that: The U.S. military has struck ISIS in Syria since 2014, and its troops are at present working with local fighters to retake Raqqa, ISIS's de-facto capital. As recently as this week, Secretary of State Rex Tillerson and Nikki Haley, the U.S. ambassador to the UN, said removing Assad was not a U.S. priority. But after Tuesday's attack, Trump said the images from Khan Sheikhoun, the target of the chemical-weapons attack, "changed his mind" about Syria.
The Washington Post reported that Trump has several military options in the region:
The United States has a broad arsenal already in the region … including dozens of strike aircraft on the USS George H.W. Bush, an aircraft carrier that is deployed to the Middle East and accompanied by guided-missile destroyers and cruisers that can also launch Tomahawk cruise missiles.

Additionally, an amphibious naval force in the region that includes the 24th Marine Expeditionary Unit could muster Harrier jets and Cobra gunships. The Pentagon also has scores of aircraft in the region flying operations every day against the Islamic State group, including from Incirlik air base to the north in Turkey.
The strikes deep inside Syria represent a major shift in U.S. policy. The Obama administration opted not to strike Assad or oust him using force despite his use of chemical weapons and crossing President Obama's metaphorical "red line" in 2013 on the use of the such weapons. The U.S. focused instead on arming moderate rebels—an exercise that ultimately proved an embarrassing failure—and working with Russia on an agreement to destroy Syria's chemical-weapons stockpile, an agreement that given this week's attack appears not to have worked.
The U.S. strikes Friday risk exacerbating a delicate balance in Syria. Assad now controls more of the country than at any point since the civil war began there more than six years ago. He is there in large part because of his patrons in Russia and Iran, whose militaries are fighting in Syria against opposition groups; his position has also been strengthened by U.S. and allied strikes against ISIS, one of the most effective anti-Assad groups. The Syrian civil war has killed hundreds of thousands of civilians and created a refugee crisis whose effects are being felt far beyond Syria and the region. A cease-fire brokered last December by Russia, Iran, and Turkey between Assad's forces and most rebel groups (ISIS and al-Qaeda are excluded) is mostly holding, and it's unclear whether the latest developments will change that. Also unclear is what Russia will do. It has adamantly opposed Western military intervention in Syria, arguing that whoever comes after Assad will be worse. As my colleague David Graham wrote on Thursday: "If American attacks killed Russians, it could spark a much larger diplomatic or military encounter." Davis, the Pentagon spokesman, cited a U.S. official as saying Russians were advised of the impending U.S. attack.
It is also uncertain what legal authority Trump used to order the strikes in Syria. News reports Thursday said Trump had told some congressional lawmakers he was considering a military option in Syria, but none had been sought. The U.S. strikes against ISIS, for instance, are arguably covered by the Authorization for Use of Military Force (AUMF), but the AUMF doesn't cover strikes against the Assad regime. Still, Trump might receive retroactive congressional approval for the strikes in Syria, just as Obama did in 2011 in the ultimately ill-advised operation in Libya.
Speaking in Mar-a-Lago late Thursday, Tillerson said the "strike itself was proportional because it was targeted at the facility that delivered this most recent chemical weapons attack." He said the U.S. coordinated with its international partners ahead of the strike, adding their response has been "overwhelmingly supportive of the action we taken."
H.R. McMaster, the national-security adviser, added the National Security Council gave Trump three options after the chemical-weapons strike.
"After a meeting of considerable length and a far-reaching discussion, the president decided to act and that's the general sequence of events," he said.
Trump won't be the first president to campaign against war and yet wage it, as David noted: Both Woodrow Wilson, who took the U.S. into World War I exactly a century ago this week, and George W. Bush, whose interventions in Afghanistan and Iraq are being felt even today, did just that. Whether the U.S. action in Syria will be confined to Friday's action was unclear—even to the president. Speaking Thursday to reporters aboard Air Force One, Trump said of Assad: "He's there, and I guess he's running things, so I guess something should happen."