Actually, the U.S. Will Pay for the THAAD Anti-Missile System
South Korea said the Trump administration reconfirmed its commitment to foot the bill, contradicting what the president said days earlier.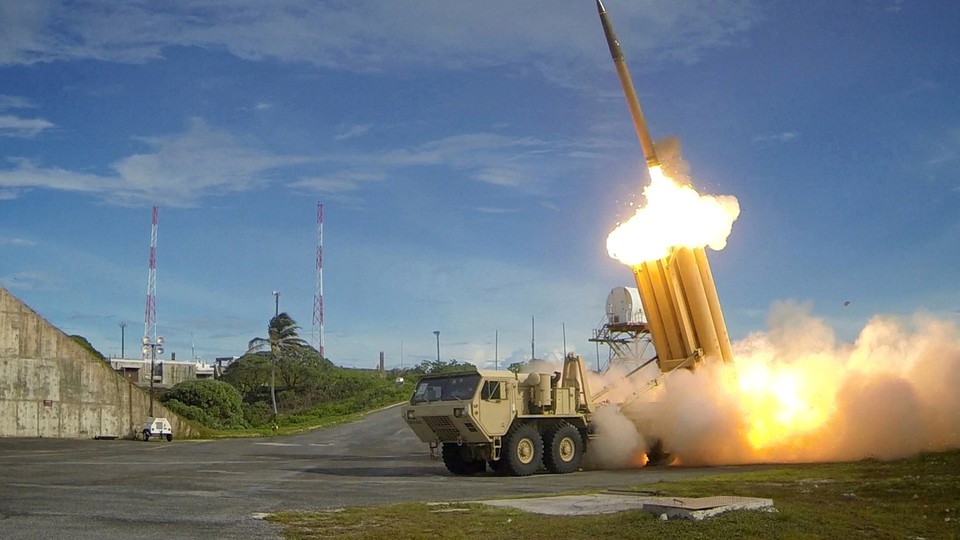 South Korea said Sunday the U.S. would cover the cost of deploying the Terminal High Altitude Area Defense (THAAD) anti-missile system, a contradiction of President Trump's remarks just days earlier. Trump did not respond, but it seems he may have misspoken, or, as South Korea was told by Lieutenant General H.R. McMaster, the White House national security adviser, the president was speaking "in a general context."
South Korea said McMaster requested a conversation with his counterpart, Kim Kwan-jin, in order to clear up the confusion Trump created when he told Reuters that South Korea should pay for the $1 billion defense system. The statement ran counter to a previous agreement, according to South Korea, in which the allies decided the U.S. would cover the cost for the system, its operation, and maintenance. In return, Seoul would provide the land and support infrastructure. In the call Sunday, South Korea said McMaster "reconfirmed what has already been agreed." Trump's earlier comments, the statement said, were made in the context that the U.S. expects allies to share the burden of defense costs. But apparently not in this case.
The confusion came as tensions have dramatically escalated with North Korea, which test-launched another ballistic missile Saturday. The test reportedly failed, but its success had little impact on what has been an increasingly aggressive tone from the Trump administration. In the interview with Reuters Thursday, Trump even suggested there was a high possibility of military involvement. "There is a chance that we could end up having a major, major conflict with North Korea," Trump said. "Absolutely." He did say, however, he would prefer a diplomatic resolution of the issue—but that one would be difficult.
The Trump team has been quickly reaching out to allies in Asia over concerns with North Korea. On Saturday, Trump spoke with Philippines President Rodrigo Duterte, even inviting the controversial leader to meet with him at the White House. He did the same with the leaders of Singapore and Thailand on Sunday. The focus now seems to be on diplomacy and making a show of a strong, united front. But U.S. Secretary of State Rex Tillerson said Friday all options remain on the table—a longstanding U.S. position.
The THAAD system was moved this week to a site in Seonjgu, a county in the country's south. Its arrival was met by local protesters, who worry the area will become a target for North Korea's missiles. China has also complained about the deployment, and worries THAAD's radar can penetrate its territory and undermine regional security. The THAAD deployment follows the dispatch of the USS Carl Vinson aircraft carrier and a nuclear submarine to the area, meant as a show of force.