What the World Is Saying About the U.S. Strike in Syria
Russia condemned it while U.S. allies called it proportional.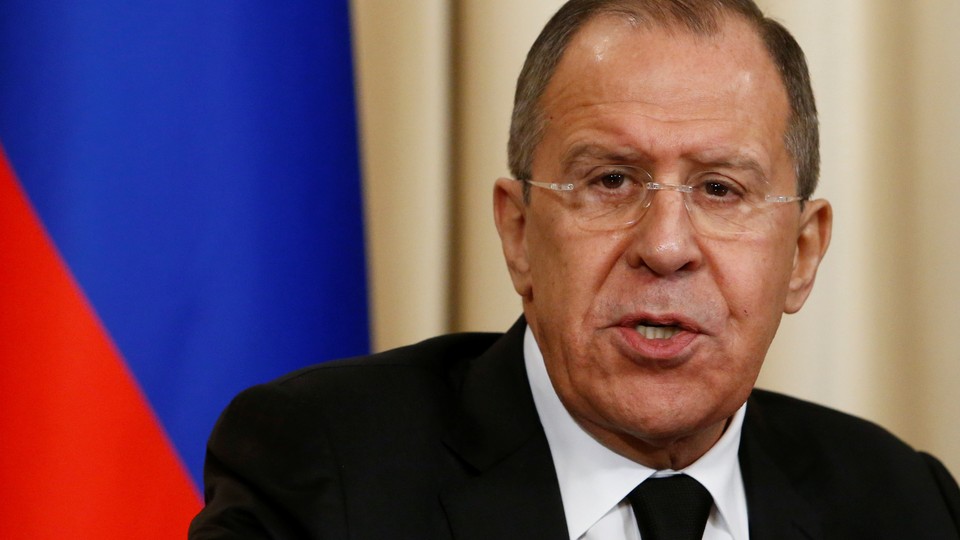 Updated at 8:57 a.m.
Russia reacted sharply to the U.S. airstrike in Syria on Friday while U.S. allies and those opposed to Bashar al-Assad lauded the action and said the Syrian president had brought it upon himself with the use this week of chemical weapons.
"The fact is that we no longer know what goals Washington pursued when deciding to carry out these strikes, but it is univocal that they are launched de facto in the interests of Daesh, al-Nusra Front, and other terrorists," Dmitry Peskov, the Kremlin spokesman, said. "In this connection, we can only express regret."
Russia is Assad's main supporter, and its air force has targeted groups opposed to the regime and helped the Syrian leader retake control of much of the territory he'd lost when the civil war first began more than six years ago. Russia's support has come despite a high humanitarian cost of the conflict—and international condemnation. Moscow maintains that Assad is better for Syria than whoever or whatever follows him, pointing to other Arab states that have collapsed in chaos following the Arab Spring after their longtime leaders were deposed. Still, on Thursday, Russian President Vladimir Putin said before the strikes that his support for Assad wasn't unconditional.
Sergei Lavrov, the Russian Foreign Minister, on Friday called the U.S. strikes "an act of aggression under a completely invented pretext." Russia rejects the idea that Assad carried out the chemical-weapons attack, saying a Syrian air-force hit a rebel facility that manufactured chemical weapons.
"Everything resembles the situation of 2003, when the USA, the U.K., and several of their allies invaded Iraq without the UN Security Council's approval— a grave violation of international law—but at that point they at least tried to show some material evidence," Lavrov said, referring to then Secretary of State Colin Powell's flawed presentation to the UN Security Council that made the case for war in Iraq.
But it's unlikely Russia will retaliate through military means. Pyotr Tolstoy, the deputy speaker of the state Duma, told lawmakers: "How can we respond? Of course not by escalating military actions …  our strength is in our own understanding of the logic of events."
Igor Konashenkov, a defense ministry spokesman, said Syrian air defenses would be bolstered following the strike "to protect the most sensitive infrastructure facilities in Syria."
Iran, which also supports Assad and whose fighters are in Syria, condemned the strikes, as well, calling them "unilateral," adding: "Such measures will strengthen terrorists in Syria... and will complicate the situation in Syria and the region."
The strikes come at a delicate time because the Assad regime is engaged in a cease-fire with most moderate rebel groups—but this truce excludes ISIS and al-Qaeda-linked organizations. In fact, Assad's chemical-weapon strike targeted Idlib province, which is controlled by an al-Qaeda-linked group. Most of the at least 70 victims were women and children.
In Syria, state media said the strike killed nine people, including four children, who lived near the airbase. In Moscow, Konashenkov said four Syrian soldiers had been also killed. He said two more were missing.
Among U.S. allies, whose diplomatic and possibly military support the U.S. will seek if there are further actions against the Assad regime, the reaction was markedly different.
In Brussels, Jens Stoltenberg, the NATO secretary-general, said the Assad regime "bears the full responsibility for this development." He said he was informed by General James Mattis, the U.S. defense secretary, of the impending strike.
Turkey, which has been a longtime advocate of military action in Syria, urged the establishment of a no-fly zone to create Syrian safe zones for civilians. That call came from Ibrahim Kalin, a spokesman for President Recep Tayyip Erdogan.
The U.K. government, which in the past has been the most stalwart U.S. ally in military operations overseas, said it "fully supports" the strike. Michael Fallon, the U.K. defense secretary, said while Prime Minister Theresa May had been "informed" of the strike, the U.K. wasn't asked to take part in it.
In a joint statement, German Chancellor Angela Merkel and French President Francois Hollande echoed the NATO chief's remarks that "Assad alone bears the responsibility for this development." The two leaders urged the UN to implement Security Council Resolution 2254 for a political transition in Syria.
Donald Tusk, the European Council president, said:
US strikes show needed resolve against barbaric chemical attacks. EU will work with the US to end brutality in Syria.

— Donald Tusk (@eucopresident) April 7, 2017
Saudi Arabia called the decision "courageous" while China, whose president met with Trump on Thursday evening, urged calm: "What is urgent now is to avoid further deterioration of the situation," Hua Chunying, a foreign ministry spokeswoman, said.
President Trump is expected now to seek retroactive congressional authorization for his actions. If the U.S. decides that more military action is needed against Assad, it's likely to call upon its allies in Europe and the region who are already taking part in U.S.-led operations agains ISIS in Syria and Iraq. Any UN Security Council approval for military strikes is considered unlikely. Russia holds a veto-wielding seat on that body.