Marine Le Pen and Emmanuel Macron Advance
For the first time in modern French history, neither candidate is from a major party.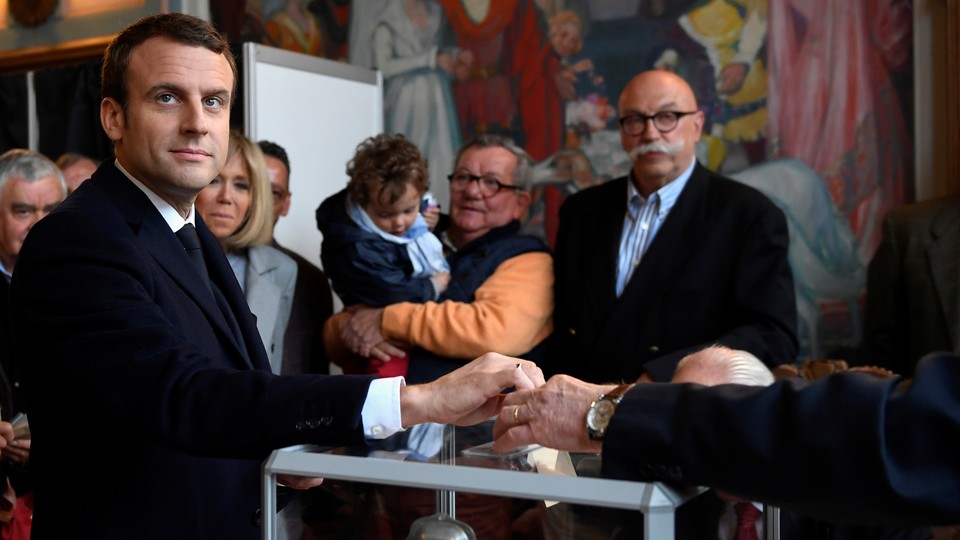 Marine Le Pen, the candidate of the far-right National Front, is through to the second round of the French presidential election, where she will face Emmanuel Macron, the independent, who won Sunday's first round with 23.7 percent of the vote. Le Pen won 21.7 percent. It's the first time in French history that neither candidate from a major political party is in the second round runoff. It's also the first time a far-right candidate is in the second round since 2002 when Le Pen's father, Jean-Marie Le Pen, lost to Jacques Chirac.
Macron and Le Pen's strong showings Sunday, which saw an approximately 77 percent voter turnout (slightly lower than the 79 percent who voted in the first round in 2012), signaled a rebuke of the political establishment that has dominated French politics for decades. Macron launched his centrist party in August 2016 after he quit his role in President François Hollande's Socialist government, and despite the party's youth it boasts a quarter of a million members. Meanwhile, Le Pen's FN secured the most votes it has ever received in its nearly half-century history, surpassing the 18-percent first-round finish it saw in 2012.
Even Jean-Luc Mélenchon, the far-left candidate who ran under a movement called La France Insoumise, or "Unsubmissive France," had his strongest performance to date. Though his last-minute surge in the polls wasn't enough to propel him to the second round, he still managed to claim 19.5 percent of the vote, far surpassing the 11 percent he won during his first presidential bid in 2012.
Republican candidate François Fillon also earned 19.5 percent of the vote, tying Mélenchon for third place. The center-right candidate and former prime minister enjoyed a comfortable lead early on in his campaign, but support wavered in January after his candidacy was embroiled by allegations he misused public funds to pay his wife, Penelope, and two of their children for parliamentary work they are alleged not to have performed. Fillon denied any wrongdoing, although the launch of a formal investigation into both him and his wife prompted several of his Republican allies to quit his campaign.
Socialist candidate Benoît Hamon, who came in last of the main contenders with 6.2 percent of the vote, also suffered from fissures within his own party. Despite clinching a decisive victory during the January primary, Hamon failed to command the support of Socialist party leaders, many of whom, including former Prime Minister Manuel Valls, endorsed Macron instead. This, paired with the deeply unpopular presidency of Hollande and the competition of similarly far-left Mélenchon, made the ruling party's poor showing all but certain. The results prompted the losing candidates to urge their supporters to back Macron. Hamon said there was a distinction between a political adversary and an "enemy of the Republic," referring to Le Pen. Fillon warned that Le Pen would lead France to "ruin."
The advancement of two non-traditional candidates will certainly have an impact on their ability to govern once they make it to the Élysée Palace. In the month following the presidential contest, French voters will return to the polls to elect members of the National Assembly, France's lower but more powerful house of parliament. This election is particularly important because whoever becomes prime minister almost always comes from the party that controls the chamber and, at present, neither Le Pen's FN (which claims two of the National Assembly's 577 seats) or Macron's En Marche (which claims none) are expected to command a majority. This makes cohabitation, in which the president must share power with the prime minister of a different party, almost certain. Though this power-sharing arrangement is not unprecedented in French political history, as Politico's Pierre Briançon notes, it has never been a favorable one.
It reduces the head of state to a figurehead, akin to northern European monarchs or ceremonial presidents such as those of Germany or Italy. In those times, the prime minister holds most of the executive powers, save for those governing foreign policy and defense, which the constitution puts specifically in the president's domain. …

It has happened three times in postwar history — first from 1986 to 1988, when Socialist President François Mitterrand had to live with Jacques Chirac as prime minister. From 1993 to 1995, Mitterrand had to deal with another conservative premier, Édouard Balladur. And finally, from 1997 to 2002, President Chirac had to contend with Socialist Prime Minister Lionel Jospin.
Macron and Le Pen now have two weeks ahead of the runoff to court the voters who backed their former competitors, as well as the estimated one-third of French voters who are still undecided. From the recent terrorist attack in Paris to the country's 10 percent unemployment rate, issues such as security and the economy will likely remain at the forefront of the contest.