The Banality of the Borussia Dortmund Bus Attack
The way the bombing has played out suggests Europe is becoming more accustomed to terrorism.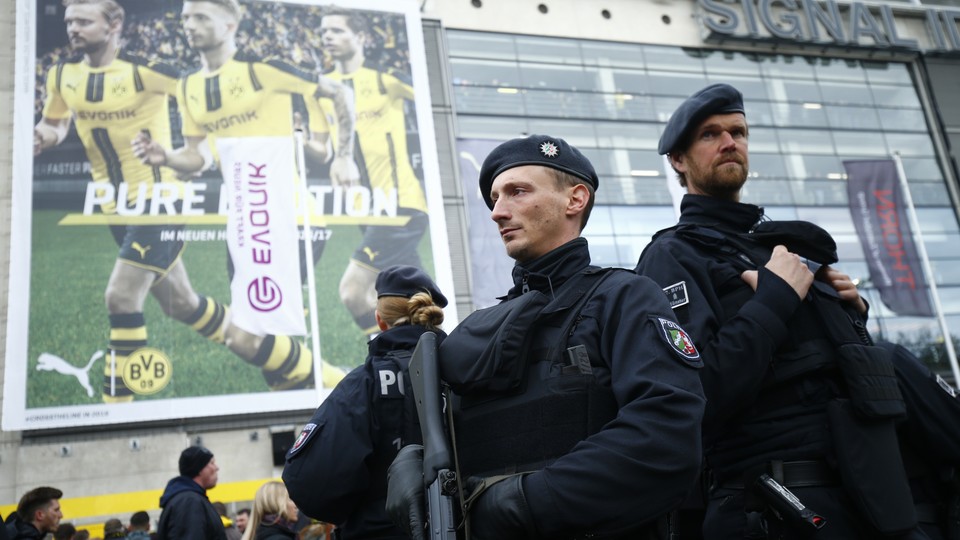 Immediately after the bombing of the Borussia Dortmund soccer team's bus earlier this month, German police found three identical letters that seemed to support what everyone already believed. Several pipe bombs had hit the side of the bus as it drove to a match April 11, shattering glass, and injuring one player, as well as an officer. Authorities suspected Islamist terrorists, and the letters found near the entrance of the team's hotel referred to a "caliphate" and referenced a "death list" for all unbelieving actors, singers, and athletes. But experts called the letter suspicious, because it made unusually specific requests, like the closure of the U.S. military base in Ramstein—a longstanding far-right demand. A week later, the investigation grew foggier.
Police found a statement uploaded to a left-wing website claiming the attack was carried out by anti-fascists who blamed Borussia Dortmund for not standing up to rightwing extremists (the club's most devoted fanbase has been accused of containing a sizable contingent of neo-Nazis). Then another statement, mailed to a Berlin newspaper, claimed the attack was carried out by Hitler sympathizers, and complained about the spread of multiculturalism. But on Friday police said it wasn't any radical group. Instead, the suspect belonged to a new category of extremism: that of terrorism for profit.
Police arrested a 28-year-old man who they say carried out the attack after he purchased 15,000 shares in the team, then bombed its bus hoping to drive the value down. Some European soccer teams are traded publicly, and police say the suspect bought shares so he could profit from a put option—a deal where the buyer can sell shares at a later date for a previously guaranteed price. The suspect, who German authorities identified only as Sergei W., stood to gain up to $4.1 million. The obvious implication of the investigative back-and-forth is that police, and the media, should stay the finger, and not be so quick to point to ISIS for every attack. Often this reaction has led to the false incrimination of someone in the area who "looks" Muslim. But the attack also suggest the European public is growing accustomed to ISIS-fueled terrorism, not only because of how quickly the Borussia Dortmund bombing was shrugged off (the team played a game one day later), but also because the suspect believed—correctly—that he could use terrorism as a smokescreen, knowing the world would default to blaming ISIS.
Similar recent attacks in London, in St. Petersburg, and in Stockholm, were also initially blamed on ISIS, only to later be downgraded to ISIS-inspired, or just perpetrated by a Muslim. In some cases, ISIS or its affiliates claim credit for the attacks, though this is sometimes found to be dubious, as it is quick to claim responsibility for most attacks. But almost immediately in each case, the media hints that ISIS is already a suspect. In The New York Times' coverage from the day of the Borussia Dortmund bombing, the paper dropped a heavy insinuation: "Anxiety over terrorism instigated or inspired by the Islamic State and other extremist groups operating in Europe has risen steadily … " At the time, authorities would not, nor could they, conclude who was really responsible. But the fact that people are so willing to blame ISIS and move on seems a testament to how rote terrorism has become, and that it is better to assign blame and get on with it.
In fact, the day the German authorities arrested Sergei W. on his way to work at a university hospital in the town of Tübingen, a man armed with a Kalashnikov assault rifle shot and killed a police officer in Paris, on the Champs Elysees. In an interview on Morning Edition, a reporter with NPR said: "I was out last night at a bar, working on another story, and the bartender said, 'Hey, did you hear the news?' And we all read our phones, then a lot of people went back, frankly, to drinking and talking about other things."
Presumably, it was not large enough an attack to dwell upon.
Earlier this month, my colleague Julia Ioffe made this same argument, except in regards to Russians. She wrote:
Nearly three decades of their lives, beginning in the 1990s, have been punctuated by attacks. In Putin's first term, they were a regular occurrence as he waged the second Chechen War and then years of so-called anti-terror operations in the North Caucasus. In 2002, nearly 200 people were killed when Russian special forces gassed a theater full of Russians held hostage by Chechen terrorists. In 2004, hundreds of children and teachers were killed in Beslan. That year, two female suicide bombers simultaneously brought down two passenger planes, killing about 90 people. The Moscow metro has been bombed repeatedly, as have outdoor concerts.
The implication was that terrorism stops being terrifying when it becomes almost normal. There seemed a similar reaction to the Borussia Dortmund bombing. The attack followed a standard rubric for reaction: World leaders denounce the crime, people on social media express their collective grief, in this case inviting supporters of the rival team, AS Monaco, to stay in their homes. But perhaps because no one was killed, the normal reflection period after an act of terrorism seemed almost completely bypassed.
Borussia Dortmund was scheduled to play its missed match against Monaco less than 24 hours after the attack. The team's coach said he was told of the rescheduled game via text message. "We had the feeling we were treated as if a beer can had hit our bus," Thomas Tuchel, the coach, told The Guardian.
The team's captain, Marcel Schmelzer, said, "Regardless of the importance of this competition, we're only humans."
"We were treated like animals," said Sokratis Papastathopoulos, who plays the centre back, "Not like people."
Copy-cat crimes are nothing new. Even copying styles of terrorism has become standard, like truck attacks, which are terrifying not only for their simplicity, but their reproducibility. However, using a terrorist act as a smokescreen, knowing the world will immediately blame ISIS, suggest some new level of the world's comfortability with terrorism. The only similar act that comes to mind is the case of the Israeli man accused of calling in bomb threats to Jewish community centers. During a time of increased anxiety of racial tension, centered on the rise of Donald Trump to the White House, the media and public incorrectly assumed white supremacists or a similar ilk were to blame for the wave of threats against more than 100 jewish centers. But everyone was wrong.
Perhaps the best indication of how accustomed Europe has become to these attacks was that the suspects alleged scheme failed. Sergei W. is believed to have bought his shares the day before the attack for 5.60 euros each. The day after the attack they fell to just 5.50. The shares saw a much greater decline the next day, down to 5.36, after the team lost its match.