Is Tillerson Really Articulating a New Policy on North Korea?
The secretary of state said that the military option is on the table with Pyongyang, but talks are not.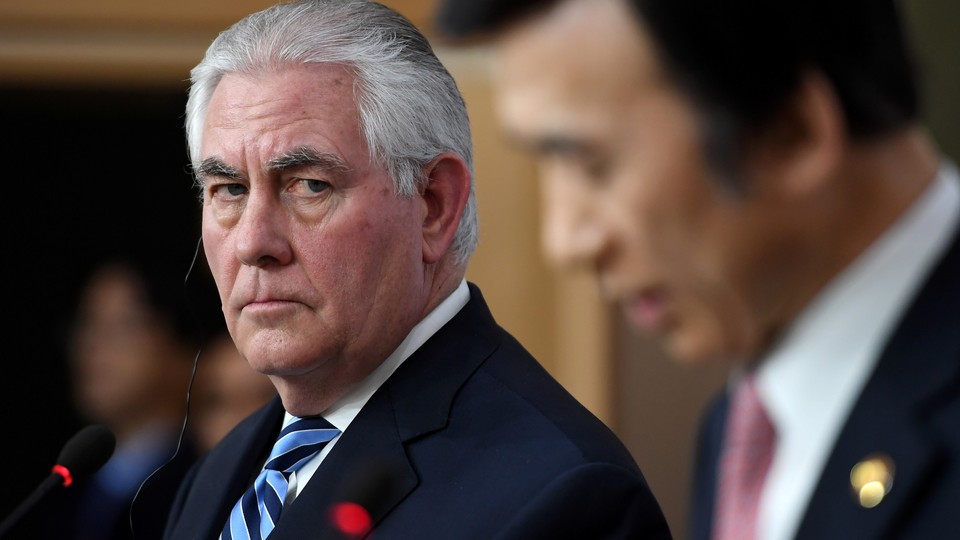 U.S. Secretary of State Rex Tillerson said Friday the military "option is on the table" if North Korea escalates its nuclear-weapons program "to a level that we believe requires action." Do these remarks mark a break from the Obama administration's policy toward Pyongyang, or do they mark a return to a familiar phrase in diplomacy?
The phrase about the military "option being on the table" itself isn't new. What's new, argues Jon Wolfsthal, who worked on arms-control and nonproliferation issues in President Obama's National Security Council, is "saying we won't talk at all." Tillerson ruled out any talks with the North until it commits to renouncing nuclear weapons.
"It is a departure," Wolfsthal said, because both Presidents Obama and George W. Bush had talked to North Korea until Pyongyang either pulled out of talks (with Obama) or cheated on its treaty obligations (with Bush). "And I think makes it less likely that we'll get the type of cooperation from South Korea or China because they want to understand what our policy is."
Abraham Denmark, a former deputy assistant secretary of defense for East Asia, argues that while Tillerson's remarks represent a rhetorical change from the Obama years, the Trump administration's policies toward the region are the same. He points out that since 2012, when the U.S. last conducted negotiations with the North, "serious diplomacy with North Korea was made impossible after Pyongyang refused to acknowledge its past commitments to denuclearization." Denmark argues the Trump administration's rhetoric on the region hasn't matched its actions. Indeed, Defense Secretary James Mattis visited Seoul last month to reassure U.S. allies of the continued U.S. commitment to South Korea's defense. The Pentagon then fulfilled the Obama administration's pledge to deploy THAAD, the anti-missile defense system, to South Korea.
"While the Trump administration should have time to develop its own strategy toward North Korea," Denmark said in an email, "it's curious that they have so far chosen to rhetorically define themselves in opposition to the Obama administration's approach without yet significantly changing any actual policies."
Buy-in from North Korea's neighbors is likely to be crucial to whatever policy the Trump administration formulates toward the North. Tillerson's remarks Friday came in Seoul. He was in Tokyo on Thursday and on Saturday will visit Beijing, where he's expected to press China to do more to pressure North Korea over its nuclear-weapons program.
"Trump is facing a different region than did Obama," Denmark said. "China is more powerful and more assertive, Japan is more strategically active, and the region is more economically and diplomatically integrated."
Tillerson's comments also come at a delicate time in South Korea: Political turmoil after the removal of President Park Geun-hye could result in the election of a left-wing candidate who favors rapprochement with Pyongyang. Indeed, Wolfsthal said Tillerson's remarks could have consequences for South Korean politics.
"Anything the United States does that looks like military-first or combative or dangerous is going to add momentum to the left in South Korea," he said. "And to the extent we want an ally in South Korea that is willing to work with us, that could have a balanced and effective approach toward the North, I think Tillerson's remarks are counterproductive."
Add China to the list of countries that are worried. Beijing is publicly upset about THAAD's deployment, the Trump administration's rhetoric toward it on trade, and Washington's perception that China isn't doing enough to curb its ally, North Korea. Wolfsthal said that during the Obama years, the U.S. signaled it was ready to take military steps against the North while working with China "to ensure that they knew we had their security interests in mind."
"The Trump administration has taken a very different approach," he said, "which is to be more confrontational with China, undermining their certainty in the one-China policy …. Their [the Trump administration's] efforts to stress military policy are going to be less well received in Beijing, whom everyone recognizes as being critical to solving this problem."
Trump tweeted shortly after Tillerson's remarks:
North Korea is behaving very badly. They have been "playing" the United States for years. China has done little to help!

— Donald J. Trump (@realDonaldTrump) March 17, 2017
In Seoul, Tillerson also distanced the U.S. from Obama's policy of "strategic patience" on North Korea, which the secretary of state suggested ignored the dangers posed by the country's nuclear program. But Denmark argued that during the Obama years, the U.S. strengthened its alliances, enhanced its military posture, cited Pyongyang for human-rights abuses, and successfully led the movement for strong international sanctions on North Korea.
"The Trump administration has more influence and more options because of this approach," Denmark said.
How the U.S. will handle that influence is unclear, because it has yet to publicly state a goal for its North Korea policy. Wolfsthal said that that's likely to trouble U.S. allies.
"Pressure for pressure's sake is not going to be very attractive to countries in the region," he said. "Squeezing a tube of toothpaste without opening up the top just creates a giant mess .... And they understand that unless there's some goal for pressure ... it's unlikely to produce results."