Mark Rutte's Test
Can the Dutch prime minister's center-right party forestall a Geert Wilders victory?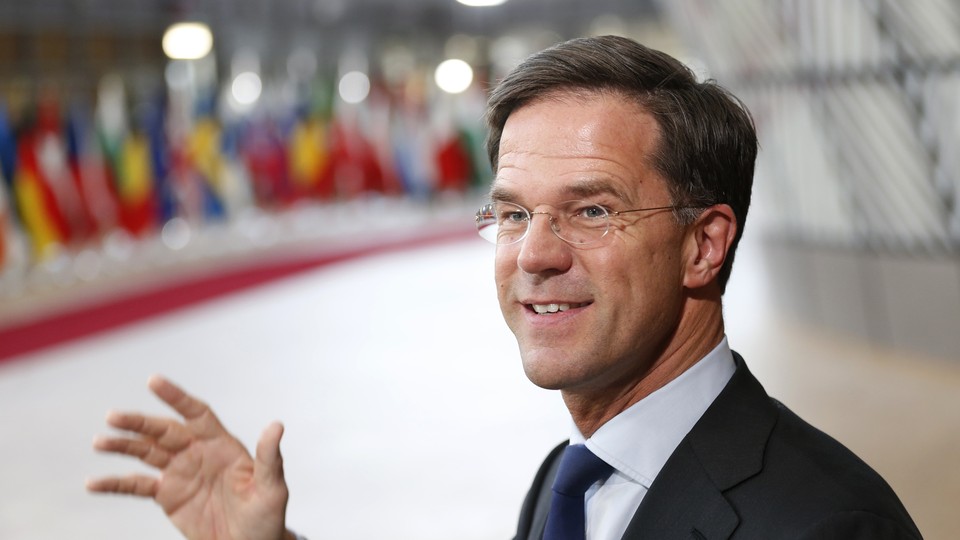 Dutch Prime Minister Mark Rutte is fighting for his political life ahead of this week's national elections in which 28 parties are vying for seats in the Netherlands's 150-member lower house of parliament. Rutte's center-right People's Party (VVD) for Freedom and Democracy is projected to win 24 seats in Wednesday's election, slightly ahead of Geert Wilders's far-right Dutch Freedom Party (PVV), which is expected to gain 22. The projections are within the margin of error, but the winner will almost certainly form a coalition government with one of the many smaller parties that are expected to win the rest of the seats.
The elections are being regarded as the first of many pivotal European elections to take place this year, and the results stand to have an impact far beyond the Netherlands: it as a litmus test for the establishment candidate, Rutte, facing a far-right populist, Wilders—a test that will soon be replicated in the French elections in April and Germany's in September.
For Rutte, who has been prime minister since 2010, this election is an opportunity to remind voters of his accomplishments since he assumed office in the midst of the global financial crisis. At the time, he was given the task of addressing economic reform and tackling unemployment, which now stands at 5.3 percent, a five-year low. Dr. Andrej Zaslove, an assistant professor of political science at the Radboud University Nijmegen, told me this was among Rutte's greatest successes.
"He's been able to sell cuts and sell getting the books in order in a very pragmatic manner," Zaslove said. "He really wants to project himself as the candidate of common sense."
Rutte has frequently marketed the election to Dutch voters as a choice between optimism and pessimism. But he's also framed it as a choice between riding the wave of populism sweeping the Western world, or stopping it in its tracks.
"Internationally it would mean that people say the next domino has fallen, no matter who eventually governs," Rutte told Bloomberg about the possibility of a Wilders victory. "After Brexit, the U.S, also the Netherlands—then France, Germany and Italy will follow. If you look at the chaos that arose in the U.S. and the U.K., then it's essential we avoid that."
He added: "It's not about who will eventually govern. It's about the signal that will be given if Wilders becomes the biggest force."
Even if Wilders did come out of the election with the most seats, he probably wouldn't be able to govern—at least not alone. Thanks to the Dutch's multi-party system, no one party has in modern times gained the 76 seats needed to form a government, making a coalition government almost inevitable. Indeed, the VVD now governs the Netherlands in coalition with the center-left Labour Party.  Forming a coalition could be decidedly more difficult for Wilders, however, since Rutte's VVD and all the major Dutch parties to its left have ruled out forming a government with him. This means that even if Wilders's PVV does emerge as the country's largest party, it could still be excluded from entering the government coalition. Though Rutte's VVD is projected to lose seats this election, it will likely remain in the government coalition whether it's the single biggest party or not.
A Dutch coalition would likely include many others, too. Dr. Sarah de Lange, a professor of political science at the University of Amsterdam, told me that in the event of a PVV victory, the governing coalition could boast as many as five political parties—the most in a coalition in more than four decades.
"It would be very broad and therefore a very difficult coalition to create because it involves lots of negotiations," De Lange said.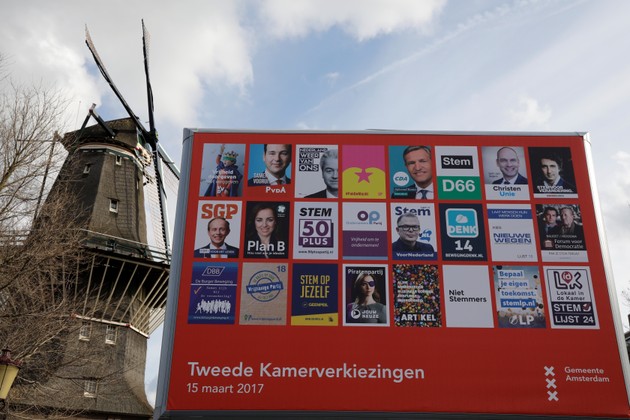 Rutte has a strong history of coalition building. Since he assumed the premiership in 2010, he has managed to maintain a ruling coalition for the entirety of two four-year terms. Such a feat has long eluded past prime ministers. Zaslove told me Rutte's ability to maintain a coalition is due in large part to the VVD sustaining broad coalition support.
"The VVD gets to say, 'We're proud of what we did. The Netherlands looks good because of what we did, and now we can do more,'" Zaslove said.
But with successes come challenges, and perhaps none has been more salient to this election than those having to do with immigration, assimilation, and Islam in the Netherlands. Wilders is outspoken about these issues and his PVV advocates for the Netherlands closing its borders to refugees and immigrants, as well as overseeing efforts to "de-Islamize" the country by banning the Quran, Islam's holy book, and shuttering Dutch mosques and Islamic schools. (You can read more about Wilders and his policies here.)
Though Rutte's refugee and immigration policies are not as hard-line as Wilders's, he's not particularly progressive, either.
"He increasingly emphasizes the kind of issues that the PVV campaigns on, but then in a more moderate way," De Lange said. "Rutte has recently taken up the issue of Dutch identity and immigration, emphasizing especially the fact that those who do not conform to our norms and values should not continue to live in the Netherlands."
Rutte said in an open letter in January that those who "harass gays, or whistle at women in short skirts, or brand ordinary Dutch people racists" should "behave normally, or go away." He added too that the solution to defending Dutch values is not to "tar everyone with the same brush, or insult or expel whole groups," an apparent reference to Wilders, whose anti-Moroccan rhetoric earned him a hate-crime conviction. Rutte made similar comments about Dutch immigrant communities last September when he responded to reports of Dutch Turks celebrating the failure of the attempted coup of Turkish President Recep Tayyip Erdoğan's government by saying, "My first thought is: Get out of here. Go back to Turkey."
Zaslove told me this approach to immigration and assimilation marks a more right-wing shift not just in the VVD, but in Dutch society as a whole.
"It really begins with the death of Pim Fortuyn," Zaslove told me, referencing the Dutch politician who was assassinated in May 2002 by an activist who claimed he killed Fortuyn for scapegoating the Dutch Muslim community. "He [Fortuyn] said we have to talk about Islam, we have to talk about migration, and we have to talk about it in the context that this is threatening Dutch liberalism—and this  caught on like wildfire because it was a way of talking about it that wasn't seen as extreme."
For Rutte, Zaslove tells me, the focus is less about opposing immigration and more about promoting and defending Dutch norms and values.
"He's got the slogan doe normaal, which means 'just do normal' or ' just be common,'" Zaslove said.
On Wednesday, voters will decide if they agree.